First drives
2016 Ford Mustang Shelby GT350: Review
"The 2016 Ford Mustang Shelby GT350's $60,000 price tag may seem lofty, but by day's end, it felt like the automotive world's biggest bargain. "
Ford Performance is on a roll. The Ford GT Concept that debuted at this year's Detroit Auto Show was received with slack jaws and approving hand gestures. The 2017 F-150 Raptor that's on its way has lost hundreds of pounds and promises to be more capable than its impressive predecessor. The Ford Focus RS comes with a drift mode and 345 horsepower sent to all four wheels. Indeed, it's a good time to love Ford's flavor of speed.
Then there's the Ford Mustang Shelby GT350, which redefines the image of a muscle car. The path toward track-honed performance was partially paved by Ford's Boss 302 Laguna Seca in 2012, but that car's solid rear axle limited a full transformation from straight-line speeder. The Shelby GT350 is a different animal entirely.
Building upon the Mustang's new fully independent suspension, Ford Performance developed for the Shelby GT350 a motorsport-inspired V8 engine with a flat-plane crankshaft.  While it doesn't make quite as much power as the bonkers Shelby GT500 from 2013, it does rev to an astounding 8250 rpm. For reference, the standard Mustang GT with its 5.0-liter V8 redlines at 7000 rpm. This extra spread of power means drivers can leave the GT350 in gear longer, equating to fewer shifts on a racetrack.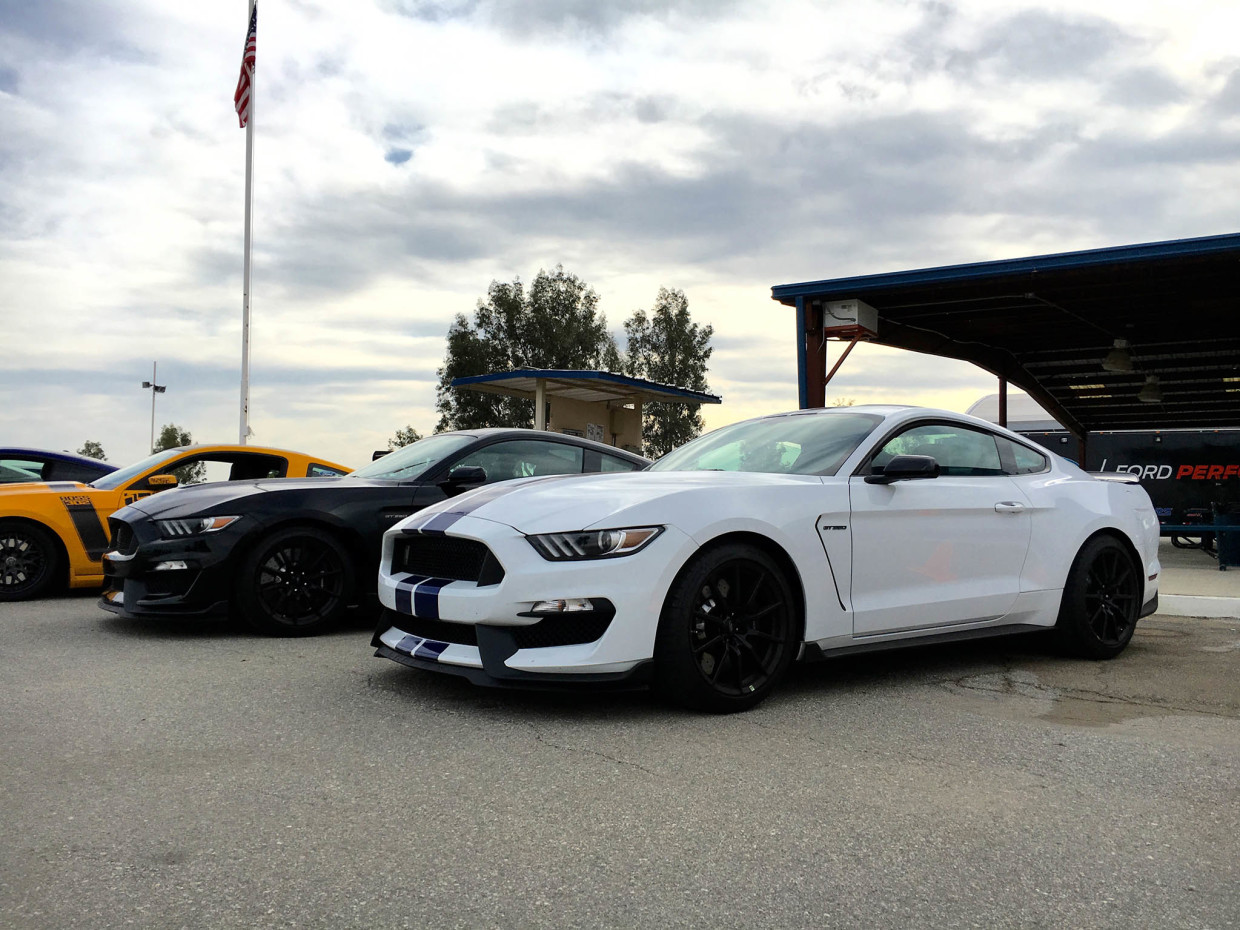 Not only does the Shelby GT350 (and its track-refined 'R' variant) exceed the 2014 Chevrolet Camaro Z28's limits, it takes the fight to iconic sports cars like the Porsche 911 GT3. To understand just how much quicker this Shelby GT350 is than previous 'Stangs, I spent hours with the car at Oregon Raceway Park. But before diving into my seat-of-the-pants impressions, here's what makes the GT350 unique.
High-Performance Equipment
Shelby Mustangs have always been defined by their engines, but the GT350's race-bred powertrain is only part of the story. With 526 hp and 429 lb.-ft. of torque, this 5.2-liter V8 is Ford's most powerful naturally aspirated engine ever, and its flat-plane crank means it's lighter, rougher, and faster-revving than more traditional cross-plane designs.
Both the standard GT350 and more aggressive "R" model have the same engine and 6-speed Tremec manual transmission that transfers power to the rear wheels via a Torsen limited-slip differential. Both cars also employ Ford's MagneRide magnetic dampers, 15.5-inch front brake rotors with 6-piston Brembo calipers, 14.9-inch rear discs with 4-piston calipers, and lowered ride heights. The major differences between the standard GT350 and R come down to 130 pounds of weight savings. By themselves, the GT350R's carbon-fiber wheels save an incredible 15 pounds per corner.
Aesthetically, you can spot the R by its larger chin splitter, carbon-fiber rear wing, red interior accents, and lack of rear seating. For acoustic differentiation, the R also does without exhaust resonators. At the press of a button, the GT350's rumble transforms into a bellow. Experientially, the R's lower ride height, better tires, and improved aerodynamics mean astronomical levels of grip. Each of these differences translates into an $8000 premium.
Track Time
Oregon Raceway Park is a 2.3-mile circuit that features 16 turns, a short straightaway, and a "halfpipe" that rolls the car from one peaking corner to the other. In a word, ORP is technical. This might have proven arduous for previous Mustangs, but as I'd learn, the GT350 is beyond compare.
My first few laps did no justice to the Shelby. Years of muscle car driving stints had trained me to shift around 6,500 rpm, but the GT350 had so much more to offer. Eventually, I was able to resist the urge to shift until the tach had climbed to a more respectable 8,000 rpm and the engine was given a chance to roar. What a rush! Unlike the 700-hp Dodge Hellcat, power delivery was controllable yet still tremendous.
Thankfully, the Brembo brakes were equally mighty, because I was rapidly approaching the first corner. With a hint of front-end dive, the GT350 put the kibosh on forward motion before angling into the bend. Steering inputs were immediately communicated to the front wheels while the MagneRide dampers tightened, keeping the body flat through the corner. As I spoon-fed power to the rear wheels, the Michelin Pilot Super Sports gripped where previous Shelby Mustangs would happily break traction.
As I began to grasp the GT350's limits, speed through corners grew and braking distances shrunk, but the Mustang refused to show even the smallest sign of stress. As the day wore on, I was finally able to break the standard GT350's tires loose with a heavier right foot, but the ultra-sticky Pilot Sport Cup 2 rubber wouldn't budge once up to temperature. Even when the GT350 would hang its tail out, the release was progressive and completely manageable.
While cornering and acceleration felt exceptional, the braking performance was most impressive. It was as if the GT350 moved the earth backwards to scrub speed before turns.
The Enthusiast's Choice
The 2016 Ford Mustang Shelby GT350's $60,000 price tag may seem lofty, but by day's end, it felt like the automotive world's biggest bargain. Within its price bracket, the GT350 contends with the BMW M4, Dodge Challenger Hellcat, Chevrolet Corvette Z51, Cadillac ATS-V, and Mercedes-Benz C63 AMG. I'm here to tell you that the GR350 is better than each of those cars. By the numbers, and in driving feel, the GT350 triumphs.
It's worth mentioning that the GT350's rivals bring more luxury accommodations to the table. You can't get leather seats in this Mustang, or a high-output stereo system, or radar-controlled safety systems. But if these qualifications are part of your buying criteria, then you'd best eliminate any hard-edged performance car. The Shelby is pure engagement, speed, and visual dominance.
If crossover hype and increasing demand for techno-centric features are indicators of consumer tastes, then cars like the Ford Mustang Shelby GT350 have a short runway into the future. Fortunately, there are a handful of enthusiasts that still crave automotive drama, and Ford Performance has their fix.
---
For more information, options, and pricing, please visit our 2016 Ford Mustang Shelby GT350 page on AutoWeb's search and configure site.
Image credit © 2016 Autoweb