First drives
2016 Honda Civic Sedan: First Drive
"I was surprised at how physically isolated we were from the turmoil of the road — many sedans costing double aren't as competent."
Honda introduced its subcompact Civic to the world in 1973. The pocket-sized Japanese import putted along with a petite engine rated at just 50 horsepower, but nothing more substantial was needed to pull around a curb weight of just 1,500 pounds. Critics scoffed, but the diminutive coupe was fun to drive, and its economy and practicality struck just the right notes for buyers facing 1973's oil crisis.
Now, more than 40 years later, Honda has introduced its tenth-generation Civic, and customer expectations are fundamentally the same, though safety and comfort are deemed almost as crucial to the purchase decision as fuel efficiency, utility, and spirited road manners. Not only has the bar been significantly raised in the Civic's compact segment, there are now more than a dozen other challengers from North America, Asia, and Europe.
For our first look at the all-new 2016 Honda, we headed to Southern California to drive the four-door sedan.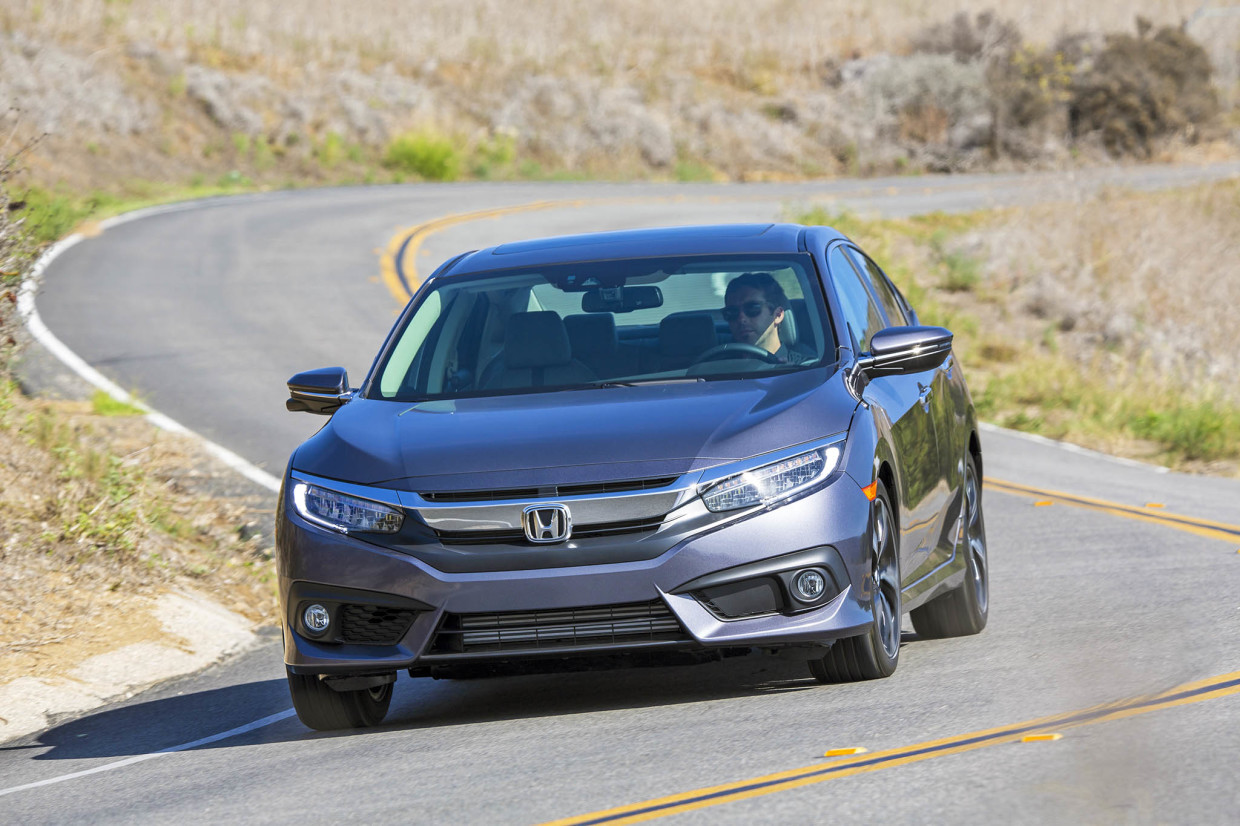 Design, Comfort and Utility
The tenth-generation Civic is a real looker — a positive start after several misses from the styling department over the past few generations. Most prominent at first glance is Honda's signature front fascia, an aggressive nose with an expanse of brightwork (complemented by full LED lighting on premium trims). The side pillars are blackened, visually increasing the size of the greenhouse, and the exterior mirrors are mounted on the doors at the base of the A-pillar. The rear is unexpectedly aggressive — the shallow-sloped backlight almost mimics the silhouette of a five-door hatchback — with sharply styled tail lamps and strong character lines. Oddly, in an era when exposed pipes project power, Honda has chosen to hide the Civic's exhaust tips beneath the rear fascia.
Completely redesigned from tip to tail, the compact sedan, says Honda, is no longer a boring "economy vehicle" but is instead a "premium sedan." Compared to its predecessor, the 2016 model arrives with a lower roofline (by 0.8 in.), shorter hood (by 1.2 in.), a longer trunk (by 3.0 in.), and a stretched wheelbase (by 1.2 in.) and overall length (by 2.9 in.). The result is a pleasantly aggressive look and the largest passenger cabin in its class.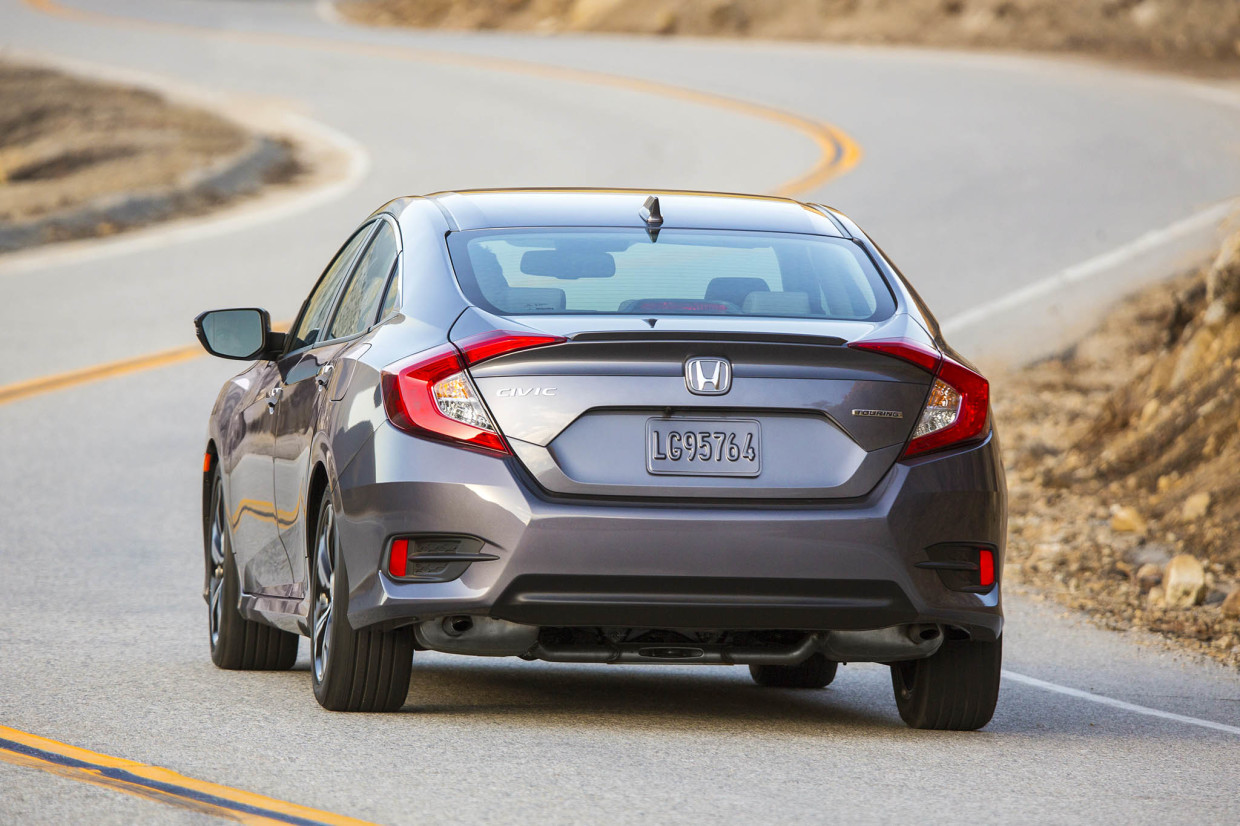 The interior looks great too, its appointments clearly elevating the sedan a few notches up on the premium scale. I was pleased to see that Honda has ditched its multi-level instrument cluster in exchange for a much more traditional, yet still modern, layout. Primary instrumentation is a mix of digital and analog on premium models and includes a coolant temperature gauge, tachometer, and fuel level gauge (left to right). There is a digital speedometer in the center, set just above a color multifunction display. The dash overall is easy to read, but the temperature and fuel gauges need larger needles; their indicators get lost in the glare and bright plastic trim, and it took more than a passing glance to decipher them.
The Civic might qualify as a compact car, but I didn't have to squeeze my six-foot two-inch frame into the driver's seat, which never cramped my comfort over hours of driving. Overall fit and finish is excellent, and all of the touchpoints are pleasing to the eyes and fingertips (the faux stitching on the dashboard is a nice touch). I dropped my plus-size frame into the second row and was accommodated in comfort equal to the first-class passengers, though the door panel trim materials felt harder and cheaper back there in coach.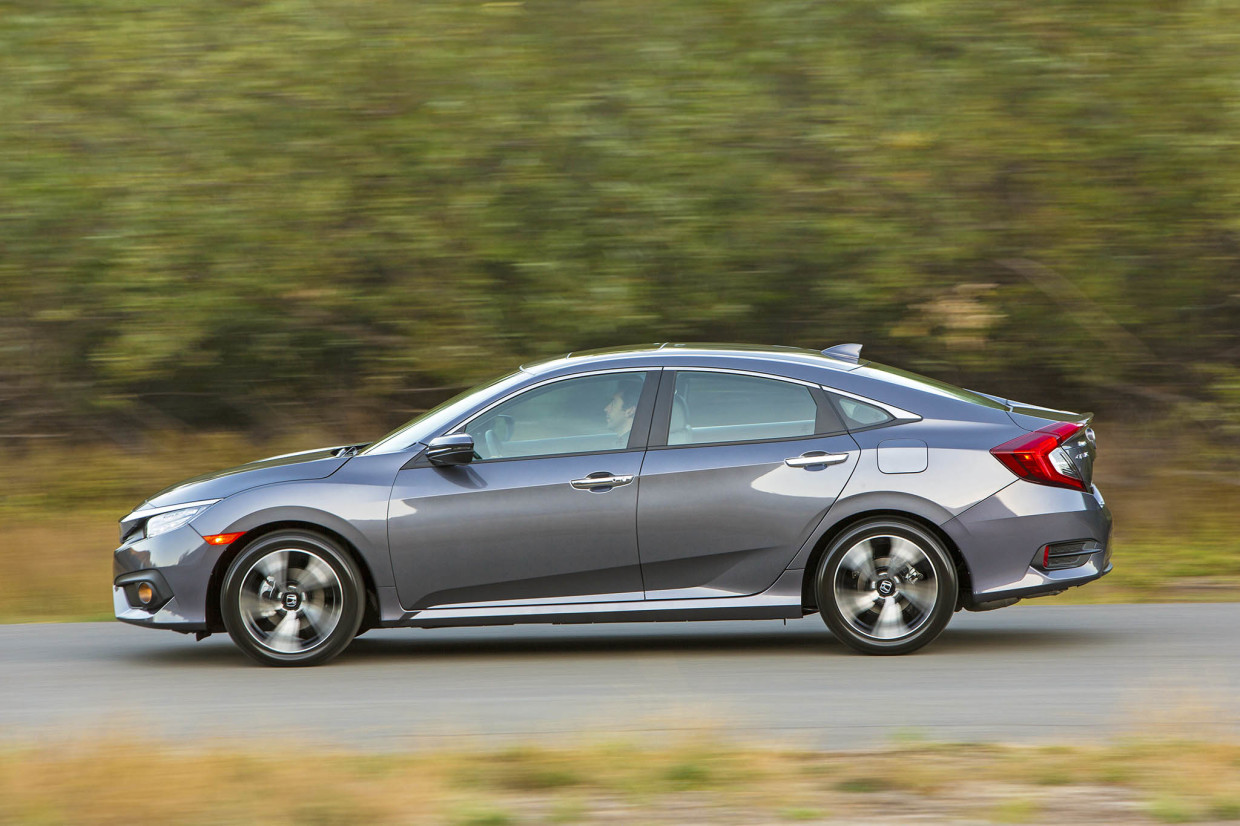 The transmission lever (PRNDSL) is mounted on the center console, as has been tradition for decades, with a new electronically actuated parking brake switch to its left. While that arrangement does take up a fair amount of real estate, the "Tech Center Console" (Honda's nomenclature) beneath the sliding armrest offers plenty of space and options for electronic connectivity.
In terms of luggage capacity, the rear decklid's hinges do drop into the cargo space, but only minimally, and the opening is wide for easier loading. The rear seats split 60:40 and fall forward and out of the way to increase capacity, but only on premium trims (levers inside the trunk make this an easy process).
Technology and Innovation
The 2016 Honda Civic Sedan is more advanced, at least in computer power, than the rockets that took men to the moon — and much safer.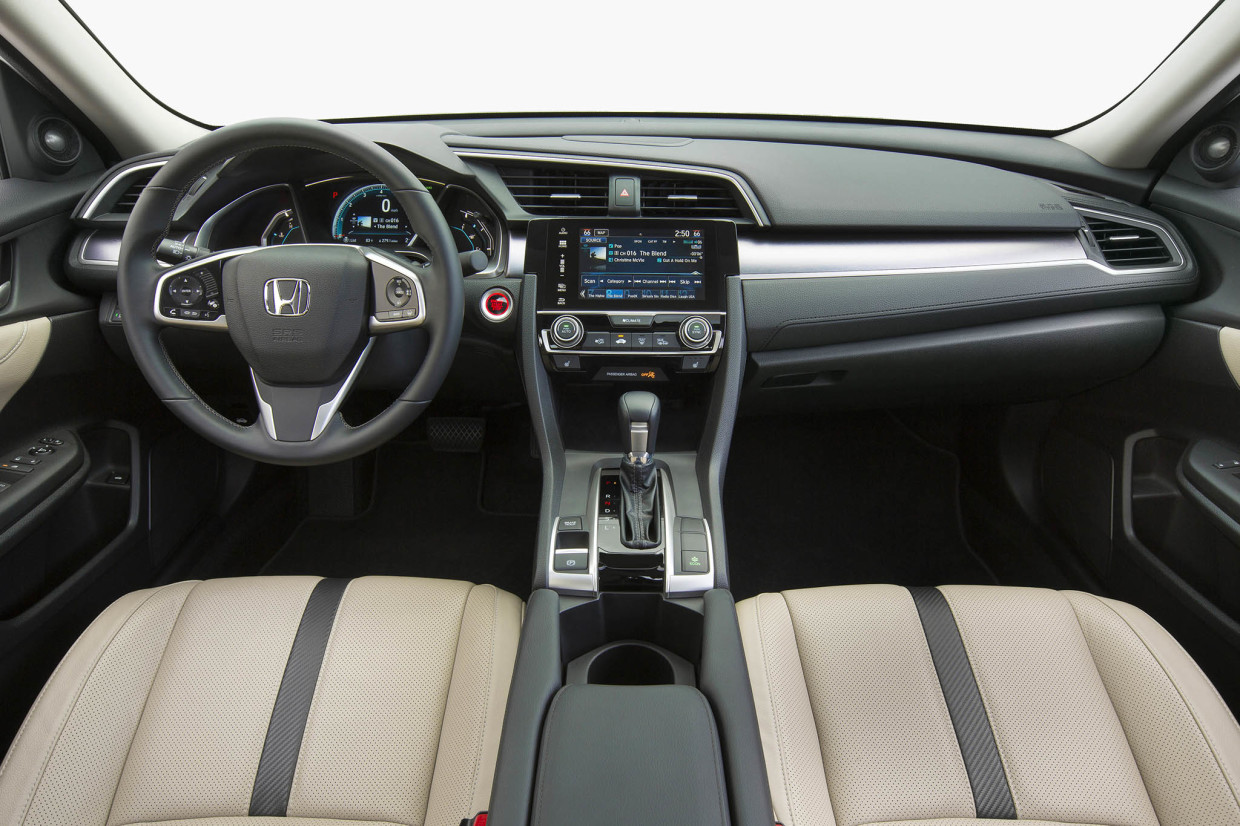 Honda will initially offer five different trim levels (LX, EX, EX-T, EX-L, and Touring). Base LX models arrive with cloth upholstery and a full complement of power equipment, including automatic climate control, automatic headlights, and LED running and tail lights. At the other end of the spectrum sits the all-new Touring model — the flagship Civic sedan — boasting leather upholstery, HondaSensing safety technology, LED headlights, heated rear seats, a 450-watt audio package, and Garmin-based navigation.
This segment's shoppers demand technology and connectivity to their mobile devices, so Honda is offering the Civic with Apple CarPlay and Android Auto — both connect via a USB port conveniently located beneath the head unit and console. A 7-inch color capacitive touchscreen, set prominently in the center stack, controls navigation, phone, audio, vehicle information, settings, and more. New technology to the Civic lineup aimed to help ease routine owner chores includes cap-less refueling, tire fill assist, and a maintenance reminder system.
Under the Hood
Honda is launching the Civic Sedan with two new all-aluminum dual-overhead engines — the automaker's first four-cylinder DOHC offerings since the beloved S2000 was retired in 2009.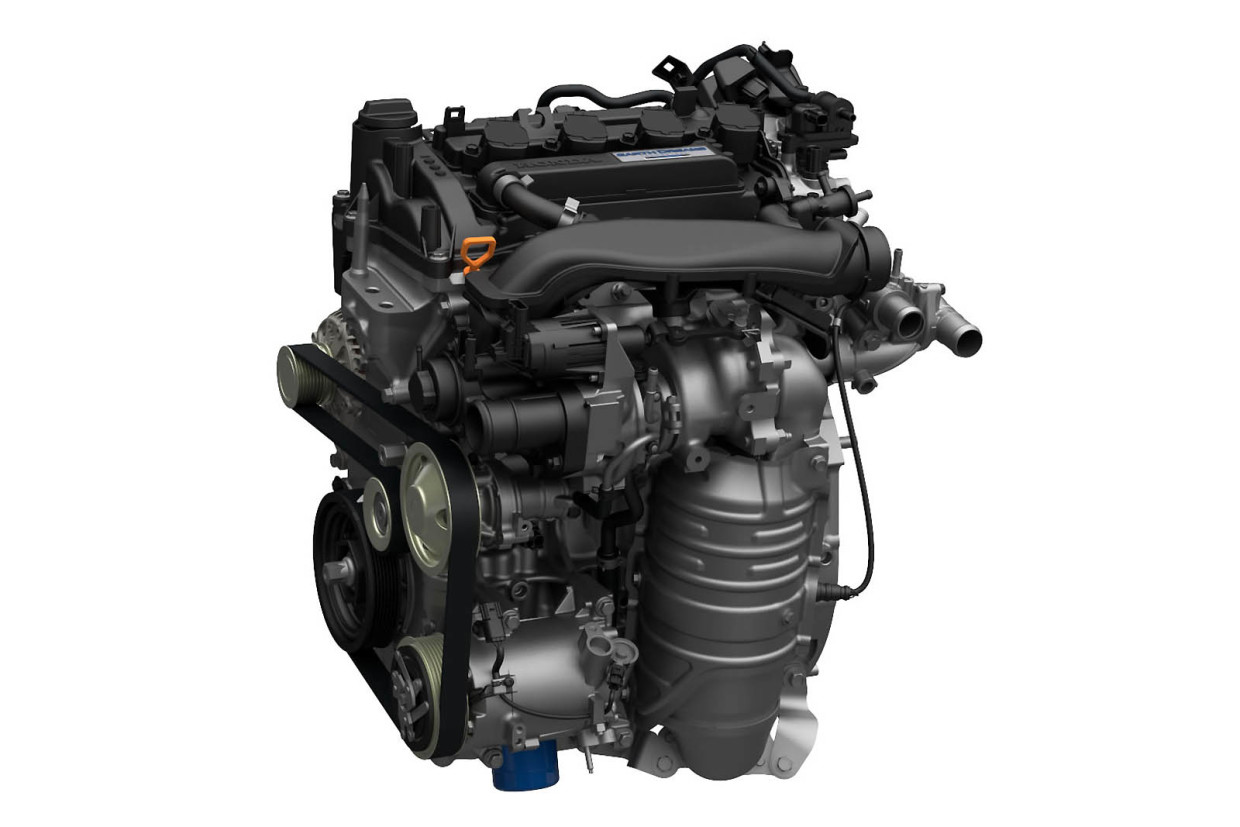 Standard trims (EX and LX) arrive with a naturally aspirated 2.0-liter four with multi-point fuel injection that puts out 158 horsepower at 6500 rpm and 138 pound-feet of torque at 4200 rpm. Premium models (EX-T, EX-L, and Touring) are fitted with a turbocharged 1.5-liter four with direct fuel injection. Running up to 16.5 psi of boost, the engine delivers 174 horsepower at 6000 rpm and 162 pound-feet of torque from 1700-5500 rpm. Both engines run smoothly and deliver power almost all the way to redline (6700 rpm on the 2.0; 6500 rpm on the 1.5), but the turbocharged engine is my top choice. It's a jewel of a powerplant, boasting sodium-filled valves, a liquid-cooled integrated exhaust manifold, and dual exhaust pipes.
If you want to change gears the old-fashioned way, the only opportunity is with the base LX. Its 2.0-liter is mated to a slick-shifting 6-speed manual gearbox, while all other trims are fitted with a continuously variable transmission (CVT), featuring Drive, Sport, and Low modes. Honda isn't pulling the wool over anyone's eyes with faux gear ratios on the belted transmission — there are no paddle shifters or manual modes.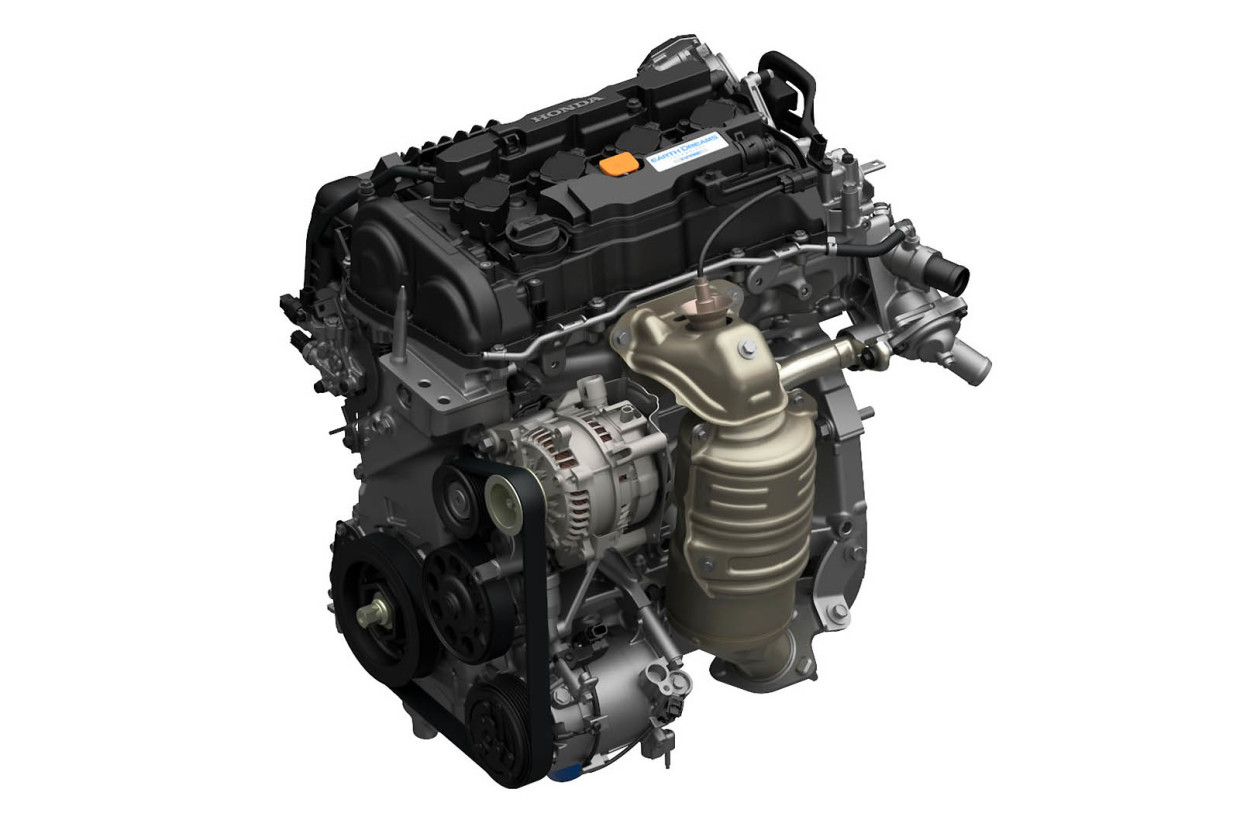 Fuel economy figures haven't been released, but the 2.0-liter 6MT model's mpg ratings should be 27 city/40 mpg highway; the 2.0-liter CVT models are expected to earn 31 city/41 highway. The 1.5-liter turbocharged model promises 31 city/42 highway, slightly improving upon its naturally aspirated sibling, but my real-world experience says the more powerful model will be slightly less efficient because of dipping into the boost more often.
On the Road
I spent the better part of a full day driving the Civic Sedan in the Santa Monica Mountains and along the Pacific Coast just west of Malibu. The terrain varied between rolling hills, steep grades, challenging corners and flat highways — a wonderful range of roads to properly wring out a vehicle. Regardless of the challenge, the Honda never left me disappointed.
Ride quality is very good, and the suspension also absorbs bumps, bashes, and the raised ceramic Bott's dots with effortless calm. Considering the Civic's segment and price point, I was surprised at how physically isolated we were from the turmoil of the road. Many sedans costing double aren't as competent. There's so little wind noise or engine clamor — my ears suspect best in segment — that rumble from the all-season tires does permeate the cabin, especially over pavement with coarse aggregate, but that is expected.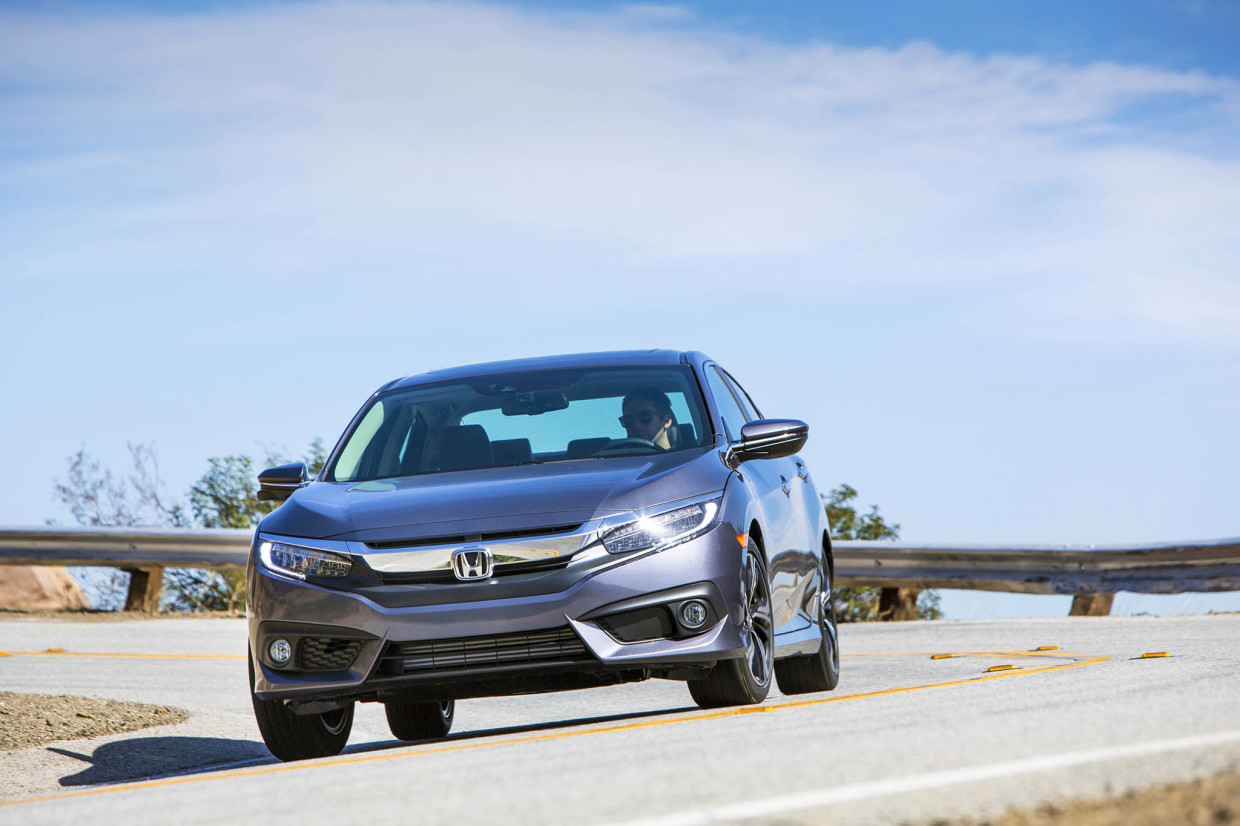 Acceleration is best described as "leisurely" with the standard 2.0-liter, and "spirited" with the turbocharged 1.5-liter. Both engines spin willingly to redline with smooth power delivery (there was a familiarity to the powerplants that kept reminding me of the days when Honda's engines were second to none). There is an expected four-cylinder buzz (not be confused with physical vibration), but the forced induction engine is less abrasive to the ears (the turbocharger muffles some of the less pleasant sounds from the exhaust note), and its power made it much easier to pass slower cars on mountain grades.
The CVT deserves an individual call-out because it didn't draw profanities from my mouth — nearly every CVT leaves me cursing. I'm not a fan of this type of transmission as the driver can't really tell how hard the engine is working, or how much power is left in reserve, but sometimes an automaker gets the hardware's software right. Honda has.
Handling isn't sporty — those weren't the design objectives — but it isn't sloppy, either. Zipping through the canyons is pleasant and . . . well, not unsatisfying, as body roll is well controlled, even when the sedan is pushed hard, but the electrically-assisted steering lacks the tactile feedback and engagement of a sports sedan. G-forces push around the chassis, but little of that movement is felt through the steering wheel. Tire howl is the tune, and understeer is the dance, when the Civic Sedan is pushed to its limits.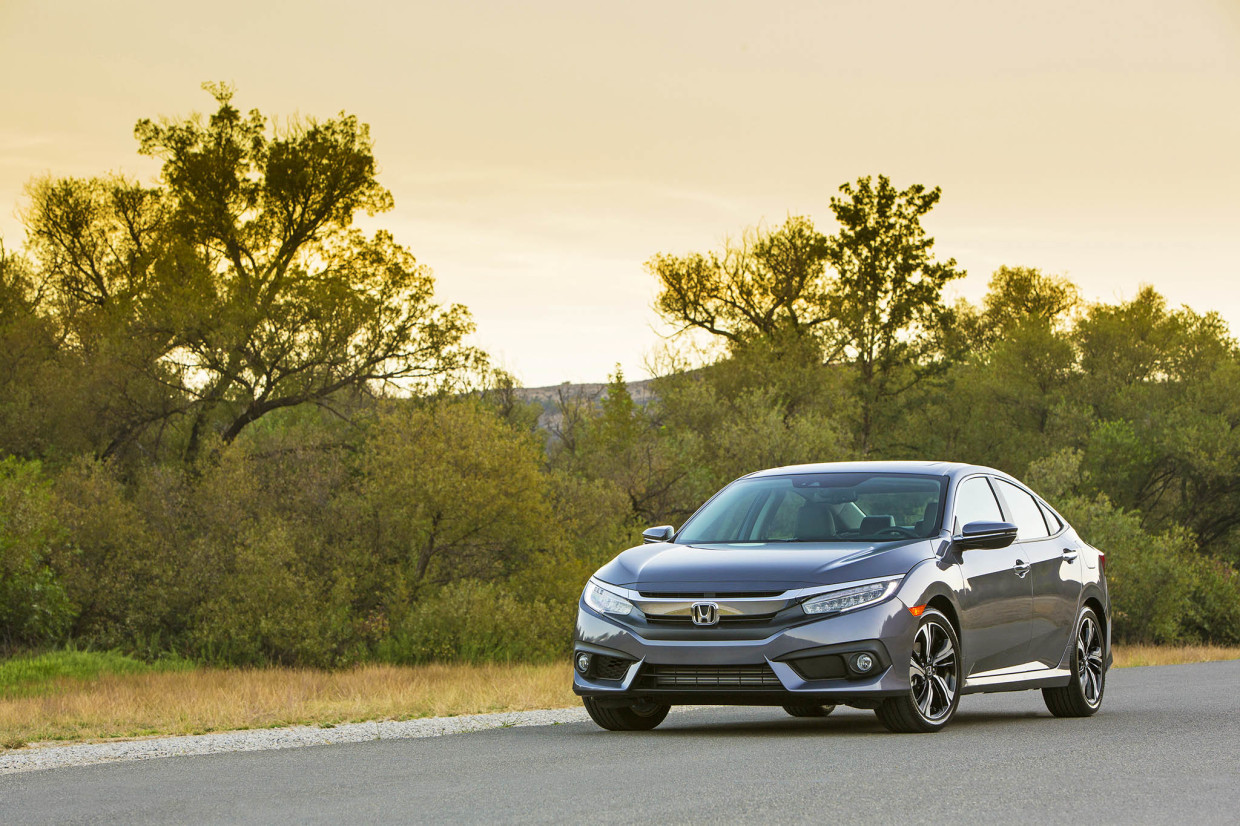 The Final Verdict
Once, not long ago, it was easy to dismiss this segment's cars as boring, bland, and uninspiring compact appliances with little appeal to those who wanted a fair dose of cabin comfort and respectable ride quality. The 2016 Honda Civic Sedan put a big smile on my face after a full day of driving. Reaching up and borrowing the playbook from the premium midsize segment resulted in a more accomplished chassis, two extraordinary engines, a host of premium appointments and passenger accommodations that make occupants feel welcome and not just along for the ride. Honda had better clear some space on its trophy shelves; the all-new Civic Sedan is likely to win more than a few awards.
For more information, options, and pricing, please visit our 2016 Honda Civic Sedan page on AutoWeb's search and configure site.
---
[Photography ©2015 Honda]