First drives
2016 Honda Pilot: First Drive
"Driven with restraint, its acceleration is smooth and refined. However, bury a foot on the gas pedal, and the engine's voice slices through the firewall with an unpleasant rasp."
Seven years of boxy second-generation Honda Pilot had left me unprepared for the vehicle that drove onto the stage at the 2015 Chicago Auto Show. Instead of the evolutionarily timid third-generation vehicle I had expected from the traditionally conservative automaker, an attractive, even stylish, eight-passenger crossover emerged from the darkness into the light. I took a long blink, but my eyes had not been deceived; they had been awed.
Designed, engineered and built in the States, the all-new model immediately addressed the unfortunate truth about its predecessor — lackluster styling (a nice way of saying boxy, boring and bland). But now, even before the first customer had climbed behind its wheel, I felt a certainty that the visually appealing 2016 Honda Pilot was destined for sales success.
Looks are important, but my eyes have been led astray in the past by attractive lines, so I traveled to Cincinnati, Ohio, to spend a full day driving Honda's newest crossover to see if the Pilot's allure was more than skin deep.
Design, Comfort and Utility
The all-new 2016 Honda Pilot is certainly a looker, but from the front and side some might confuse the big crossover with the automaker's smaller CR-V crossover. Both share similar shapes, with blackened B- and C-pillars and near identical lower body cladding. Only the view from the rear readily differentiates the two: The CR-V has a large, and distinctive, chrome strip across its rear hatch, while the Pilot's look is more conservative. The large and uncharacteristic lift gate and hidden exhaust tips are its weakest elements — it almost looks like the bland butt of a minivan.
Its overall shape is deceptive in that this third version of the Pilot appears to be smaller than a study of its dimensions would suggest. It's actually a bit longer — about 3.5 inches — than the outgoing model, and the wheelbase has been stretched to improve the ride. Each of the three rows of occupants (seven- and eight-passenger cabin configurations are again offered) gains space, too, from the increase in size, and the cargo hold behind the third row is slightly deeper (it now can hold an 82-quart cooler).
The whole family will find the redesigned Pilot to be a comfortable place to pass the miles. The new cabin appointments are higher grade, although there is still plenty of plastic around the second and third rows that remind passengers where this Honda is priced. The ergonomics and controls are generally spot-on, but I'm still not a fan of the push-button electronic gear selector borrowed from the Acura parts bin on the premium models, and I long for a physical volume dial for the audio system.
My six-foot two-inch frame fit easily and comfortably into the driver's seat, a movement I repeated with equal success throughout the cabin, in all three rows, which I'm rarely able to accomplish on any three-row crossover. The big news inside the cabin of EX-L and higher models is Honda's "One-Touch 2nd-Row Seating," which eases entry/exit to the third row with the simple press of an illuminated electronic button. This releases a latch that uses springs to fold and slide the second row forward for greatly improved access. LX and EX models have a similar system that is actuated by a manual lever. Even small kids will be able to operate it, as there are handy buttons on both sides of the seat (though presumably the system cannot be operated when the vehicle is in motion!).
Technology and Innovation
Honda will again offer its four familiar trim levels (LX, EX, EX-L, Touring), but it has added an Elite premium model that's loaded and leaves very few items on the option list unchecked. But, Honda's reach toward opulence (leather quality, weight and cohesiveness of material, etc.) still falls short of the European brands. It is Timex premium, not Rolex premium.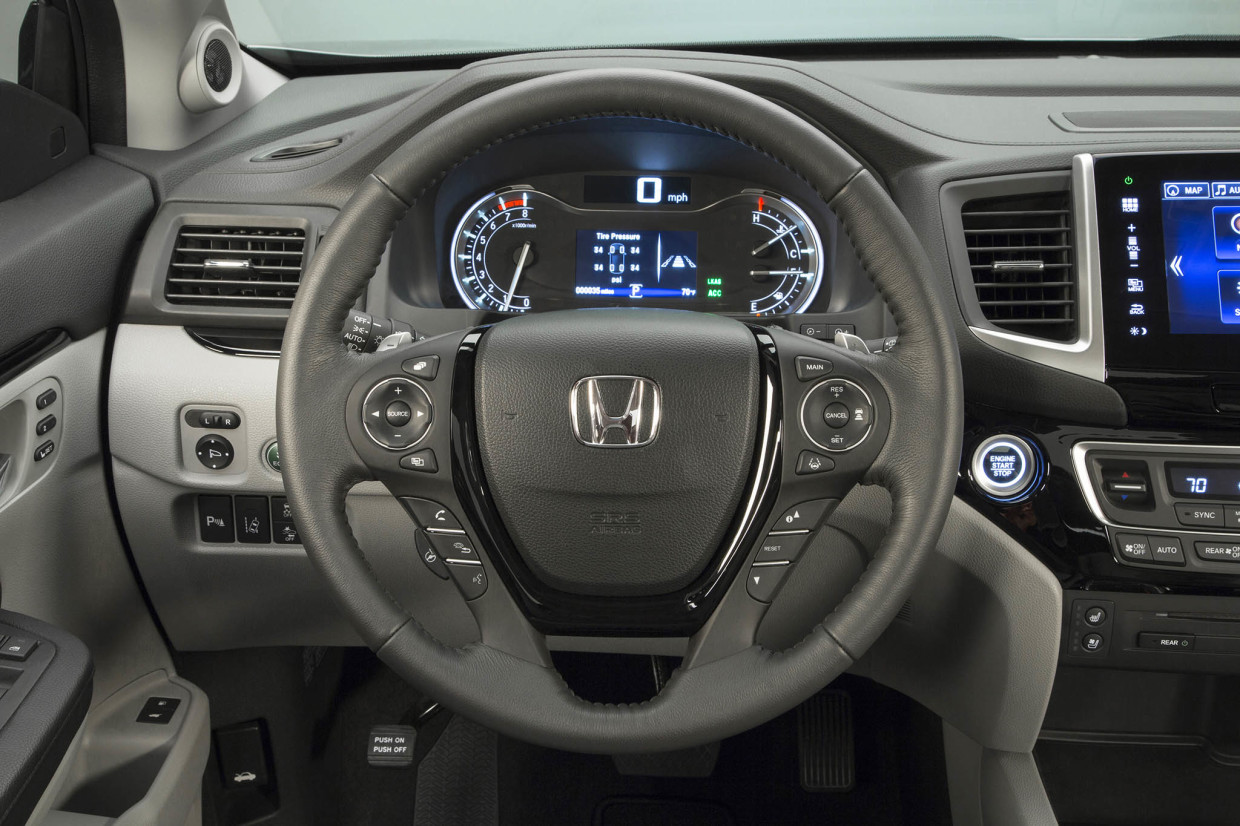 Standard LX models arrive with full power accessories, alloy wheels, push-button start, active noise cancellation, LaneWatch (Honda's blind-spot monitoring) and a multi-angle rearview camera. Higher trims build from a comprehensive list of luxury equipment that includes LED ambient lighting, HondaLink Next Generation infotainment, and a 540-watt premium audio system with ten speakers.
In addition to a standard 4.2-inch full-color Multi-Information Display (MID) on the instrument panel, EX trims and above are configured with an 8.0-inch Display Audio touchscreen for the infotainment system mounted high on the center console. Those with kids opting for either the Touring or Elite trims may want the 9.0-inch ceiling-mounted Rear Entertainment System that accepts Blu-Ray discs. Charging an array of electronics is easy thanks to five standard USB ports, and four have 2.5-amp charging capacity so you can juice your iPad while using it.
Driving technology includes Honda's Intelligent Traction Management, with Normal, Snow, Mud and Sand modes, which allow the Pilot to crawl its way out of everything a soccer mom will encounter. Adaptive Cruise Control (ACC) reduces the driver's load on road trips, but it is not a full-range system — it shuts off below 20 mph (premium Acura models are fitted with ACC and Low-Speed Follow, which works in traffic).
Safety, of course, is a priority, so in addition to six standard airbags Honda offers a long list of active safety technology, including Collision Mitigation Braking System (CMBS), Road Departure Mitigation System (RDM), Forward Collision Warning (FCW), Rear Cross Traffic Monitor, and Lane Departure Warning (LDW) — switch all of these on, and the Pilot will gently help you guide itself down the middle of the lane. (Note to ad agency: "Honda: We Guide You Down the Middle Lane of Life.") While the 2016 Pilot has yet to be tested, Honda is confident it will earn a Top Safety Pick Plus (TSP+) rating from the Insurance Institute for Highway Safety (IIHS).
Under the Hood
Don't be misled by the Pilot's engine specifications and think the 3.5-liter engine is a carryover; only its displacement remains the same. The completely new 3.5-liter V6 is marketed as coming from its EarthDreams Technology series and features direct injection, Honda's i-VTEC variable valve timing, and VCM cylinder deactivation. Standard across the line, the all-aluminum engine is rated at 280 horsepower and 262 pound-feet of torque.
Standard trims will find it mated to new six-speed automatic, while premium models (Touring and Elite) boast a new nine-speed automatic, which not only improves acceleration but fuel efficiency as well. Front-wheel drive is standard, but all trim levels can be fitted with Honda's Intelligent Variable Torque Management (i-VTM4) all-wheel-drive system and its new electronically controlled, hydraulically actuated rear differential (AWD comes standard on the Elite). The i-VTM4 system typically sends 100 percent of the torque to the front wheels, but it may send upwards of 70 percent rearward if the front wheels slip, say during hard cornering or under heavy acceleration. The AWD system has been engineered with torque vectoring capabilities, too, which means i-VTM4 not only improves traction and handling during inclement weather or off-road, but it aids stability on dry pavement as it helps steer the vehicle in the driver's intended direction.
Four-wheel independent suspension is standard. Except for Touring and Elite, all models arrive with 18-inch alloy wheels wrapped in 245/60R18 all-season tires. Touring and Elite models are upgraded with 20-inch alloys, but their tires (245/50R20) are no wider despite their lower profile. The increased harshness from the lower sidewall height has been offset, Honda says, by retuned shock absorbers. There are disc brakes at all four corners.
Properly equipped, the 2016 Honda Pilot is capable of towing 3,500 pounds. With a dealer-installed ATF cooler, its towing capacity rises to 5,000 pounds (AWD models).
On the Road
The drive route Honda charted included both open highways and tight rural roads in Ohio and Kentucky. Departing Cincinnati, I would eventually make my way to Kentucky Speedway, where the automaker had set up exercises to demonstrate the many features of the new safety technology. The highway portions were expectedly mundane, but the back roads were surprisingly challenging — particularly to a vehicle that wasn't engineered to emphasize the "sport" in sport utility.
If someone were to ask me to prioritize Honda's objectives with its new Pilot based on that all-day drive, I would put driving dynamics third or fourth on the list — after styling and functionality. The new crossover drives perfectly well, yet it fails to engage or even tug at any passionate emotion. You climb behind the wheel of the Pilot because you need to go somewhere, or take people to a place, not because the winding road beckons.
But that is not necessarily a bad thing, as the Honda delivers everything that buyers in this segment actually care about: comfort, safety, and a nearly effortless driving experience.
The new nine-speed automatic transmission, mated to the new V6, gives the Pilot a more youthful spring off the line. It is noticeably quicker away from the light and around town, but passing safely at highway speeds on a two-lane road will still require a bit of planning — and proper timing — as the engine prefers to work on the slower side of the tachometer. The powerplant responds best when treated in a civil manner. Driven with restraint, its acceleration is smooth and refined. However, bury a foot on the gas pedal, and the engine's voice slices through the firewall with an unpleasant rasp — "back off!" — as redline approaches. Meanwhile, the exhaust is as mute as an electric car's "tailpipe." Intentional? Maybe.
In fact, Honda paid a great deal of attention to noise reduction, going so far as to include acoustic windshield glass and thicker front door windows on EX-L trims. The effort was taken to an even further level on the Touring and Elite models with acoustic lamination on the front doors as well. Combined with foam acoustic barriers for additional sound reduction, the Pilot is eerily quiet at legal highway speeds. Drive the standard Pilot LX back to back with the premium models, like I did, and the lower sound levels in the premium models is dramatic.
Ride quality is a strong point. Overall damping leans towards the soft side of the spectrum, of course, but this is good, because small to moderate bumps and imperfections in the pavement don't unsettle the chassis, which feels much stiffer that the outgoing model (Honda says the new model has a 25-percent gain in torsional rigidity). The relaxed suspension allows the 4,300-pound crossover to ride very well on the highway and around town, but it does put a damper on back-road excursions. If the Pilot is driven aggressively, with a sporty attitude, its nose heavy front-wheel drive architecture begins to lose composure. Reducing velocity immediately brings it back on line, where it's back in its comfort zone.
But handling inadequacies can't be blamed purely on the suspension tuning — the steering is also a culprit. All Pilots are fitted with Motion-Adaptive Electric Power Steering (EPS), which is designed to help stabilize the vehicle by prompting the driver to steer in the correct direction during cornering. I found the system to be troubling: It removed much of the road feel, and I found myself fighting against it, which only increased the vehicle's swaying motions.
I had a change to test Honda's Intelligent Traction Management at an off-road event called "Droptops and Dirt," run by Southern California's Motor Press Guild. Far from its familiar paved environment, the Pilot was remarkably adept on the mountainous off-road course, scampering up moderate to steep dirt hills almost effortlessly. The all-wheel drive system didn't seem challenged by the loose dry soil, with the vehicle's electronics quickly shifting power to the wheels that needed it — only the occasional sound of a wheel grasping for traction alerted me of the proceedings. Ground clearance over the tallest dirt moguls was minimal, but it only scraped once and there was no resulting damage to the Pilot's underside.
The Final Verdict
The all-new Pilot follows the identical approach as the recently launched Honda HR-V: Give consumers what they want, but don't over-engineer and don't confuse the issue with elements that are deemed less important. This philosophy appears to be an exercise in checking off the usual boxes rather than fashioning new ones.
The Pilot's design and engineering team polished the segment's hot buttons of styling, utility, technology, safety and fuel efficiency. Their result is very, very good — it will serve families well — and I give it a strong recommendation. But I can't seem to shake the feeling that less attention was paid towards driving dynamics and premium appointments — as if the automaker were still intent on leaving a very visible gap between the new Honda Pilot and the Acura MDX.
---
[Photos ©2015 Honda Motor Company]