Cover
2016 Mercedes-Benz GLC 300: First Drive
"Short of towing a trailer weighing more than 5,300 pounds (up from the 3,500-pound towing capacity of the GLK), there appears little the GLC can't do well."
Foolishly dismissing the all-new Mercedes-Benz GLC as nothing more than a renamed second-generation GLK will be a common mistake. It is, after all, the follow-up act to the automaker's first compact crossover, which was introduced in 2008 at Auto China in Beijing. And its new nomenclature, with a "G" for geländewagen (German for off-road vehicle) and a "C" letting the world know it is an SUV equivalent to the C-Class (the "L" simply links the two), clearly defines it as the successor.
Yet two days with the impressive GLC 300 in Europe revealed a much more capable, innovative, and polished vehicle than any version of the GLK ever was. The new five-passenger crossover isn't just an all-new successor — it is arguably one of the best new vehicles in the growing Mercedes-Benz lineup.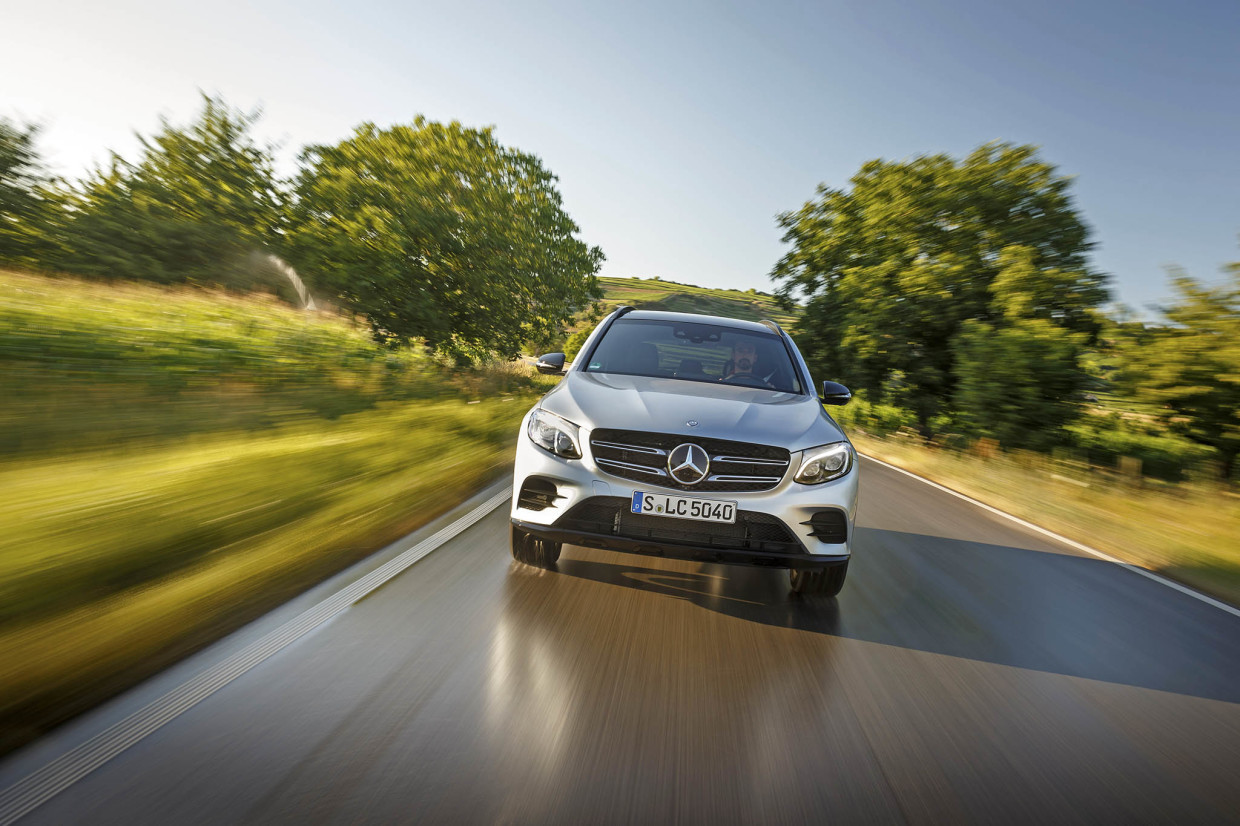 To learn more about the GLC 300, and to measure how it stacks up against the Audi Q5, BMW X3, and Porsche Macan, I boarded an Airbus A380 for the long flight to Europe. A mere 18 hours later, I was standing in beautiful Basel, Switzerland, holding a Mercedes-Benz key fob in my hand.
Design and Comfort
Mercedes-Benz will forgive those who mistake its GLC with the GLE, as the family resemblance is deliberately unmistakable. But while the refreshed-for-2016 GLE retains many of the traditional styling cues from its initial launch in 2012, the all-new GLC follows the automaker's current "Sensual Purity" design philosophy with sporty traits that, says the company, evoke the "modern luxury of the brand."
Larger in every dimension than the GLK it replaces, the GLC is defined by its artfully sculpted lines — completely free of any awkward sharp edges or angles — accented by muscular shoulders, matte black lower cladding that flows cleanly around the wheel arches, and an uncluttered exterior (even the common fin antennae, usually sticking out of the top of the vehicle, has been invisibly integrated into the roof spoiler and exterior mirrors).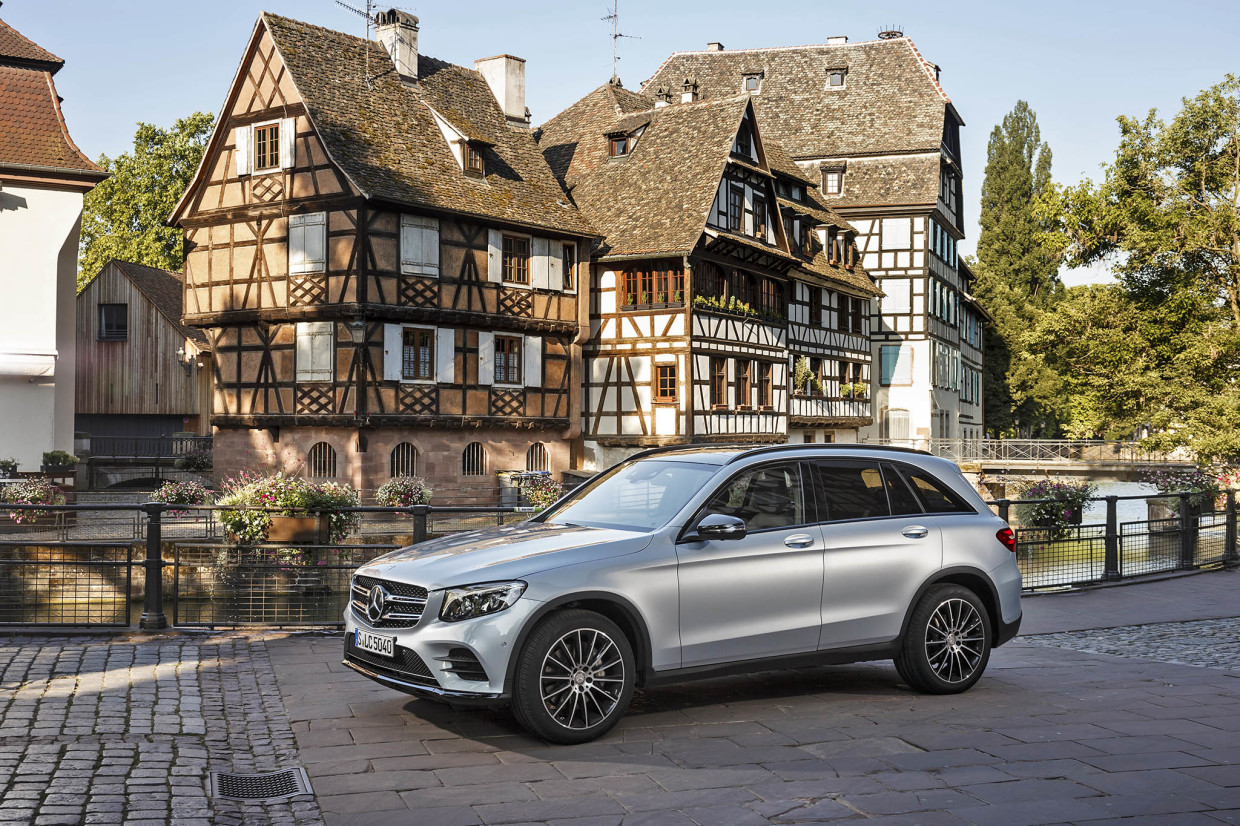 A soft tug on any exterior door handle reveals a very upscale five-passenger cabin, significantly more accommodating than its exterior dimensions would suggest, and replete with premium nappa leather and open-pore wood. The driver and front passenger buckets are wonderfully supportive — I drove a couple hundred miles without a complaint. In fact, my six-foot two-inch frame found all four outboard seating positions very comfortable, and there was no need to slide the front seats forward to keep their backrests from hitting my knees. It is roomy enough that even three adults can expect a jovial time back there.
The overall interior design is visually pleasing, ergonomically sound, and functionally effective — I can't say that about most vehicles these days. The primary analog instrumentation, complemented by a proper digital multifunction display on the panel, is easy to read at a glance, and nearly all of the secondary controls may be operated without removing eyes from the road. I really like the five round air vents, crafted in brushed metal, which delivered powerful airflow to keep the cabin cool even in outside temperatures ranging in the low 90s (rear passengers get a pair of vents on the rear of the center console). And kudos to Mercedes for configuring the cabin with large door pockets, ample storage nooks for personal electronics, and, so that power cords for GPS and radar detectors won't need to stretch far, a 12-volt power socket at the front of the console.
Compared to competitors the Audi Q5 and Porsche Macan, the GLC is noticeably roomier, and the cabin feels more spacious than the BMW X3. Though the GLC's premium materials and fit and finish tangibly top the interiors of the Audi and BMW, Porsche's Macan — shooting for an admittedly higher target — isn't giving up anything in terms of stylish passenger space to this newcomer.
Technology and Innovation
Boasting that the GLC offers virtually every driver assist feature familiar to its C-, E-, and S-Class models is a powerful, and valid, brag. Mercedes-Benz is one of the industry's technology leaders, and the GLC's list of standard equipment includes a 7-inch color infotainment display and an Audio 20 USM sound system with Frontbass, full Bluetooth connectivity, and an Internet data option. A premium Burmester sound system is optional.
The list of standard driver assist equipment on all models hitting our shores is impressive and includes Collision Prevention Assist Plus, Crosswind Assist, Active Highbeam Assist, Attention Assist, and Dynamic Cornering Assist. An optional Driver Assistance package adds Distronic Plus with Steering Assist, which I consider the best dynamic cruise control system currently on the market, Pre-Safe Brake, Cross-Traffic Assist, Active Blind Spot Assist, and Active Lane Keeping Assist. Loaded up with all of the driver assist and safety equipment, which includes more than a half-dozen radars and sensors, the GLC is almost as aware of its surroundings as a Boeing E-3 Sentry "AWACS" jet.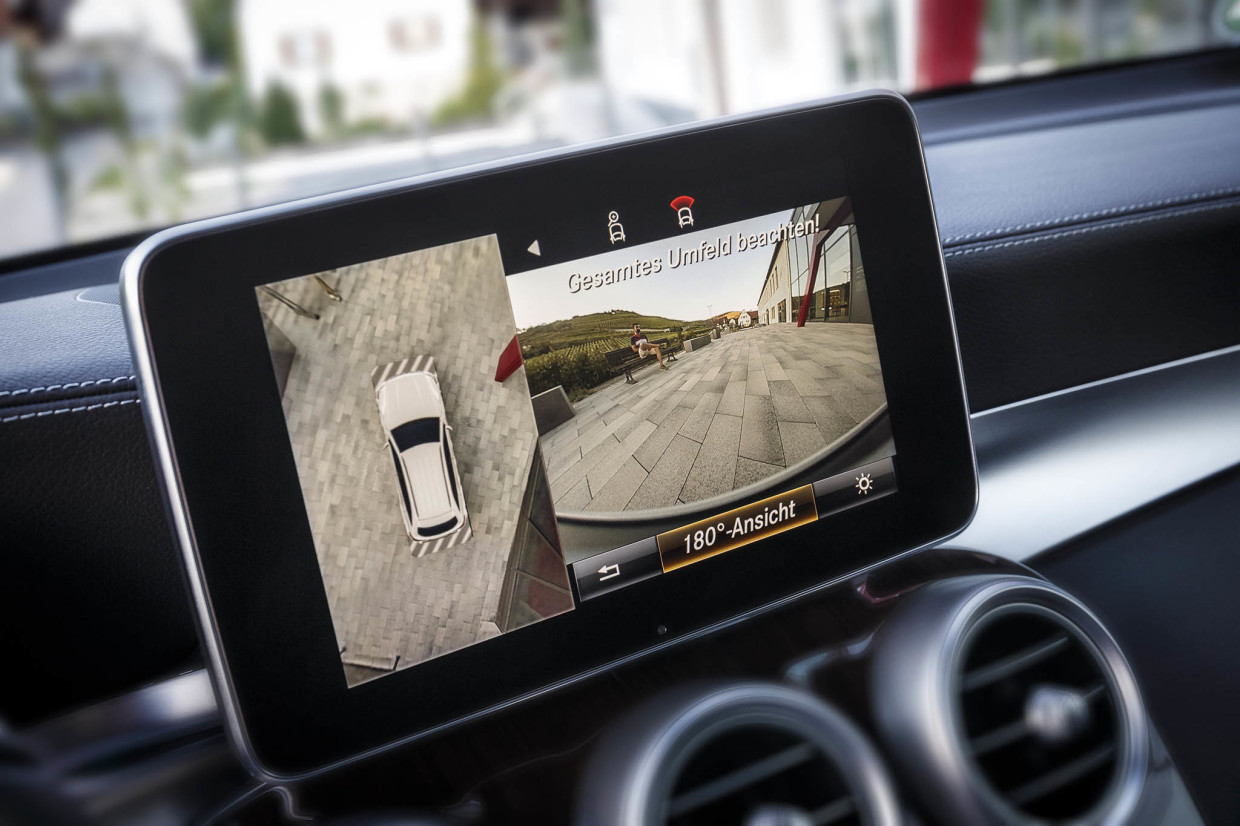 The new GLC also debuts with Dynamic Select as a standard feature. The five-mode system (Eco, Comfort, Sport, Sport+, and Individual) responds to driver inputs and road conditions and adjusts the throttle, transmission, steering, and suspension accordingly. While Eco helps the car run more efficiently, allowing the engine to coast or "sail" at idle during deceleration, I found it a bit too soft and passive for my enthusiast-oriented driving style. Sport+ is sport-sedan aggressive, and it is — slap my fingers for typing this — almost too much for daily driving. After trying all of the settings, I decided Sport was the perfect compromise.
Chassis and Engine
Platform architecture, shared with the C-Class, is a steel unibody construction that includes a significant amount of lightweight aluminum in addition to high- and ultra-high-strength steels. The hood, front quarter panels, and roof are all crafted in aluminum alloy, as is much of the suspension, which helps the new model tip the scales at about 3,800 pounds — 176 pounds lighter than the GLK, says the automaker.
As expected, the GLC will eventually be offered with a range of gasoline and diesel engines, including a high-performance AMG variant. However, arriving first in showrooms in November will be the GLC 300 and GLC 300 4Matic, both fitted with a turbocharged 2.0-liter gasoline-fed 4-cylinder rated at 241 horsepower and 273 pound-feet of torque. Mated to the engine, and making its debut, is a new 9-speed automatic transmission, the "9G-Tronic." The GLC 300 is rear-wheel drive, while the GLC 300 4Matic is fitted with a permanent all-wheel-drive system with a basic drive torque split of 45:55 (front to rear).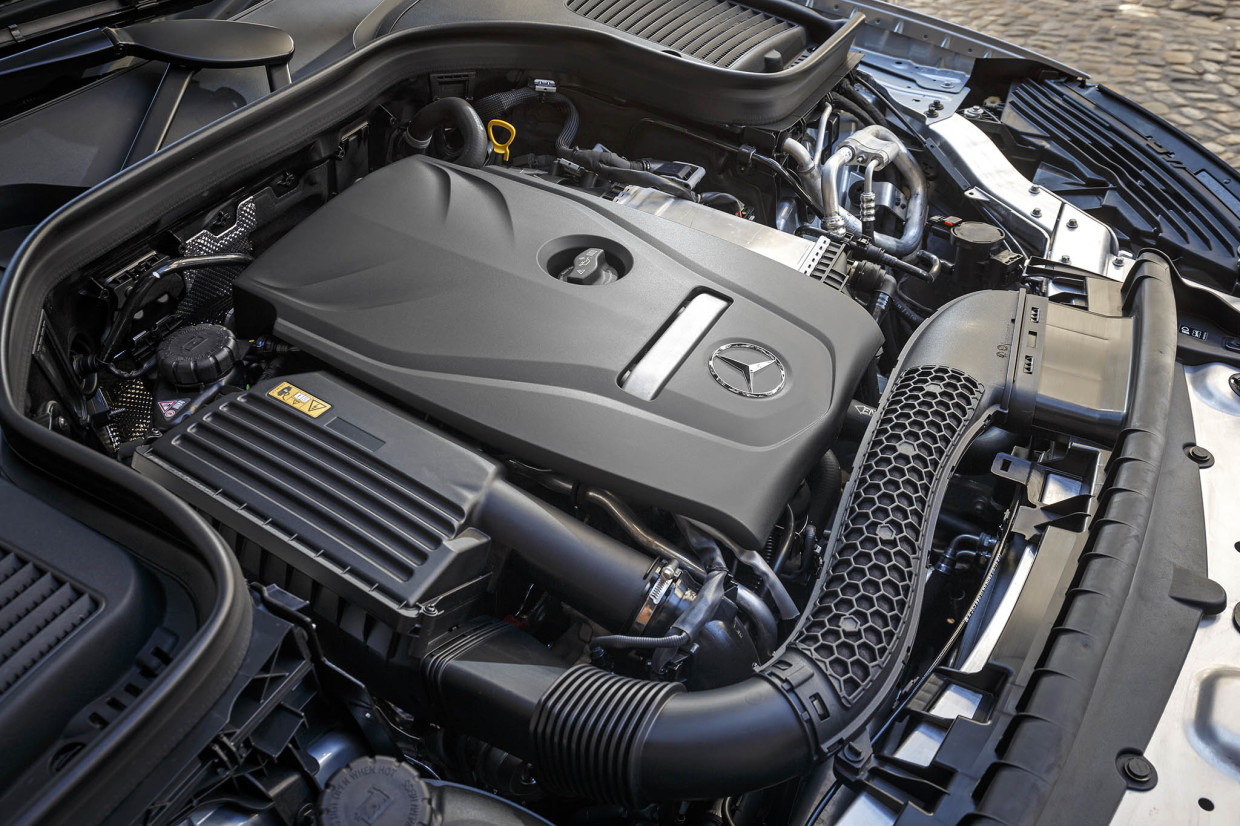 Steel springs and variable dampers are standard as part of the Agility Control suspension, but the new GLC also offers Air Body Control, a full-support multi-chamber air suspension and electronically controlled, continuously adjustable damping that raises and lowers the chassis for high-speed or off-road driving, respectively. Braking is accomplished with multi-piston front calipers over drilled and ventilated rotors and single-piston sliding rear calipers. Standard wheels are 18 inches in diameter, but the factory also fits the GLC with alloys as large as 20 inches — the size my test vehicle was riding on.
On the Road
Mercedes plotted a drive route that took us through Germany, Switzerland, and France — all are in close proximity to Basel — giving us the opportunity to wring out its crossover on the unlimited-speed autobahn, along two-lane country roads, through congested cities, and over a man-made off-road course. I couldn't have asked for a more varied or comprehensive introduction to the vehicle.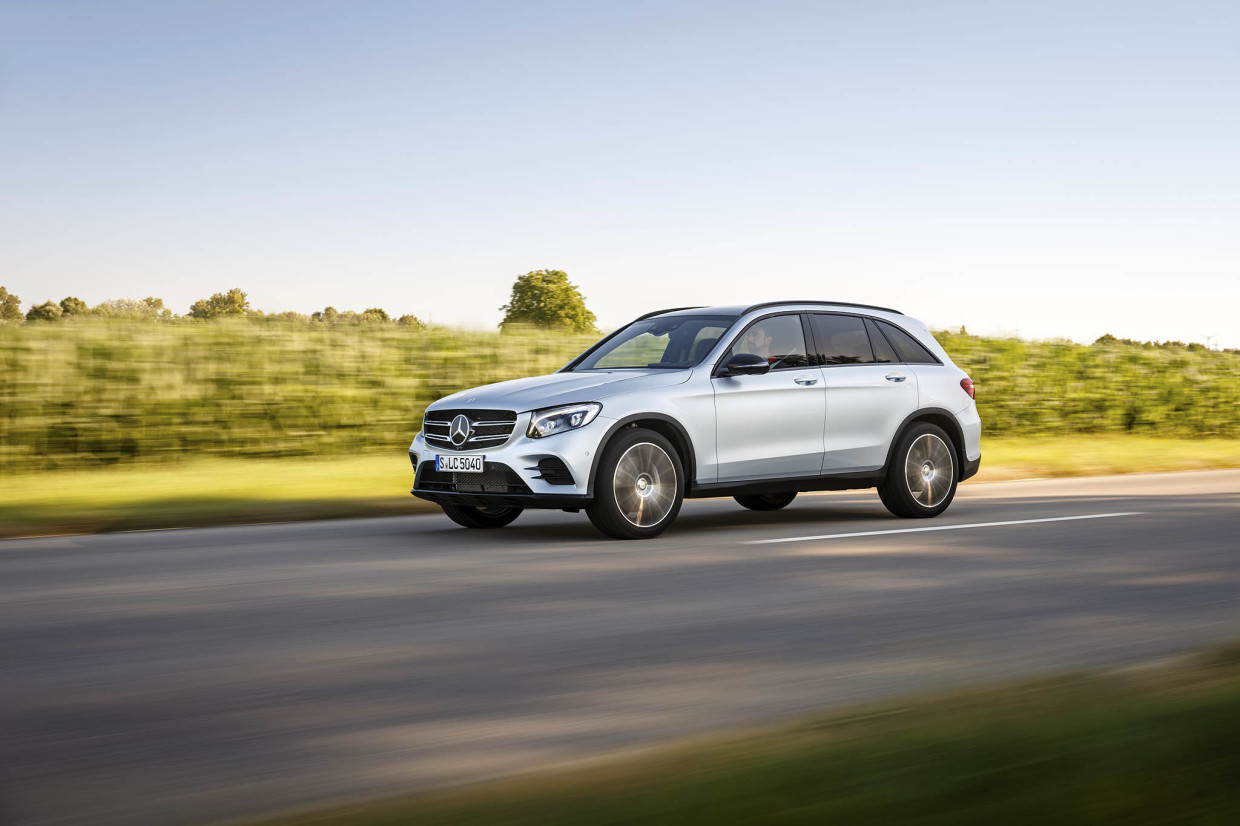 The 4-cylinder engine delivers bountiful torque, its power amplified by the low gearing in the 9-speed transmission. As a result, the GLC moves off the line quickly and zips confidently around town. I estimate a 0-60 time of less than 7 seconds, which is spunky enough that no one is going to miss the outgoing 3.5-liter V6 (plus, the new engine offers identical torque but much better fuel efficiency). Acceleration at higher speeds is acceptable, say for passing slow tractors through a French vineyard, but stomping on the pedal won't pin anyone's heads against the restraints (hold out for the expected AMG model, if that's your motive).
Outward visibility is strong, unblocked by oversized pillars or styling elements, and the exterior mirrors are well-placed for wide sightlines along the flanks. A backup camera is standard, but I suggest upgrading to the optional 360-degree camera, which better assists the driver in low-speed and off-road maneuvers. Noise levels inside the passenger cabin are remarkably low, too, thanks to the impressive 0.31 drag coefficient (the GLK was 0.34), sprayed acoustic material in the body, and the sound-absorbing acoustic front windshield. I didn't note any annoying wind noise or whistling, and tire roar was more like a purr, even on rough pavement.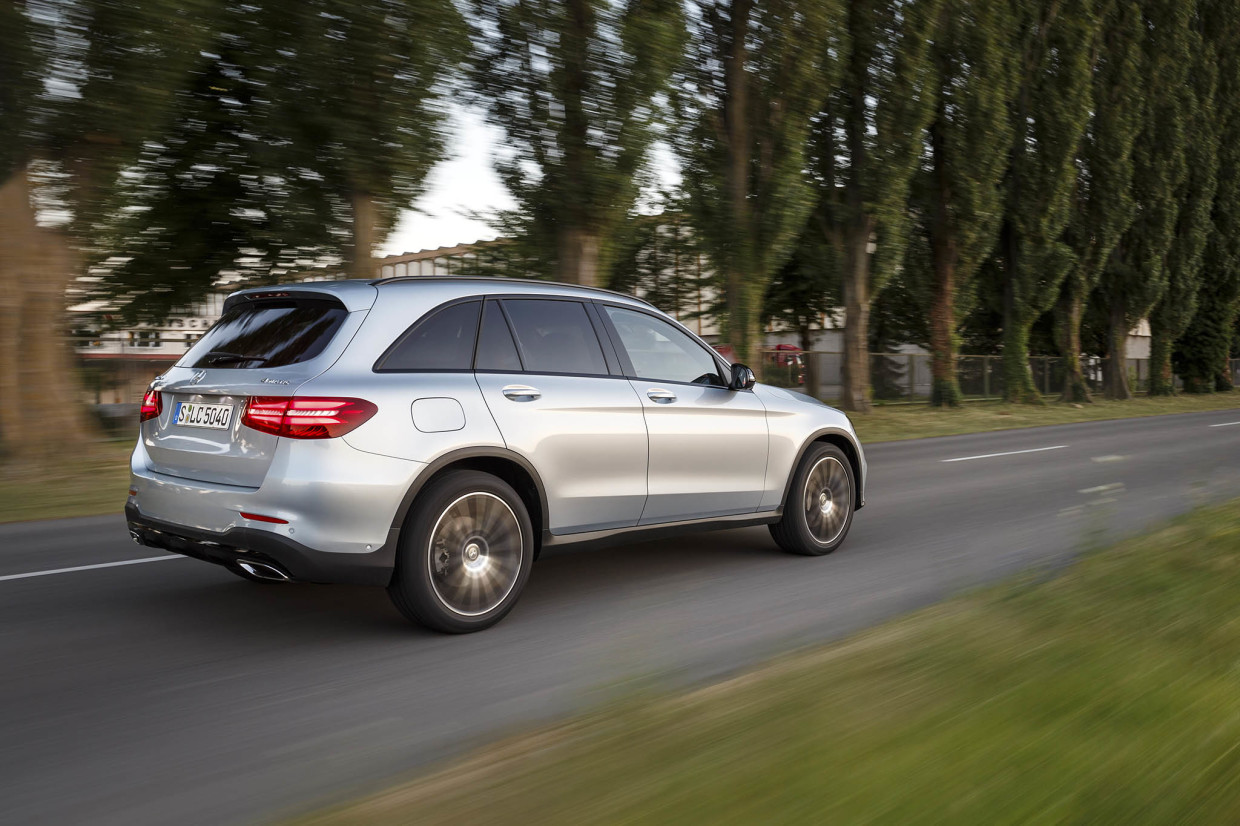 The GLC has excellent road manners, driving with a surefooted stability on all surfaces and at every speed — on an open stretch on the German autobahn I accelerated up to about 125 mph and felt as stable as if I were in a Porsche 911. I pushed it as hard as a sport sedan in the French hills, and it gracefully carved its way up every road without so much as a squealing tire. Of course, for safety reasons it starts to understeer nearing the limit, and the only way to provoke oversteer (if that's your thing) is to figure out a way to overwrite its electronic stability control. The brakes are outstanding — they cannot be overburdened. Off-road, it eagerly crawled through sand, bounded over moguls, and climbed near 40-degree grades (even stopping in the middle and backing up) despite lacking a low-range transfer case.
Short of towing a trailer weighing more than 5,300 pounds (up from the 3,500-pound towing capacity of the GLK), there appears little the GLC can't do well.
The Final Verdict
Waiting for the Boeing 747-8 to deliver me back to the West Coast, I sat with my industry peers in the airport terminal discussing the vehicle we had just driven. There was the usual chat about the drive route and what we liked about the vehicle we had just experienced, but a familiar topic was missing — imperfections. None of us could come up with a blemish or annoyance that would lead us to not recommend this vehicle to a close friend or a family member.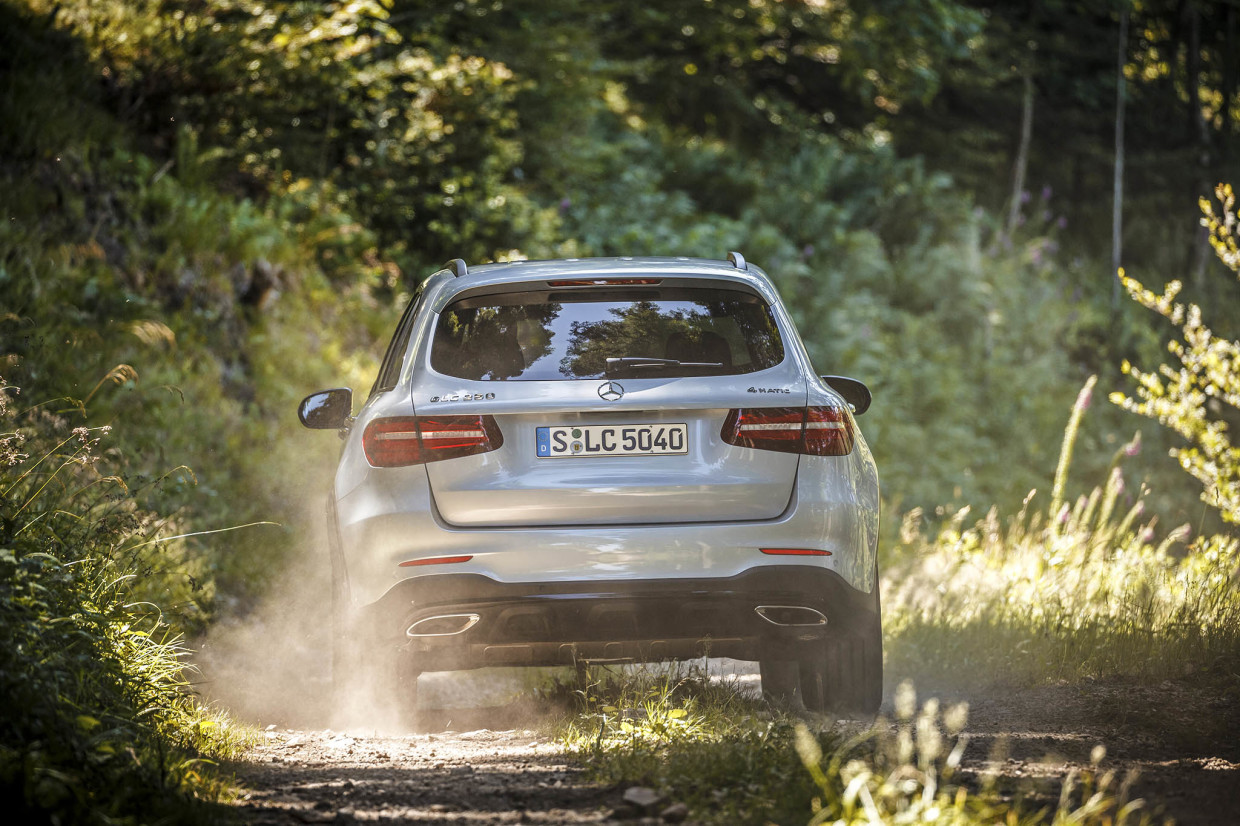 The GLK was always a tough sell against the Audi Q5 and BMW X3, and more recently the Porsche Macan, because it was smaller and thirstier than its competitors, and its styling never aligned with the rest of the Mercedes lineup. Its successor, however, the all-new 2016 GLC, has brought new style and skills to the playing field. It is a much more attractive vehicle and is superior to the opposition in terms of passenger comfort, utility and safety innovation. Its road manners are better than those of the Audi and BMW, too, but I still feel that the Porsche has the edge in sportiness. The GLC won't nail an apex like the track-focused Macan, but I can guess which crosstown rival is being targeted by AMG's engineers.
This fall, the premium luxury compact crossover segment will welcome a new leader, and for the first time it will be displaying a three-pointed star.
---
[Photography ©2015 Mercedes-Benz]