First drives
2017 Acura NSX: First Drive
"After many hours of canyon-carving amusement, I've got a grin so wide it seems to split my face in half — just like a Muppet."
Was the wait worth it?
One of the automotive industry's longest product gestations has come to an end. Nearly nine years after Honda announced plans for a second-generation successor to its acclaimed two-seat sports car — nine years strewn with cancellations and stumbles that miffed even its most loyal followers — Acura has finally come through with a state-of-the-art supercar that most certainly elevates technology, innovation, efficiency, and performance to levels far surpassing those of its celebrated predecessor . . . but, was the wait worth it?
I've been handed the keys to a 2017 NSX to find out.
Settling into the driver's seat is effortless. Forgetting about the NSX's exasperating and prolonged incubation — and rumored V10 engines and front-engine architecture and that embarrassing meltdown at the Nürburgring — is a bit more difficult. Nevertheless, my enthusiasm for a new NSX has been building for almost a decade, and so without hesitation my index finger moves to the illuminated crimson-red start button.
The first-generation Acura NSX rolled into showrooms in 1990. Engineered on a Cray supercomputer and styled after the F-16 fighter jet, the lightweight coupe was powered by a transverse-mounted 3.0-liter V6 breathing air at atmospheric pressure and mated to a five-speed manual gearbox. The rear-wheel-drive, aluminum-bodied two-seater was rated at 270 horsepower, which was good for a 0-60 sprint in about 5.7 seconds and a top speed of 168 mph — solid numbers back in the day.
Although its performance wasn't quite as strong as those of its primary competitors — Corvette ZR-1, Ferrari 348, Lotus Esprit Turbo, and Porsche 911 Turbo — it did offer exemplary Japanese engineering, trusted Honda reliability, and a reasonable $60,600 base price. Before its long, 15-year production run finally came to an end, 18,685 units moved off global showroom floors — 8,997 of those to U.S. buyers.
More than two decades after that first NSX was built, the supercar arena is a very different battlefield. Super performance is not enough. High-enders now demand sophisticated innovation, high levels of safety, and even fuel economy to accompany sub-5-second sprints and 200-mph top speeds. Plus, with technology advancing more quickly than ever before and an unpredictable world economy, automakers in this segment face much greater financial risks as they chase a continuously moving target.
Despite the setbacks, Honda has been resolute in its desire to launch a follow-up halo car, and this second-generation Acura NSX represents a methodically calculated shot — in terms of price and performance — in Honda's return to the supercar segment.
Pressing the dash-mounted start button initiates ignition in the twin-turbocharged 3.5-liter V6 that's buried mid-ship and now mounted longitudinally. Driving the rear wheels through a 9-speed dual-clutch gearbox (DCT), it cranks out 500 horsepower and 406 pound-feet of torque. Its initial exhaust bark is sweet but short and quickly quiets down to a tempered purr.
However, the combustion engine is just part of the new powertrain: Three permanent-magnet synchronous AC electric motors also are hidden beneath the aluminum and composite bodywork. One is a 47-horsepower unit sandwiched between the V6 and the transmission, supplementing the internal combustion power sent to the rear wheels. The two others are nestled deep in the nose, each one rated at 36 horsepower and tasked with powering an individual front wheel — and giving the coupe permanent all-wheel drive. Total system power of the gasoline-electric hybrid NSX is 573 horsepower and 476 pound-feet of torque — more than double the output of its predecessor!
Acura's unintuitive push-button shifter is mounted on the console between the two seats. I have to glance downward to find its "D" button, which toggles the powertrain between automatic and manual settings. No other action is required, assuming I want to keep the car in the default Sport setting that's part of the four-mode (Quiet, Sport, Sport+, and Track) NSX Integrated Dynamics System.
However, I'm in the hot pits at the Thermal Club (a private motorsports facility just east of Palm Springs) with the hood badge of the NSX pointed toward the twisty South Palm Circuit. Deliberately, I rotate the dial clockwise and hold it for several seconds. Track mode is engaged.
The NSX is no lightweight, registering a stout 3,803 pounds on a scale. While mass is usually associated with size, that isn't the case with the Acura — it is smaller in stature than a Porsche 911 and a Chevrolet Corvette but about the same dimension as a Lamborghini Huracan and Audi R8. Considering its sophisticated powertrain and the numerous obligatory cooling systems and other essential componentry, the NSX is extraordinarily well packaged.
But, as expected, the tight packaging also translates to a cozy cabin. Although my six-foot two-inch frame isn't cramped, I observe almost no storage area. Those who choose to partake in a beverage on the go will need to snap an add-on plastic cup holder into the center console to hold their drink. There is also no front trunk, but, assures Honda, the rear cargo hold will swallow a full set of golf clubs in their bag (with close proximity to the exhaust, it gets a tad bit warm in there, so leave the Hershey's bar elsewhere).
Acura doesn't publish acceleration figures, but its engineers quietly boast that the new NSX will hit 60 mph quicker than the Porsche 911 Turbo (which does the deed in about 3.0 seconds flat). I stab the go-pedal sharply once out of the pits and am rewarded with strong acceleration, but it's not a violent or overly aggressive launch — there is a sense that the electric motors do the work of breaking inertia before the combustion engine joins the game. (All of my acceleration runs were done with a 200-pound passenger in the right seat, per Acura's wishes, so butt-dyno figures that the car was hitting 60 mph in about 4.0 seconds.)
Moments later, I'm on the track in hot pursuit of another NSX, being driven by race car driver Graham Rahal (currently holding an IndyCar seat with Rahal Letterman Lanigan Racing). The 27-year-old has more seat time and more talent than most mortals, so I decide early on that any attempt to ride his bumper would be futile. The turtle can only chase the rabbit from a distance.
Mid-chase, one aspect of the NSX becomes agreeably apparent — its lightning-quick steering. My hands wrapped comfortably around the meaty, flattened steering wheel, it takes only a quarter turn to negotiate the tight entrance onto the main circuit. The variable-ratio electric power steering feels reassuringly solid and stable, and despite the power running through the front wheels, there's no hint of torque steer. I would come to appreciate the steering system as a monumentally impressive accomplishment.
An equally evident characteristic is the NSX's low center of gravity — segment leading, says its engineering team. The combustion engine, lithium-ion battery, and fuel tank are dropped as low as possible within the wheelbase, which translates to very little roll while cornering and allows the standard Active Gen III magnetorheological coilover damper system at each corner to focus on conquering undulations on the road surface.
Launching out of the first corner, I am surprised at how effectively the Acura puts its power down. My right foot to the floor, it simply rockets ahead, without any white-knuckle drama. Nearly all high-powered all-wheel-drive supercars, such as the Nissan GT-R, Porsche 911 Turbo, and the Porsche 918, squirm and wag their hindquarters under power when exiting a corner and still under lateral load. Not so with the NSX: Its motor-assisted twin-turbocharged V6 system provides thrust while the independent front motors carefully balance chassis stability, which means I can get on the throttle much, much earlier in the corner.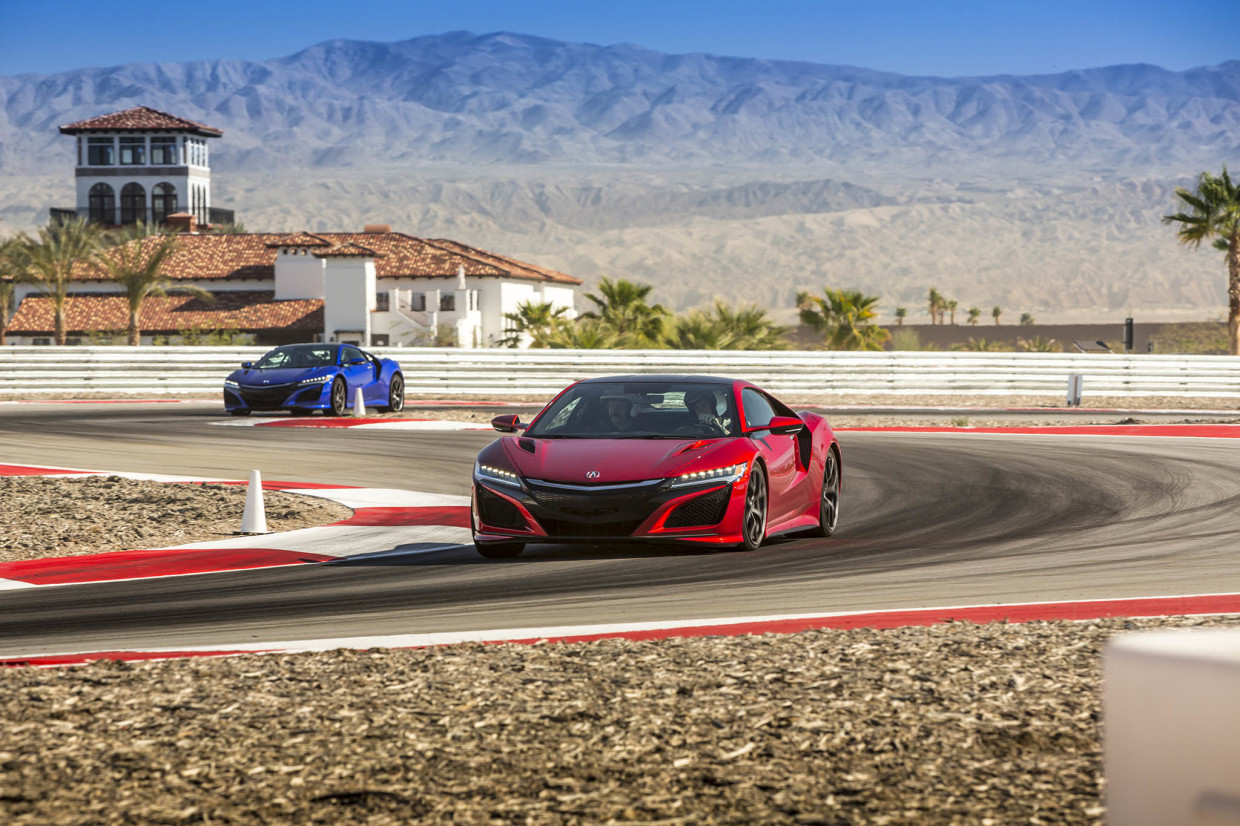 Slipping down the long straight, I ease my grip on the steering wheel and let the NSX track by itself to observe its stability. Its space-frame construction strategically combines lightweight aluminum alloy (body panels, rear subframe, and suspension castings), high-strength steel (its structural use allows extremely thin A-pillars, which significantly improve outward vision) and carbon fiber (most notably in the floor panels but also offered as a roof). The result is an astoundingly stiff platform — possibly the most rigid I have ever experienced. There isn't so much as a suggestion of wayward movement left or right anywhere. It flies like a well-aimed arrow.
Careful aerodynamic tuning focuses on feeding ample fresh air to the various radiators (to keep the complex machine cool), negating unwanted lift and, creating more positive downforce, all without active aero pieces. Even the rear decklid spoiler is optional. While the NSX is reportedly electronically limited to a 191-mph top speed, the straight at Thermal doesn't allow such velocities. I can only confirm that the NSX is planted at 125 mph.
There is a sweeping left at the end of the straight, which demands a heavy application of brake — and provokes some magic.
Acura has engineered the new NSX with brake-by-wire, meaning actuation of the physical brake pedal moves a rheostat that sends electronic signals to a processor that triggers the electrohydraulic brakes. The entire sequence is essentially digital, relying on computers to interpret and process millions of bits of data before applying hydraulic pressure to the calipers. (Of course, there is a back-up braking system, in addition to the parking brake, in the event of a full electrical failure.) Because brake-by-wire eliminates a tactile physical connection, a hydraulic pressure simulator has been fitted to give the driver a more organic feel. It works really well. In fact, had the engineers not explained the elaborate brake-by-wire system, I wouldn't have noticed it. In any event, the feel is solid and easy to modulate.
Although the actuation of the braking system is innovative, the physical components within each wheel are very traditional. Six-piston monobloc calipers are fitted up front, while there are four-piston monobloc calipers in the rear. Iron rotors are standard, which should be more than adequate for most, but those choosing a more abusive life for their NSX may upgrade to lightweight, and more heat resistant, carbon-ceramic rotors. The optional premium brakes were fitted to all of the cars that I drove.
Diving into a corner with excess speed isn't worrisome, as the NSX allows generous trailbraking — using the brakes past the corner entrance to help settle the chassis. The vehicle's on-board processors continuously stabilize the chassis based on steering angle, brake pressure, and throttle. Release the brake and coast through the apex, and the coupe will begin to safely understeer — plow on its outside front tire — which is precisely how the vehicle's dynamics were engineered. However, introduce a bit of talent and stay on the throttle with a deliberate foot, and the chassis feels very neutral.
Without question, 3,800 pounds is a lot of weight to be tossing around a racing circuit. To compare, the hybrid NSX is a couple hundred pounds heavier than the new naturally aspirated Audi R8 and several hundred pounds heavier than a Porsche 911. Yet, it doesn't feel heavy from the driver's seat. The mid-engine coupe carries 58 percent of its mass on the rear wheels (nearly ideal weight distribution for a mid-engine sports car), but that is only part of the story. Acura engineers have "virtually" shed weight via a quick throttle, which minimizes the lag that notifies your brain the vehicle is heavy. It really works.
Despite its hybrid all-wheel-drive system, the car offers the thrilling throttle steer that delights practiced drivers. Lifting abruptly off the accelerator mid-corner initiates a very controlled pirouette that is countered with either opposite steering or more throttle — it can be steered with the foot pedal. It takes a bit of practice, but the NSX has been tuned to be tossable, even with its electronic nannies looking over your shoulder. By my third session on the track, I am using aggressive slip angles through the corners without any sweat.
Breaking the tires loose does take a bit of deliberate effort, as lateral grip is exceptionally high. The first-gen NSX was fitted with staggered-size wheels (just 15 and 16 inches in diameter), but those small alloys wouldn't even clear the calipers on today's car. Standard wheels on the 2017 model are 19- and 20-inches in diameter, wrapped in 245/35ZR19 and 305/30ZR20 rubber. High-performance summer tires are delivered from the factory, but the most aggressive rubber is optional — my test car is riding on sticky asymmetric tread Pirelli P-Zero Trofeo R tires, a soft compound for competition/track use.
After lunch, Acura swaps the track rubber for high-performance Continental ContiSportContact 5P tires, fills the fuel tanks, and washes the windows. Almost everyone types 'Idyllwild' as the destination into their vehicle's navigation; not me. Even though my test car has the standard seven-inch Display Audio touchscreen, it isn't fitted with the Technology Package option that features Acura Satellite-Linked Navigation System. (It is silly that Acura would charge for this system on its $156,000 model; $32,900 will buy it on an Acura ILX with Technology Plus.)
Nevertheless, if there is one place where the NSX truly differentiates itself from the others in the segment, it is on public roads — precisely where its esteemed predecessor excelled.
Miles from the glass-smooth 30-foot-wide lanes of the Thermal racing circuit, Route 74 climbs spectacularly into the San Jacinto Mountains above Palm Springs. Its tight corners make 74 a favored test road, and the NSX slithers up the two-lane highway with effortless grace. While the supercar is capable of electric-only (EV) mode, the battery doesn't have the capacity to sustain speeds much over 40 mph, so the combustion engine runs nearly continuously. This arrangement works well, as the combined system delivers copious amounts of thrust in the 40 to 65-mph speed range. It takes just a slight dip into the rich well of engine power to pass slower cars on the mountain's short straights — altitude means nothing to a turbocharged hybrid-electric vehicle.
Earlier on the track I had made a mental note about the V6's lackluster, droning exhaust sound. I had been wearing a helmet during my morning on the racing circuit, but now, on the public roads sans headwear, I am finding it even more disheartening. Acura doesn't pipe artificial sound into the cabin via the speakers (like BMW), but it does use acoustic sound pipes (like Porsche) to enhance the engine's song. Sadly, the clamor that makes it into the cabin is unpalatable. It emits neither a high-pitch wail nor a deep throaty boom but instead sounds like a V6 with boisterous timing chains. And, puzzlingly, the unruliness is louder inside the cabin than outside — onlookers will be neither soothed nor outraged by the very un-exotic soundtrack.
I had left the DCT gearbox in automatic mode on the track, but I transition to manual mode for the mountains. Steering wheel-mounted paddle shifters send quick commands to the 9-speed gearbox, which responds up and down with the quickness of all such refined transmissions (there is but a single muted pop from the exhaust on the downshifts). Rather than spin the V6 to its 7500-rpm redline, I find myself shifting at about 6000 rpm, when the power feels like it is starting to fall off. Piloted with moderate aggression, the NSX behaves like a conventional rear-wheel-drive supercar — there is absolutely zero sensation that the front wheels are constantly being fed power.
The NSX's agility, prowess, and precision on the twisty mountain roads is nearly peerless — it never touches a lane marker, never comes close to dropping a wheel off the pavement. The scale says the NSX weighs 3,800 pounds, but the sensation from the driver's seat is that it sheds about 600 of them in the corners. While it is physically impossible to make mass go away, the sophisticated software controlling the motors accelerates and decelerates each wheel continuously and, it seems, telepathically while following the instructions sent through the steering wheel. The seat-of-the-pants feel is lightness and swiftness, without any artificial assistance. It is so transparent and convincing that I would swear it is rear-wheel drive — and pass a lie detector test while doing so.
After many hours of canyon-carving amusement, I've got a grin so wide it seems to split my face in half — just like a Muppet. The all-inclusive fun quotient is high. So elevated, in fact, that I miss a critical turn on my paper map and don't notice the error until 25 minutes have passed. The upside of being lost is that the detour adds about 40 miles to my drive. (No worries, as nobody will ever complain about seat time in the NSX.)
I arrive back at the hotel after sunset, pleasantly surprised at my physical condition. I am rested and suffer no residual aches and pains (which are common after a long day in a Ferrari or Lamborghini). I'm also startled at the vehicle's fuel gauge, which shows the tank is still nearly half full. It might not seem a big deal, but it is nice to tour the canyons for a full day and still have plenty of go-fluid left for the ride home.
Unlike the first-generation NSX, which debuted as a less expensive Japanese alternative in a niche segment made up of expensive and variously unreliable competitors, the all-new NSX has got its work cut out for it. It will be unfairly compared to the McLaren P1, Ferrari LaFerrari, and Porsche 918 — each costs at least five as much — but its direct challengers are a daunting bunch. The long list of superb competition includes the Audi R8, Mercedes-AMG GT S, Nissan GT-R, Porsche 911 Turbo, Chevrolet Corvette Z06, Lamborghini Huracan, and Ferrari 488GTB.
At the end of the day, the second-generation NSX revealed itself to me as a highly accomplished supercar that delivers everything Acura promised — technology, innovation, efficiency, and performance. But, unlike its aforementioned competitors, which each sport a brutal, almost angry demeanor when flogged, the Japanese supercar always remained highly polished and thoroughly refined. The NSX never, ever, lost its cool.
Designed and made in America, the NSX's strength is not in the raw numbers. Despite it being one of the most complex driving machines ever offered for public consumption, its genius is in turning the complex inner workings of its hybrid all-wheel drive system into a simply stunning driving experience.
A worthy successor to the original Acura NSX has arrived . . . and I'm pleased it was well worth the wait.
---
For more information, options, and pricing, please visit our 2017 Acura NSX page on AutoWeb's search and configure site.
Image credit ©2016 Acura