Auto shows
2017 Chicago Auto Show: What Really Mattered
"Chicago has drawn big attendance numbers ever since it was established in 1901, usually the biggest in the U.S., and at least 70 percent of those attendees plan to buy a new vehicle in the coming year. "
The annual Chicago Auto Show bills itself as America's largest, a claim rooted in the sheer size of its McCormick Place venue, certainly the best car show facility in the country. There's plenty of room for attendees to stroll around the various exhibits, and get a look at what will soon be in showrooms, plenty of room for lots of vehicles great and small (almost 1000 of them, according to show spokespeople)—as well as five small-scale test tracks where visitors can actually drive some of the new cars and trucks.
However, the importance of auto shows tends to be assessed in terms of the number of new car and dream car debuts they embrace, rather than the immensity of the floor space. And in that sense Chicago—squeezed as it is between the Detroit, Geneva, and New York shows—doesn't draw as many world premiers as the others.
On the other hand, Chicago has drawn big attendance numbers ever since it was established in 1901, usually the biggest in the U.S., and at least 70 percent of those attendees plan to buy a new vehicle in the coming year. Which is the whole idea.
A wrap-up of 2017 Chicago debuts follows.
2018 Dodge Durango SRT
Like other in-house tuning shops, the SRT mission is to take a Dodge or Chrysler production vehicle and make it go faster. The initials stand for Street and Racing Technology, and its latest handiwork will give the Dodge Durango the distinction of being the "fastest, most powerful, and most capable three-row SUV." The go-faster formula is basically the same as the one that makes the Jeep Grand Cherokee SRT a tiger among two-row utes: 475-horsepower 6.4-liter Hemi V8, 8-speed automatic, and all-wheel drive. Dodge predicts 0-to-60 in 4.4 seconds, and the quarter-mile in under 13 seconds, serious scoot for a vehicle weighing well over 5500 pounds. Other performance elements include retuned suspension, enhanced braking, stickier tires on 20-inch wheels, and a choice of seven electronically controlled operating modes ranging from Track to Eco. Reminiscent of the Charger SRT sedan, the exterior is distinguished by wide fender flares and a functional hood scoop. Interior upgrades include paddle shifters, leather bucket seats, carbon fiber trim, an SRT instrument package including performance data tracking and 180-mph speedometer. Additional incentive: owners will be enrolled in a one-day session at the Bob Bondurant School of High Performance Driving. On sale next fall.
Why it matters: Drivers who need seats for seven and still want the hottest ride on their block already know the answer.
Dodge Ram Night HD
Following up on the well received half-ton version, Dodge is extending its Night Edition custom treatment to the heavy duty editions of its Ram fall-size pickups, Ram 2500 and 3500. With production getting underway on the eve of the Chicago Show, the Night package includes black wheels (20×8-inch) with off-road tires, black headlight bezels, body-color front and rear bumpers, a black grille, blacked-out giant RAM tailgate (a la Ram Power Wagon), black Ram's head grille badge, and flat black Ram 2500 and 3500 door badges. Engine choices for the three-quarter and one-ton versions of the Ram pickup are a 6.4-liter Hemi gasoline V9 (410 hp, 429 lb-ft) and the bodacious Cummins 6.7-liter turbodiesel inline 6-cylinder (385 hp, 900 lb-ft). The trucks are available with rear-drive only, in Crew Cab body style.  These are the big job Ram, with hefty payloads, and towing capabilities ranging up to 31,210 for the Cummins engine. An interesting cosmetic footnote: black is only one of five exterior colors for the Night edition. The others are Bright Silver Metallic, Bright White, Delmonico Red Pearl, and Graphic Crystal Metallic. MSRPs for the Night package starts at $46,840 for the Ram 2500.
Why it matters: where does it say HD trucks can't have a little style? Also, in case there's doubt, it's okay to drive a Ram Night edition in broad daylight.
Ford Expedition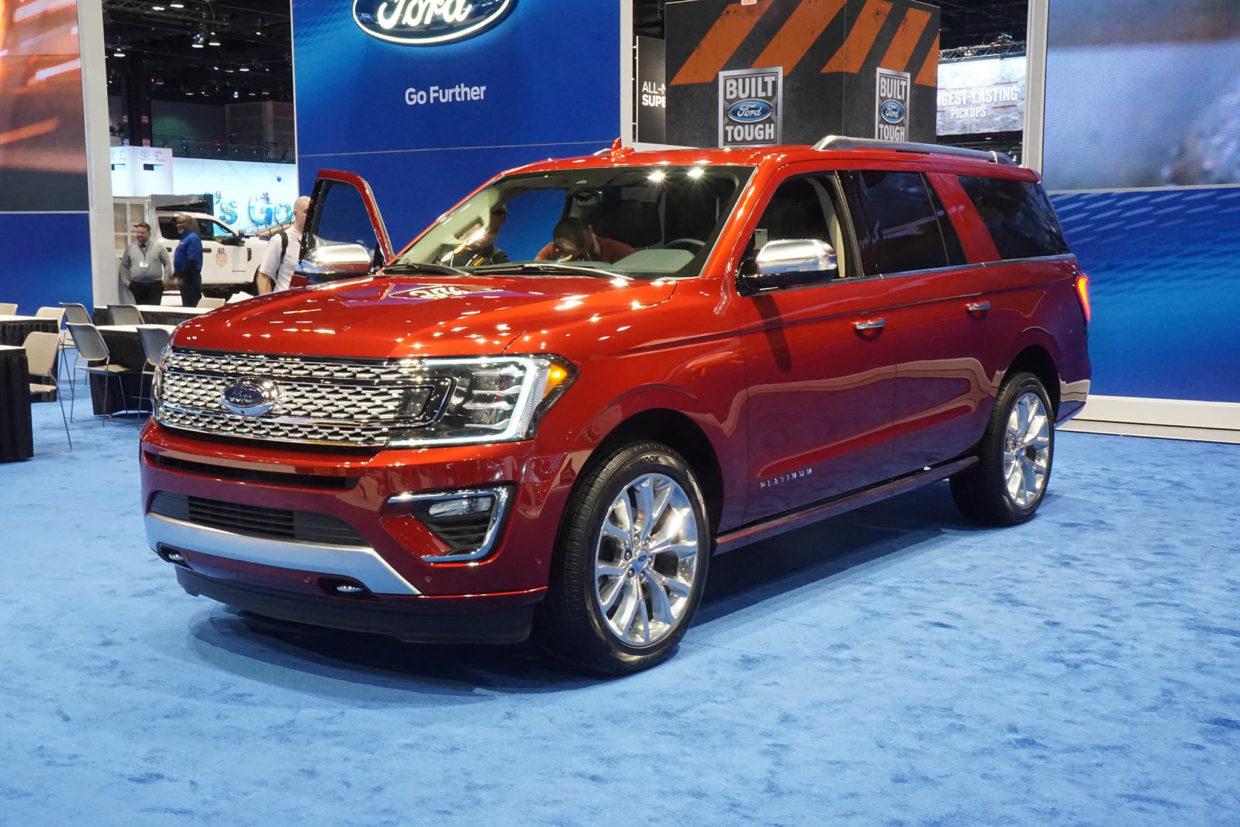 "Smartest, most capable, most adaptable." That's the marketing mantra for the 2018 Expedition. Without assessing those claims, here's a shorter summary of Ford's biggest utility vehicle: all-new. The 2018 Expedition represents a major makeover. All-new chassis, with higher rigidity. All-new body shell, fabricated from aluminum, rather than sheet steel. All-new interior, with upgraded materials and more small object storage. Increased dimensions—a 3-inch wheelbase stretch for the standard Explorer (the long-wheelbase Explorer EL is unchanged), an inch longer and an inch wider for both models. More room, especially for the third row. Reduced weight, as much as 300 pounds, thanks to the aluminum bodywork. More power from the 3.5-liter turbocharged EcoBoost V6 (currently 365 horsepower, 420 pound-feet of torque). A new 10-speed automatic transmission (replacing the current 6-speed). Improved fuel economy (currently , more towing capacity, improved EPA fuel economy (currently ranging from 15 mpg city to as much as 21 mpg highway). Higher max towing (currently 9200 pounds). The revised styling suggests power, with a more laid back windshield and a strong character crease running the length of the vehicle, just below the higher beltline. And, a welcome addition, Ford's foot-under-bumper hands-free rear hatch opening system joins the option list. On sale this fall.
Why it matters: Ford's big utes have trailed GM's Chevy Tahoe and Suburban in the full-size SUV derby. These sweeping updates should give the 2018 Expeditions a more persuasive sales proposition.
Ford Mustang
Strictly speaking, the 2018 Mustang isn't really a Chicago debut. Partway through the recent Detroit show, the freshened Mustang suddenly showed up among the Ford displays. Cosmetic Updates for the next model year include a revised front fascia, new hood, new rear decklid, LED head- and taillamps, and, with the optional performance package, a big rear wing. (The wing is a delete option, for those who may find it a little gauche.)  Engineering upgrades are more extensive. Retuned suspension, with magnetorheological auto dampers for higher trim levels. A new 10-speed automatic transmission option (a six-speed manual is still standard). New exhaust systems. Upgrades to the 2.3-liter Ecoboost four-cylinder (currently 310 horsepower) and 5.0-liter V8 (currently 435 hp). Also, say goodbye to the naturally aspirated 300-hp 3.0-liter V6, a lovely engine that disappears from the inventory for 2018.
The Mustang is America's original pony car. Does it matter? Hey, you have to ask?
Hyundai Elantra GT
In the world of compact hatchbacks with performance creds, the Elantra GT has been more of a wannabe than a full member of the club. But that perception could change when the 2018 model reaches showrooms this summer. An Americanized version of the Hyundai i30 hatch sold in other markets, the new compact will be offered in GT and GT Sport trims. The GT will be propelled by a naturally aspirated 2.0-liter four-cylinder rated for 162 horsepower, the GT Sport by a turbocharged 1.6-liter four huffing up 201 hp and 195 lb-ft. A 6-speed manual transmission is standard with both engines, a 6-speed automatic with the 2.0-liter, a 7-speed dual clutch automatic with the turbo. The Sport powertrain is the shared with the Elantra Sport sedan, where it generates 0-to-60 sprints in the low six-second range. Hyundai predicts improved agility, thanks to a stiffer unibody and retuned suspension, and the restyled body—wider and lower, with fresh sheetmetal creases—conveys a little more curbside drama. Like all hatchbacks, there's lots of cargo room behind the rear seats, and Hyundai has added interior spiffs as well as enhanced infotainment and connectivity features.
Why it matters: There have been previous generations of the Elantra GT, but for the first time it rates as a real player in the hot hatch sweeptstakes.
Mitsubishi Outlander Sport Limited Edition
The Outlander has been the one bright spot in Mitsubishi's struggle to hang on in the U.S. market, so it's no surprise that the company seeks to enhance this compact crossover SUV with a spiffed-up value package. Based on the basic ES trim, the Limited Edition adds black 18-inch wheels, black side mirror backs, fog lamps, LED headlamps, and an aluminum fuel filler door to the exterior. Exactly what, if anything, the aluminum fuel filler door adds to performance is unknown. Interior elements include aluminum-clad foot pedals, special black upholstery, heated front seats, red stitching on the steering wheel, shift knob, and brake lever, a back up camera, display audio system with smartphone links for Apple CarPlay and Android Auto. Offered with front- or all-wheel drive, the Limited Edition is driven by a 2.0-liter 4-cylinder engine (148 hp, 145 lb-ft), paired with a continuously variable transmission. The base MSRP for the front-drive model is $21,995. Limited Edition models will begin reaching showrooms in late February. The package will be available through the rest of the 2017 model year.
Why it matters: this version of the Outlander Sport won't make the going any faster, but it will make owners look good. Also, it's a way to celebrate Mitsubishi's 100th year in the car biz.
Nissan Titan King Cab
Regardless of model, the Titan is big, it's powerful, it has an impressive work ethic, and with the addition of the King Cab model it offers a range of body styles similar to those available from the other four full-size pickup providers. The King Cab will be available in Titan and Titan XD models, rear- or four-wheel drive, with the line's 5.6-liter gasoline V8 engine (390 horsepower, 394 pound-feet of torque) standard in both, paired with a seven-speed automatic transmission. Diesel power—a Cummins 5.0-liter turbodiesel V8 (310 hp, 555 lb-ft) and six-speed automatic transmission—is available only with the XD. Capabilities are robust with either engine. The gasoline V8 Titan has a max payload of 1640 pounds (2710 in the XD) and can tow up to 9420 pounds, while the diesel is rated to tow as much as 12,510 pounds. The King Cab, suggesting king size, might be a little confusing. The cab is actually a little smaller than that of the Titan Crew Cab, and the rear-hinged rear doors can't be opened without first opening the fronts. It's a body style some other truck-makers call "extended cab." Semantics aside, the King Cab does offer a unique feature: a "rear seat delete" option, eliminating the seat, rear heater ducts, and rear passenger assist handles, substituting a flat rear load floor and tie down hooks.
Why it matters: the addition of the King Cab rounds out the Titan family. With a best-in-class 100,000-mile warranty, solid construction, excellent powertrains, and robust capabilities, this is an under-appreciated line of full-size pickup trucks.
Toyota RAV4 Adventure
Although it's one of the progenitors of the small SUV species, serious off-roading has never been part of the RAV4's persona, nor does the current version have hard-core dirty driving aspirations. Still, with the new Adventure trim the RAV4 expands its operational horizons. For example, the package includes a towing prep package—expanded capacity radiator, and auxiliary engine and transmission oil coolers. So equipped, the RAV4 can tow 2900 pounds with front-drive, 3500 with all-wheel drive. Increased ride height extends the RAV4's comfort range to Forest Service trails, and 235/55 tires on black 18-inch wheels enhance grip. (Not to be confused with the Toyota Racing Development RAV4 prepped for serious pro rally.)  Styling elements include fender flares, rocker panel protection, black headlight bezels, black fog lamp surrounds, and black roof racks. Available in front- or all-wheel drive versions. On sale in September.
Why it matters: Throughout its long history, dating to 1994, the RAV4 has always been a soft roader. The Adventure package doesn't make the RAV4 an off-roader like the tough little Jeep Renegade, but it does expand the comfort zone to towing and beyond paved roads.
Toyota Tundra
Still seeking sales parity with the Detroit full-size truck establishment, as well as meeting the mounting challenge from Nissan's new Titan family, Toyota rolled out a freshened version of its 2018 Tundra pickup line that includes a new trim massaged by Toyota Racing Development—the Tundra TRD Sport. Offered in CrewMax and Double Cab body styles and propelled by Toyota's 381 hp 5.7-liter V8 engine, the Sport package includes TRD-tuned Bilstein shock absorbers and stiffer antiroll bars fore and aft. Cosmetic elements to lend a little more macho: color-keyed bumpers, 20-inch bright-finish wheels with black accents, LED headlamps with black bezels, a mesh g-rille with body-colored surround, and, lest we forget, TRD badging on the sides of the cargo bed. The Tundra-wide freshening for 2018 includes new front fascias, LED lighting (headlamps, daytime running lights, and fog lamps), and Toyota's comprehensive suite of driver-assist safety features. As a footnote, the Tundra Sport TRD chassis features—shocks and antiroll bars—will also be offered in Toyota's full-size Sequoia SUV, to be called (wait for it) the Sequoia Sport.
Why it matters: the Tundra has made its mark with good manners and top quality, but a little more authority in the suspension couldn't hurt.
Future Shock: A Demon Lurks
It wasn't on the show floor, but a hotted-up Dodge Challenger had a powerful virtual presence in Chicago via Fiat Chrysler communications, with a video timed to appear in email in-boxes on the first of the show's press days. It was the fifth in a series of teaser videos that will culminate in the introduction of the car at the New York Auto Show in April. The hot rod Challenger will revive a name from the division's past, Dodge Demon, one of the many Chrysler factory street rods of the 1960s muscle car era. But without getting into detail, the 21st century version figures to be far more demonic than the Dart- based original. This latest video (check www.youknowyouknow.com), reveals the Demon's hood scoop, which, at 45 square inches, is the largest ever fitted to a production car, according to Dodge. The hood scoop feeds a big cold air box, which also draws outside air from the Demon's "air catcher" headlamps, a feature developed by FCA's Street and Racing Technology (SRT) performance skunk works for other Dodge street machines. The forced air induction system sends cold air to the supercharged Hemi V8 lurking just below. This is believed to be a variant of FCA's 6.2-liter supercharged Hellcat Hemi, rated for 707 hp and 650 lb-ft of torque. What will this engine generate in Demon tune? We won't know until the New York revelation, but this forecast seems safe: more. much more. The first four video teasers are entitled "Cage," "Reduction," "Wide Body," and "Crate."
Why it matters: With the sun soon to set on the Viper sports car, Dodge and SRT need something to sustain their performance persona. The Demon should fill the bill—and then some.
---
Photo Credit: © 2017 Autoweb