Reviews
2017 Hyundai Ioniq Hybrid: Review
"It would be possible to get into the new Ioniq and drive away without noticing that it's a hybrid car."
When a new car is launched into an established market segment, it often has a lot to prove. Namely, what is it bringing to the class that could woo buyers away from the competition?
The new 2017 Hyundai Ioniq was clearly designed with that question in mind. Among compact gas-electric hybrids, it debuted with the highest EPA fuel economy ratings (up to 58 mpg) and the lowest base price ($22,200). Those two numbers are probably the two most important pieces of data for a hybrid car, and the Ioniq impresses on both counts as it squares off against the best-selling Toyota Prius.
Hyundai throws in further appeal: It designed the Ioniq to look and feel like a "normal" car. Despite its electric components, the Ioniq is pleasant to drive with a solid, substantial feel. And although its silhouette roughly resembles the iconic Prius, the Ioniq has more muted design details — lest Hyundai be accused of plagiarism, the shape simply reflects the best approach to aerodynamics.
The Normal Experience
It would be possible to get into the new Ioniq and drive away without noticing that it's a hybrid car. While that's not what everyone is looking for — Toyota, for instance, has taken pains to include hybrid-specific styling and interior details on the Prius — Hyundai is clearly confident that many buyers will appreciate a more conventional experience.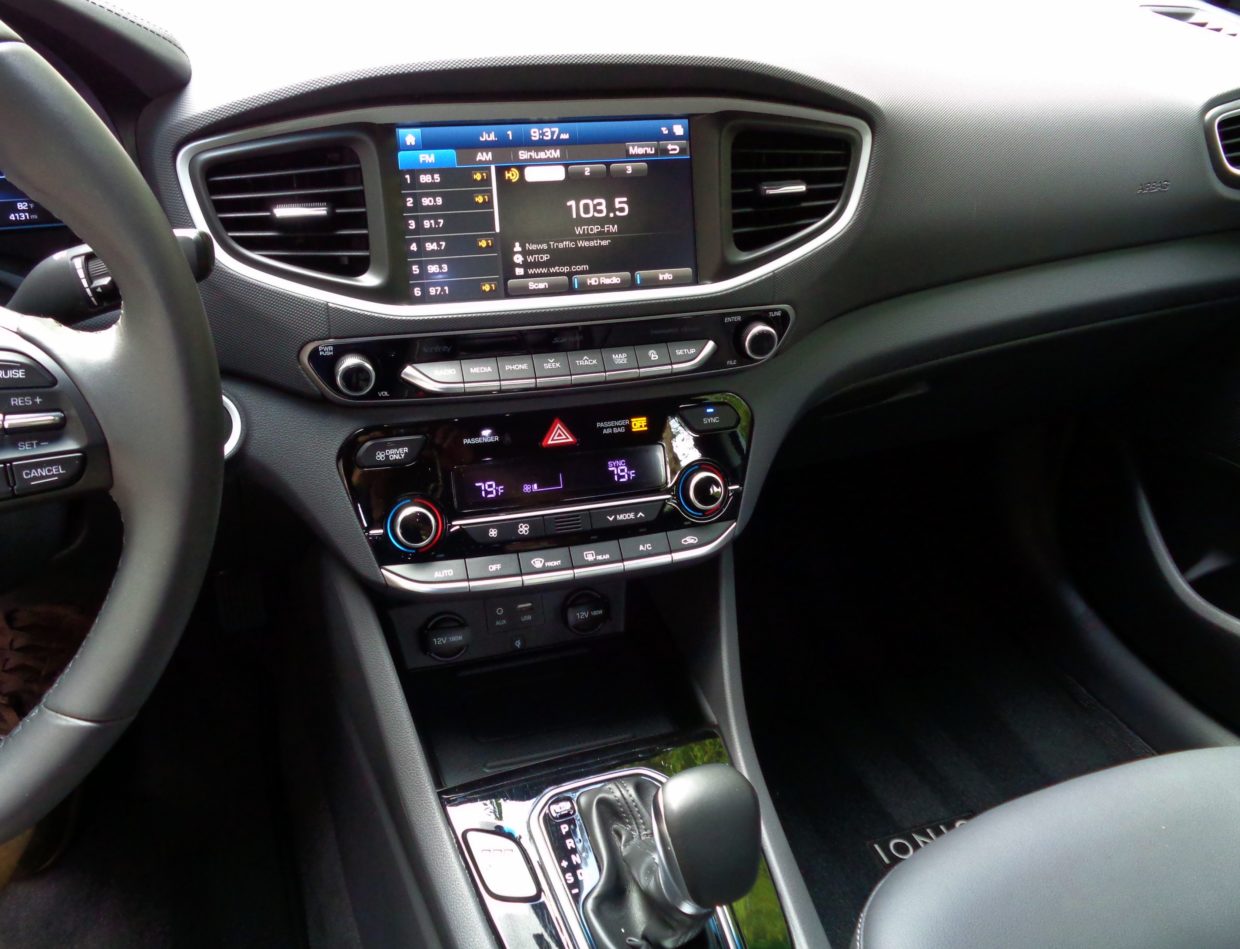 The Ioniq feels reassuringly solid, and while its engine isn't super-quiet, it doesn't drone and has respectable pep. And while it would be a stretch to call the Ioniq fun to drive, well-weighted steering makes it feel composed in gentle conditions. Like several Hyundais, pushing harder results in disconcerting vagueness from the steering system, but the experience is familiar to anyone who's driven a Hyundai Elantra.
So is the Ioniq's cabin, which could belong in any smartly designed compact car. User-friendly controls and attractive decor make it easy to feel at home behind the wheel, and Apple CarPlay or Android Auto smartphone integration come standard on the Ioniq. The Ioniq's one hybrid-specific sacrifice is rear visibility; its aerodynamic shape forces an awkward two-piece back windshield.
The Hybrid Experience
The Ioniq hybrid uses a 1.6-liter gasoline engine and a small electric motor to produce a combined 139 horsepower. As on other hybrids, the electric motor reduces fuel usage by relieving some of the burden off the gas engine and sometimes taking over entirely. Anytime you can achieve the latter, you're getting around using zero gasoline, at least until the electric battery runs out. (It will recharge during times the engine is running, and also by capturing energy from the car's brakes.)
Hyundai's hybrid system yielded class-leading EPA fuel economy estimates. The base Ioniq model, called the Blue, scored EPA ratings of 57 mpg in the city, 59 mpg on the highway and 58 mpg overall. Other versions, including the tested Limited, slip to 55 city / 54 highway / 55 overall. For comparison, most Prius models are rated for 52 mpg overall (54 city / 50 highway), and the Eco model improves to 56 mpg overall (58 city / 53 highway).
Note, though, that EPA ratings don't tell the whole story. They're based on a standardized test — every car accelerates at an equivalent rate to an equivalent speed. But in a hybrid, the slightest adjustment to your foot on the throttle can be the difference between burning gasoline and using only the electric motor. Experienced hybrid drivers adapt to their cars, and the best hybrids reward them with extra fuel savings.
To use the example of the Ioniq's most direct competitor, the Prius, the Toyota blossoms far more than the Hyundai when treated with this level of care. In weeklong tests, a 2016 Prius Eco trounced its EPA rating to average 69 mpg, while an Ioniq Limited was closer to its estimate with a 57-mpg average. Careful driving has also made it easier to beat the EPA ratings in a number of other hybrids as well.
In these hybrids, it's relatively easy to accelerate from a dead stop and build up to a respectable amount of speed without the engine turning on. The Ioniq isn't as receptive to such behavior, almost always turning on the gasoline engine to accelerate even gently. And unlike many other hybrids, the Ioniq lacks an "EV" (electric vehicle) mode that the driver can use to get additional all-electric power; the car alone decides when to turn the gas engine on and off.
On the other hand, if you'll drive your hybrid like it was any other compact car — accelerating more vigorously, and not fussing with different driving modes — expect to see less of a mileage gap between the Hyundai and other hybrids. And there will be plenty of times that the Ioniq's engine will effortlessly switch itself off, such as when you're coasting to a stop or cruising at a steady speed.
The Ioniq is also available as a purely electric vehicle, though only in California as of this writing; a plug-in hybrid is also due soon.
Other Hybrids to Consider
The Ioniq combines the experience of a pleasant economy hatchback with the efficiency of an excellent hybrid, all while keeping prices manageable — an impressive combination. But there are also other flavors of affordable hybrid to consider.
If you like the Ioniq's driving experience but would trade a few miles per gallon for some extra interior room, consider its Kia Niro cousin — a crossover/wagon that further disguises its hybrid-ness while still managing EPA ratings of up to 50 mpg. Other spacious options are the sportier but less-efficient Ford C-Max and the Toyota Prius v, which is extra-roomy but noisier and costlier than the Niro.
Meanwhile, if you do desire the all-out hybrid experience, the Prius hatchback remains a strong option — especially for drivers who'd enjoy working hard to maximize their all-electric driving. Don't write it off because past generations were dull to drive, either: Although it's still not a quick car, the Prius' suspension composure has become impressive. Furthermore, while the Ioniq is the roomier car on paper, the Prius feels more spacious in person. Lastly, due to tough competition from the Ioniq, Toyota recently lowered the Prius' base price to a tempting $23,475, a level that includes a suite of high-end safety features.
---
For more information, options, and pricing, please visit our 2017 Hyundai Ionic Hybrid page on AutoWeb's search and configure site.
Photo Credit: © 2017 Autoweb/Brady Holt