Reviews
2017 Mazda MX-5 Miata RF: Review
""The MX-5 RF is a closed car for when you desire sanctuary from the outside world and an open one when you'd rather not be "couped" up.""
We'll just cut to the chase on this one. If you enjoy driving, and we mean actively participating in the process of piloting a four-wheeled machine across the surface of a multi-faceted and wondrous planet, the Miata is the most pleasure you can have behind the wheel for the least treasure. You can pay a lot more for faster and fancier rides, but nothing out there right now can really beat the simple pleasures the Miata brings to the driving experience. The all-new 2017 Mazda MX-5 Miata RF adds the security of a hard roof overhead that can be automatically raised or lowered in just 13 seconds.
You may recall that Mazda offered a retractable hardtop in the last-generation Miata. But this time, designers took the opportunity to add a pair of flying buttresses that give the RF's roof a fastback appearance in profile. In Mazda parlance, RF is short for retractable fastback. The fastback visually extends the otherwise abbreviated MX-5 passenger compartment. There are even simulated rear quarter windows that you can't see through and together with the new-generation MX-5's Kodo design extended nose, the RF begins to take on a mini-GT car look, especially from the rear three-quarter angle. The RF's overall length and wheelbase are the same as the regular MX-5 roadster's—the stretch is only in your mind's eye. Which is just fine because adding bulk and excess weight would only serve to dull the MX-5 RF's exemplary dynamics.
Ups and Downs
The raising and lowering of the roof is a motorized and synchronized event sure to have neighbors peering through their Venetian blinds. Initiated by flicking a switch at the base of the center console, it only requires that the RF be stationary or traveling at less than 7 miles per hour. There are no levers to unlatch. To lower, the SMC rear fastback portion of the roof rises about a foot and angles slightly rearward, then the aluminum/steel front section rises slightly, moves straight back and lowers itself flat behind the seatbacks, and finally the fastback portion lowers to the deck. Presto, change-o the RF is now an open-top fastback targa. Transitioning to a closed coupe is basically the reverse process.
The amazing thing is that, unlike many retractable hardtop designs from other manufacturers, none of this robotized folding-top origami involves stealing space from the luggage compartment. At 4.5 cubic feet, the RF's conventional trunk offers only about a hoagie bun less space than the Miata roadster's. While you won't be making too many Home Depot runs in the RF, that's still plenty of room for a pair of aircraft overhead-bin-sized roller suitcases plus a couple of computer bags. This is a car a couple could take a weekend vacation in provided nobody went too crazy on shoe choices.
Model Walk
Mazda's new MX-5 RF comes in two trim levels: Club and Grand Touring. There is no base Sport model as on the MX-5 roadster. The Club starts at $31,555 and just as on the roadster version includes cloth seats, manual air conditioning, gun-metal 17-inch alloy wheels, the Audi MMI-like Mazda Connect infotainment, a Bose 9-speaker audio system, SiriusXM, HD Radio and on manual-transmission models, sport suspension with Bilstein shocks, a front shock tower brace, limited-slip differential and an intake sound enhancer. The Grand Touring begins at $32,620 and gains heated leather seats, automatic climate control, navigation, automatic adaptive headlamps with high-beam control, rain-sensing wipers, an anti-theft system and a lane-departure warning system while scaling back to a touring suspension with standard monotube gas shocks and an open differential. Automatic transmission is optional and for buyers who think the Club model isn't sporty enough, there's a $3400 package for manual-transmission models that includes Brembo brakes, BBS forged-aluminum wheels and an aero body kit. All MX-5 RF trims get standard blind-spot monitoring and rear cross-traffic alert systems, good additions in a world teeming with large SUVs.
The RF's weight penalty — compared to a Miata roadster-about 113 pounds for the hard top and its operating mechanism—is minimal. The effect on acceleration performance (a manual-transmission Miata roadster can sprint from rest to 60 mph in just under 6 seconds—about a half second more with an automatic gearbox) should be less than adding a passenger. The hardtop's added structure also steals about a half inch of headroom compared to the fabric-top roadster's but remains more than adequate for a 6-ft tall North American driver.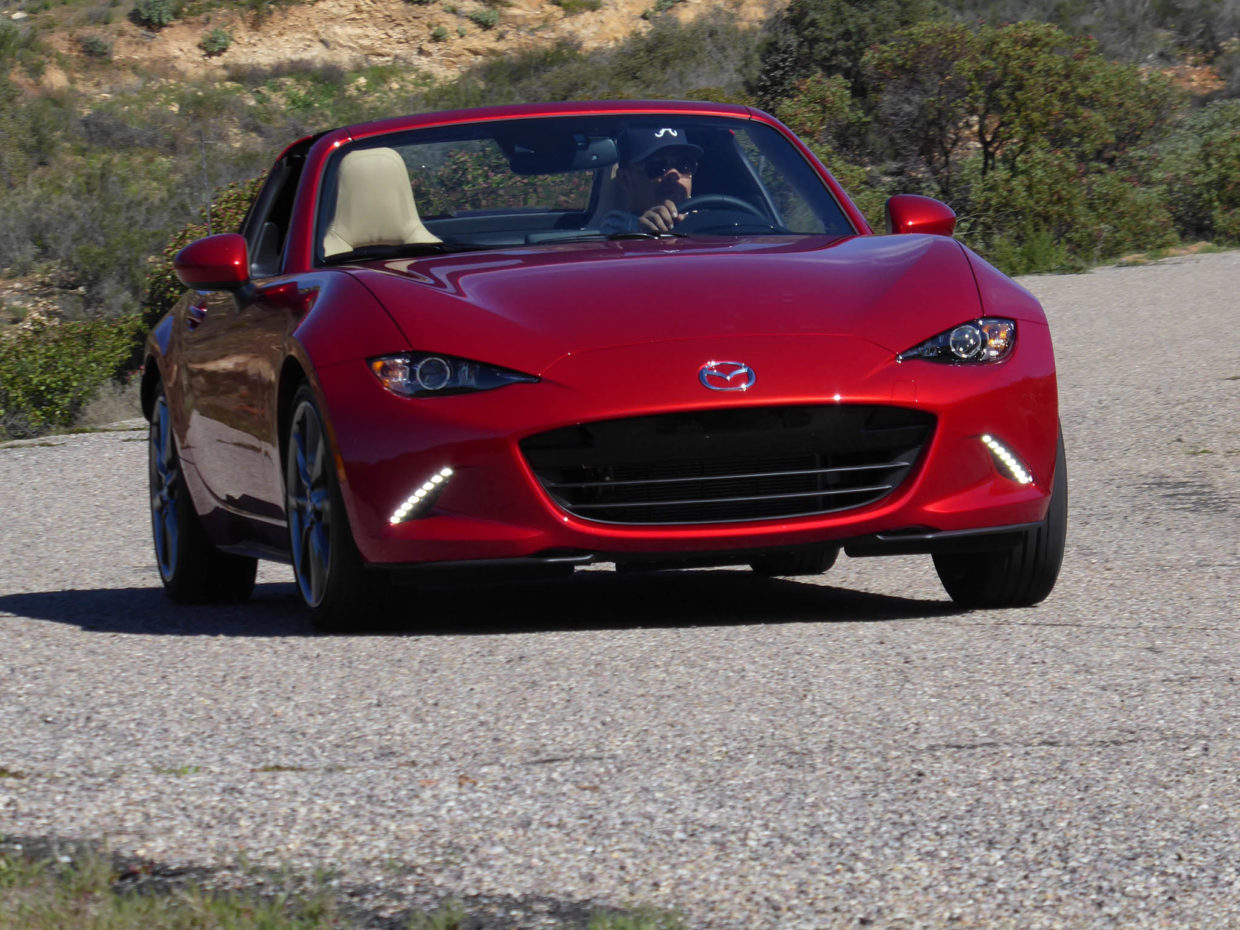 RF = Really Fun
But at its core, the RF is every bit as playful as a Miata roadster. For starters, there's the driver-centric control layout that prioritizes a supportive and well-bolstered seat, an ergonomically delightful shifter with short throws and well-defined gates, closely spaced pedals placed for quick and effortless footwork and precise, well-weighted steering that might as well be hot-wired to your brain stem. Because the hardtop adds most of its weight over the rear wheels (actually bringing the RF's weight distribution to the desired 50 percent front/50 percent rear realm), Mazda engineers increased the RF's steering effort slightly, maintaining the car's planted on-center feel and proportional effort moving off-center. There is some body roll in hard corners, just enough to let you know you're working the chassis.
The Miata RF's direct-injected SkyActiv 2.0-liter won't make the car a jack rabbit at stoplights, but the 155-hp 4-cylinder provides more than enough locomotion to unlock the car's dynamic charms on twisty roads. It sounds great doing so as well, thanks to a throaty intake sound (enhanced on manual-gearbox models) and a nicely tuned exhaust note. The RF's EPA fuel economy estimates are the same as the roadster's: 26 mpg city/33 mpg highway with the 6-speed manual and 26 mpg/35 mpg highway for the taller-geared 6-speed automatic. We saw an observed 30 mpg in mostly spirited driving of a 6-speed manual Grand Touring model through the foothills near San Diego, California. About the automatic, roughly half of MX-5 buyers opt for the self-shifter which is fine for just puttering around the 'burbs, cruising the interstate or spirited driving in the twisties using full manual-control Sport mode and the steering wheel paddle shifters.
We know that these days, transitioning can't always be easy. Depending on the model, the RF is $2,555 to $2,755 more expensive than the equivalent Miata roadster. But that seems like a really small price to have something that's really two Miatas in one–a closed car for when you desire sanctuary from the outside world and an open one when you'd rather not be "couped" up.
---
For more information, options, and pricing, please visit our 2017 Mazda Miata MX-5 page on AutoWeb's search and configure site.
Photo Credit: © 2017 Autoweb /Ron Sessions