Auto shows
2017 New York International Auto Show
"The annual New York International Auto Show marks the end of America's major show season as carmakers turn their attention to actually building the vehicles they've been unveiling and displaying since the LA show last November."
Straddling the Easter holiday, the annual New York International Auto Show marks the end of America's major show season as carmakers turn their attention to actually building the vehicles they've been unveiling and displaying since the Los Angeles exposition last November.
It's this country's oldest show, dating to 1900, and has been the forum for countless noteworthy introductions over those 117 years.
With a richly varied menu of cars, trucks, and crossovers, the 2017 show (April 14-23) sustains that tradition. As we've done with the other U.S. majors—L.A., Detroit, Chicago—we've boiled the Manhattan show menu down to 10 vehicles that matter more than most, some slated for regular production, others characterized as concepts.
Inevitably, paring a big field of vehicular eye candy down to just 10 that are exceptionally pertinent gets to be arbitrary. We've broken the New York 10 into two categories—Showroom Ready, and Whaddaya Think, the former for production vehicles, the latter for concepts floated to gauge public reaction.
Showroom Ready
Buick Enclave
Bigger isn't always better, but it certainly seems to work for the 2018 Enclave, the first major makeover for Buick's SUV grand dame in about 10 years. Sharing the structural bones that also support the Chevrolet Traverse and GMC Acadia, the Enclave has been stretched to well over 200 inches in length (204.3, an increase of 2.4 inches) on a wheelbase that's been lengthened to almost 121 inches. All of this adds up to a roomier Enclave, one that's hard to perceive as a midsize SUV; that's its classification, though along with the Traverse it stretches the boundaries. A 3.6-liter continues to supply propulsion, but output climbs to 302 horsepower, towing capability increases to 5000 pounds, and EPA fuel economy climbs a couple clicks to 17 mpg city, 24 highway. Interior appointments helped propel the original Enclave to success, and the new one doubles down on coddling occupants, particularly with the first U.S. application of Buick's new Avenir trim level. Posh spoken here. Not to mention quiet operation and smooth dynamics.
The Enclave matters because it's at the core of Buick's renaissance. Buick has launched a number of attractive passenger cars in the last few, most recently the new Regal sedan and wagon, also on display in New York. But SUVs are where the action is these days, and updating the Enclave's enduring appeal is a can't-lose strategy.
Buick Regal
"All new" is a phrase that gets a lot of exercise in the world of automobiles, but it's no exaggeration with the new Regal. New structure, new powertrain, new sheetmetal, new models. New. There will be two body styles, replacing the current Regal, a conventional front-drive sedan. Its replacements are a 4-door hatchback sedan, the Sportback, and wagon, the TourX, the first Buick wagon since the last Roadmaster (1996). The new Regals are based on architecture adapted from the Opel Insignia, a continuation of GM's relationship with its former German subsidiary. (GM sold Opel to PSA—Peugeot Citroen—in March, ending an 88-year stewardship.) Both Regals are powered by a 252-horsepower turbocharged 2.0-liter 4-cylinder, channeling power via an 8-speed automatic in the TourX and a 9-speed automatic in the Sportback. All-wheel drive is optional in the Sportback, standard in the TourX, which has a slightly higher ride height, a la the Audi Allroad.
The new Regals matter because conventional sedan sales are softening and these sedan variants deliver crossover SUV cargo versatility in tidier packaging. And it doesn't hurt that they're drop dead gorgeous. On sale this fall.
Dodge Challenger SRT Demon
Just a couple years ago, we thought the 707-horsepower Hellcat Hemi V8 engine was very hot stuff, and a relative performance bargain with pricing starting at a little over $60,000. Now comes the Demon, making the Hellcat a little less awesome (although its installation in the new Jeep Grand Cherokee Trackhawk adds a torrid chapter to that brand). A number of tweaks boost output of the supercharged Hellcat Hemi to as much as 840 horsepower and 770 pound-feet of torque. The increased power, plus weight reduction (about 200 pounds, including the absence of a rear seat), plus fat Nitto drag racing rubber plus various launch enhancements combine to hustle this limited edition through a quarter-mile in 9.65 seconds at just over 140 mph. Quarter-miles are significant, because the Demon is conceived to shine at the strip. It's essentially a street legal pro-stocker, and the hottest production car ever offered by a U.S. carmaker. As a summary, "wow" is far too mild.
Available this fall, the Demon will be a limited production offering, just 3000 in the U.S. and 300 for Canada. No word on price, but given its intense engineering detail, immense power, and limited availability, it will be surprising if the MSRP is less than $100,000. Does the Demon matter? Maybe only to collectors and drag racers. But as we approach the likely end of high performance and fun to drive, the Demon stands as a high water mark for sheer go-fast chutzpah.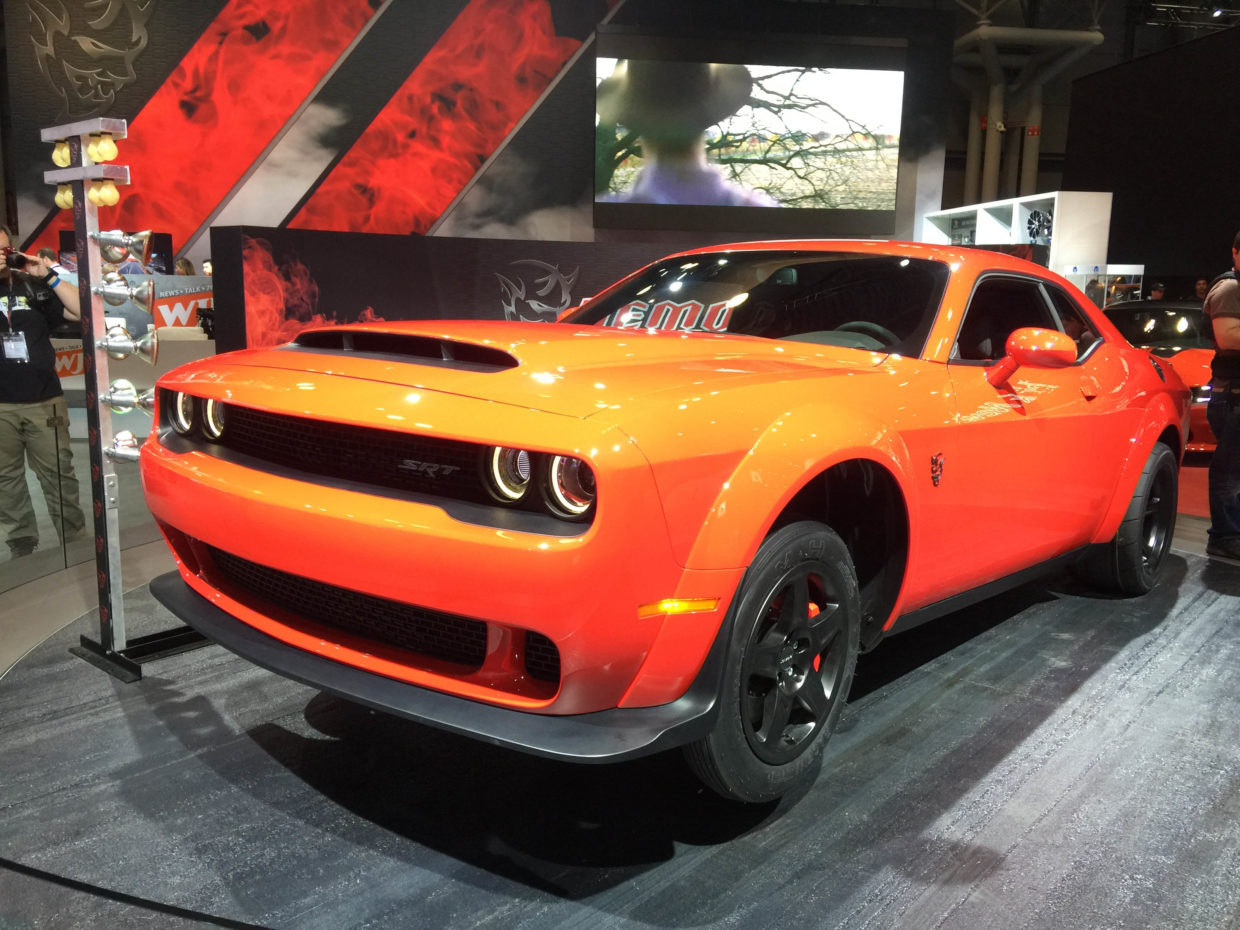 Ford Police Responder Hybrid Sedan
That's a lot of title for what is basically a Fusion Hybrid adapted for police use. Reduced to everyday terms, it sounds a little less imposing, but even so, it's noteworthy because it opens a new chapter in emergency vehicles, even though New York City currently fields Smarts and Toyota Priuses wearing police livery. In police tune, Ford anticipates the Fusion will achieve an EPA combined fuel economy rating of 38 mpg, roughly twice that of the Taurus cop car. Thanks to low prices, fuel economy isn't a particularly big buyer priority with civilian rides. But it's a different story with police vehicles, which spend a lot of time idling, when they aren't actually rolling. Based on an average fuel price of $2.50 per gallon, Ford estimates the Police Responder Sedan could save almost $3900 per year. The police Fusion hybrid is pursuit certified, according to Ford, but that aspect of its performance remains to be seen. In civilian tune, the car takes around nine seconds to reach 60 mph, and tops out at 105 mph. The cop car version will probably have a higher top speed, but it's likely to be heavier, thanks to all the equipment loaded into a typical police vehicle today. And that back seat will be quite snug for someone with hands cuffed behind his or her back.
Most police departments are perpetually budget-constrained, and the prospect of making a dramatic reduction in fuel expenditure will be hard to resist. The Police Responder Hybrid Sedan probably won't see much highway duty, but its mpg potential makes it matter. Encouraged by initial response from various police agencies, Ford already has another hybrid cop vehicle in the works.
Honda Clarity
This trio shares one name, and as a set they represent Honda's commitment to adding a strong electrification element to its new car future. The threesome includes the Clarity Fuel Cell, on sale in California since last December; the Clarity EV; and the Clarity PHEV (for Plug-in Hybrid). We've already reviewed the fuel cell version, which converts hydrogen into electricity and water, and does so very quietly, delivering satisfying performance in the process. The EV and plug-in hybrid won't be along until later this year (Honda refrained from specifying either the launch timing or price at its New York presentation). But there were some specifics. For example, the hybrid will employ essentially the same system used in Honda's Accord Hybrid—two electric motors augmenting a gasoline engine, with an all-electric operating range of 41 miles, a total range of 330 miles, and an MPGe (MPG equivalency) range of 105. The EV, for its part, will have a range of 80 miles before its 25.5-kilowatt-hour lithium-ion battery pack will cease to supply power, a modest range number that Honda downplayed in its presentation, choosing instead to emphasize the Clarity's midsize roominess and responsive dynamics.
The Clarity trio matters because it reinforces Honda's technical prowess and gives buyers committed to green transportation a range of choices that covers all the current electrocentric vehicle choices. That's mitigated by the absence of a national hydrogen supply infrastructure, of course. But there's also an implicit marketing challenge: with EV one-charge ranges running as high as the Chevy Bolt's 238 miles, can the Clarity's 80-mile limit be competitive?
Lincoln Navigator
It's hard to make these big two-box designs look distinctive, but a case can be made for the redesigned Navigator, which reinforces the new divisional front view with an even bigger rendition of the mesh grille and turbine-style wheel design. The windshield has a steeper slant, the bodyside character runs front the wraparound headlights all the way to the taillights (LED, of course), the step rails automatically descend to assist the climb to the sumptuous interior, and, a unique touch, the Navigator puts on a welcoming light show when someone approaches with the key fob: first the Lincoln logo at the center of the grille, then the fog lights, taillights, and puddle lights below the vehicle. The new Navigator continues to be a body-on-frame design, sharing foundational elements with the Ford Expedition, and like the Expedition it continues to be offered in standard and king-size (L) editions. The new skin is aluminum, whittling some 200 pounds off the mass, though this will still be a three-tonner. Thrust is supplied by the Navigator's by-now familiar 3.5-liter turbo V6, belting out more horsepower (450) and torque (a robust 500 pound-feet). And the new 10-speed automatic transmission should make the most of the increased output. As you'd expect, the redesigned interior is luxed up even more, with three editions of the fancy Black Label trim available, the latest Sync connectivity, sumptuous furnishings, and orchestral audio, augmented by even lower interior noise levels. More luxury: Lincoln's concierge service, with dealers picking up and dropping off vehicles for service.
In an age of booming SUV sales, the Navigator certainly matters to Lincoln. It's been central to Lincoln's comeback bid, and at the big end of the SUV market luxury rules. And it also matters as an all-American player in an international sweepstakes. The Escalade isn't the only game in town.
Whaddaya Think?
Genesis GV80
The New York presentation for this concept was remarkably free of detail—no specs of any kind, and a vague reference to production "in a couple years." But this much seems clear: the first expansion of Hyundai's new Genesis brand is going to be some sort of SUV, and it will undoubtedly look pretty much like the New York show property. Is there a Bentleyesque sense to the design? Not too surprising, since prior to Genesis, design chief Luc Donckerwolke led styling efforts at Bentley. The slick profile will probably survive, as will the sophisticated fender flares and front fender vents. The stacked slits serving LED powered head and taillights are cool, but we give them a 50-50 shot at production, the lacy 23-inch wheels a 30 percent chance, and the filigreed roof pillars zero. That goes for the side cameras as well. A 22-inch LED screen dominates the dash, which is opulent with handsomely stitched leather on dash and seats, plus aluminum and ash wood trim. Genesis CEO Manfred Fitzgerald made an offhand reference to a fuel cell powertrain, with no specifics, but that, too, is a non-starter. Genesis needs a 50-state vehicle, not one that's infrastructure-limited to California.
The GV80 matters because sedans aren't enough to succeed in today's luxury market—an SUV is indispensable. Like its initial sedan offerings, G80 and G90, the GV80 will come to market handsomely finished, comfortable, competent and quiet. Add the typical Hyundai-Genesis price value formula—lots of features for far less money than competing brands. Look for the production GV80 to reach showrooms sooner than "a couple years."
Infiniti QX80 Monograph
It's billed as a design study, but this stylish concept will make it into production, probably with very few changes. The wraparound LED light pipe extending from the front almost the full length of the fender flare will probably disappear, as will the rear view cameras mounted where the fender lights end. But the redesigned profile with its angular D pillar, rocker panel sculpting, and functional side vents are likely to survive in the showroom version. The same goes for the stylish headlights and taillights, while the sumptuous interior looks like a step up from the current QX80. And the king-size grille gives the concept a much more imposing curbside presence. Like the current QX80, the Monograph is built on the global architecture that's also the foundation for the new Nissan Armada. No word on powertrain, although the Armada's 5.6-liter 390-horsepower V8 and 7-speed automatic are likely to carry forward into the QX80 unchanged.
Presuming production likelihood, the Monograph matters because styling is becoming increasingly important in the world of big sport utilities—check the new Lincoln Navigator, and the Genesis GV80 show property.
Subaru Ascent
Over the course of the last decade, Subaru has been on an unparalleled roll in the U.S. market, setting annual sales records even in the depths of the 2008-'09 recession—64 months straight, going into the New York show. There's been only one cloud in this otherwise blue sky—Subaru's failure to field a competitive 3-row SUV. The smallish, odd-looking Tribeca (2005–2014) languished in showrooms, then quietly disappeared, with no replacement in the works. Until now. Portrayed in New York as a concept, the show vehicle differs only in small detail from the Ascent that will appear in showrooms next fall as a 2018 model. Based on architecture from the much smaller Impreza, it will be similar in size to midsize 3-row utes like the Mazda CX-9, Ford Explorer, Honda Pilot, and roomy new VW Atlas, with seats for seven, Subaru family good looks, and a new turbocharged 2.4-liter flat four feeding power to a standard all-wheel drive system via a continuously variable automatic transmission. Assembly will take place in Indiana.
The Ascent matters because for all its success, Subaru has never been a player in the midsize, 7- and 8-passenger crossover SUV game, and the Ascent can be expected to deliver on the traits that have fueled Subaru's impressive market surge: bulletproof durability and standard all-wheel drive.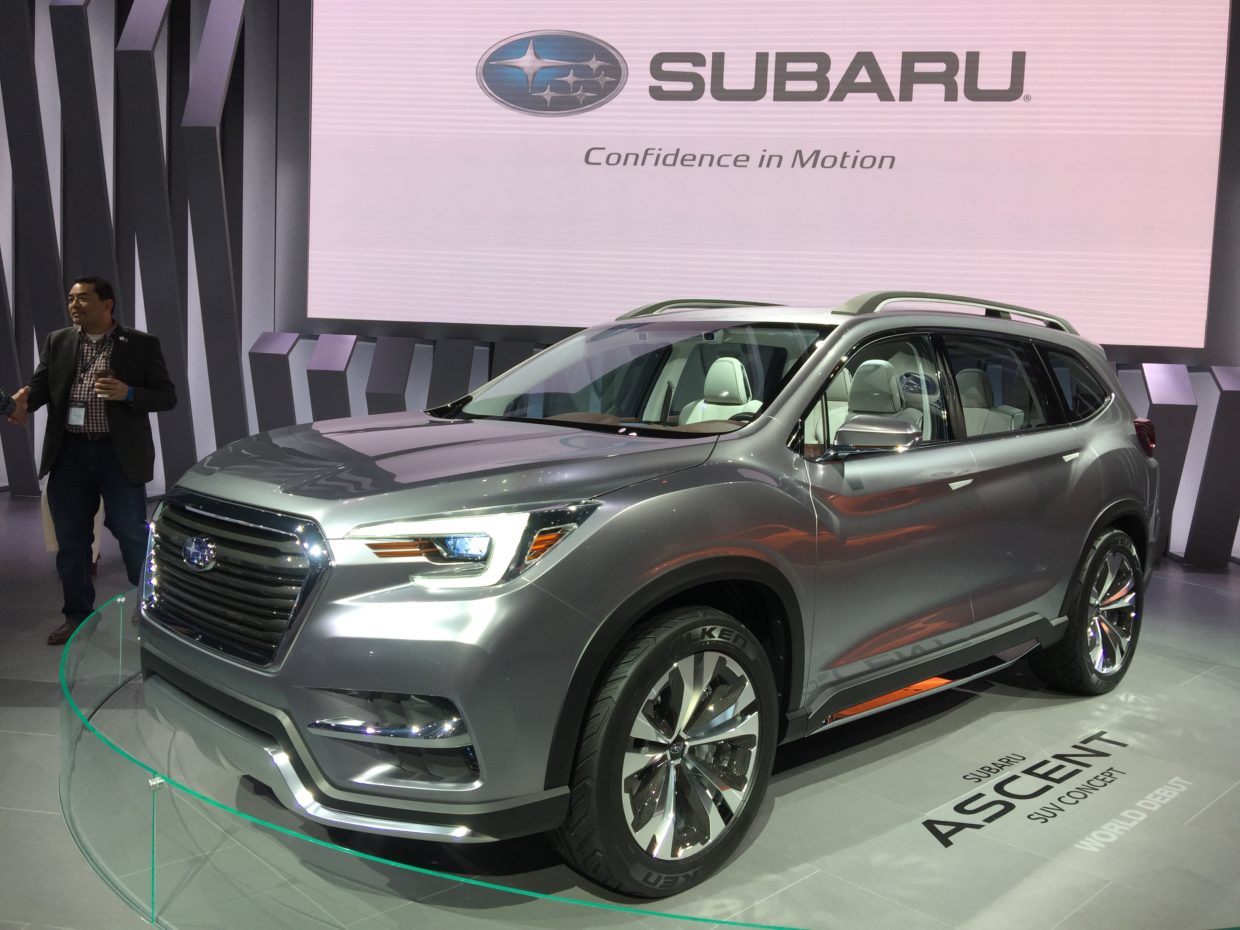 Toyota FT-4X Concept
Ordinarily, we celebrate designs that reflect thinking outside the box, but in this case, the creativity is mostly inside. Fabricated on the foundations of Toyota's new C-HR subcompact crossover, the FT-4X floats ideas conceived to appeal to urban millennials who need to get away from the urbs from time to time but have little or no spare time for planning—spur of the moment, pack piecemeal, go!
For example, the interior is an imaginative festival of small object storage, helpfully color-coded—blue, for closed storage, orange for open, in case the user has trouble making the distinction. A sleeping bag stows between the front seats, doubling as an armrest, atop a large center storage compartment. The rear door handles can double as water bottles, a flashlight stows in the rear ceiling, the armrests incorporate USB ports, and a pair of rear bins provide heating and refrigeration, one of each. More. The radio is removable, for use as a boom box at beach or tailgate parties. And there are power outlets scattered around the interior, which is devoid of carpeting, and lends itself to cleaning with a hose.
Created at Toyota's Calty facility in California, the design team started with the rear of the concept, which features a two-way "Multi Hatch" that offers two modes—Outdoor, with a traditional top-hinged vertical opening, or Urban, wherein the hatch splits into two vertical half-doors. The concept is based on the same TNGA architecture that supports the subcompact CH-R crossover SUV. It may (or may not) share the CH-R's 144-horsepower 2.0-liter 4-cylinder and continuously variable transmission, and is also equipped with 4-wheel drive.
Elements of the FT-4X may someday find their way into production. But unlike many of today's so-called concepts, which are thinly disguised production models, this one is a pure forum for ideas.
---
Photo Credit: © 2017 Autoweb /Tony Swan