Reviews
2017 Toyota 86: Review
"It drives just as I would have expected from a 200-horsepower, naturally-aspirated, rear-wheel drive car."
Toyota's CEO spoke at the Los Angeles Auto Show saying that he was not happy about journalists thinking that the Toyota brand made boring cars.  Well, we have to say, the Toyota 86 is a solid attempt by Toyota to not be at all boring — it's a sporty rear-wheel drive coupe that's quite different from other cars in the brand's current lineup. It was jointly developed with Subaru and is, in fact, built by Subaru in Japan.
Introduced in 2013 and sold as both the Scion FR-S and Subaru BRZ, the car gets a mild refresh for 2017, along with rebranding as a Toyota to compensate for the Scion brand which was last year. The "86" nameplate has historical significance: it was part of the chassis code (AE86) for a particularly tuner-friendly Corolla Sport model from the 1980s. We're guessing the reference was meant to foster goodwill amongst enthusiasts.
Design Highlights and Challenges
The 86's profile resonates with the enthusiast in us. It's a good-looking car, modern yet classic. We especially liked the 86's seats — supportive, comfortable, and easy to adjust, with good bolsters. These are only available in fabric, but the material is pleasant enough. The seats are the high point of the interior, however. The style is nice, overall, but the dash, center console, and infotainment screen materials are noticeably lacking. The touch screen is difficult to see and use when driving, thus seeming small at first site. I was surprised to find out later that it was 7 inches wide. The steering wheel does feel good in the hands and it makes up for a bit of the cockpit's overall less-than-expected quality.
Like the car, the trunk of the 86 is small and there it does not provide an alternative 60/40 split to use for larger objects. The entire seat, however does fold down, but that means no backseat passengers for that trip.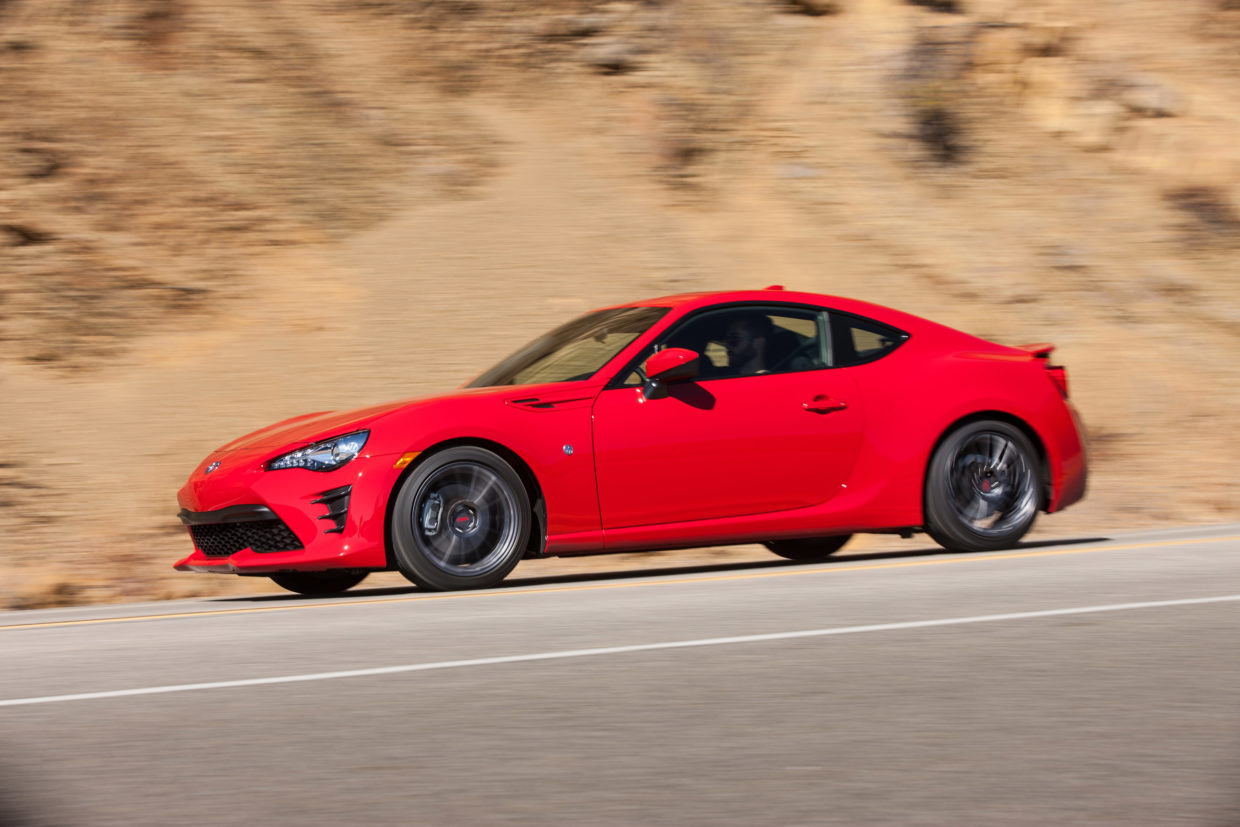 The Big Question
The 86 is powered by a 2.0-liter 4-cylinder boxer engine (that's the Subaru influence) that makes 205 horsepower with the standard 6-speed manual transmission (a 5-horsepower boost from last year), and 200 horsepower with the 6-speed automatic. Since this car was first introduced — that is, the Scion FR-S and Subaru BRZ — Toyota has suffered through complaints in the media that the car is underpowered. Since "underpowered" can almost directly translate into "boring," I was especially curious to find out for myself.
Here's the thing: I think the 86 solidly delivers what it promises. It drives just as I would have expected from a 200-horsepower, naturally-aspirated, rear-wheel drive car. Easy to get up to speed, comfortable to cruise, eager off the line, a little squirrelly on the highway in a heavy rainstorm. The drive action changes appropriately when you play with the new-for-2017 track mode (which disables stability control) or use the paddle shifters for passing. As I pushed through the corners; the suspension handled nicely. I don't call this boring, but had I just gotten out of a higher horsepowered car, I would definitely notice the difference.
Now, should the 86 deliver more power for the price? That's another question entirely.
The Price of Fun
Remember back in the '90s, when cars like the Honda Civic and Volkswagen GTI seemed wickedly overpriced for what they were when purchased new? Yet, they still held their value well, and soon, they suddenly reached the threshold where high school and college kids could afford to buy and modify them. Back in those days we all cruised around thinking we were awesome, scoffing at the people who bought new cars.
My Toyota 86 test car carried an out-the-door price of $27,840 (base price plus an automatic transmission and the delivery fee), and I can't help but think it's kind of like that. Buying one new could be tough, but Toyota is currently promoting the 86 with 1.9% financing for 72 months. This seems reminiscent of those other sporty, imported compact cars, but actually less practical and with added rear-wheel drive. I will not be surprised if the 86 will eventually become a popular buy on the used market, but spending nearly $30,000 for a new one will take some motivation.
On the up side, the 86 uses Scion's pricing model — one trim level, hardly any options (though there is currently an 860 Special Edition available). If you're configuring an 86, you can pay extra for things like a special paint color, an automatic transmission, LED fog lights, and Toyota Racing Development (TRD) performance accessories. Otherwise, the 86 is a level playing field. This may also be relevant: The FR-S/86 considerably outsells the Subie BRZ.
Final Thoughts
Even though the Toyota 86 leaves a few things to be desired, I'd never describe it with the word "boring." Besides, I think Toyota's CEO made a fair point. I've driven a lot of Toyotas over the past year and I think the 86 would benefit from being a little more like those cars while keeping its differences (sporty styling, rear-wheel drive) intact. Maybe I wouldn't raise my eyebrows at the price if the dash and center console looked a little more sophisticated, or if the inside of the trunk lid didn't have sharp edges. Unfortunately — and this probably has something to do with the Subaru partnership arrangement — the 86 lacks the Toyota brand's strong value. But if value pricing is what you're looking for, this car's price comes at more of a premium.
---
For more information, options, and pricing, please visit our 2017 Toyota 86 page on AutoWeb's search and configure site.
Photo Credit: © 2017 Toyota