Reviews
2018 Alfa Romeo Stelvio: Review
"Alfa's turbo four is the most potent in its class, capable of hustling the Stelvio to 60 mph in less than six seconds, with a top speed of 144 mph."
It's convenient to think of this new Alfa Romeo as a tall Giulia — convenient because there's a strong element of accuracy in the description.
Alfa's first-ever SUV is based on the architecture of the acclaimed Giulia sports sedan, and in fact has essentially the same 111-inch wheelbase. But as an SUV, it's obviously on a grander scale than the sedan — it's 2.0 inches longer, 1.2 inches wider, 9.5 inches taller and a couple hundred pounds heavier.
Continuing the Giulia family credentials, the powertrains are a direct lift. The standard engine is a 2.0-liter turbo four-cylinder with 280 horsepower and 306 lb-ft of torque, while the high-performance Quadrifoglio edition — due in showrooms later this year — is propelled by a 2.9-liter V6 with 505 hp and 443 lb-ft of torque. Both engines are paired with an eight-speed automatic.
A 2.0-liter four may seem a little under-qualified to move nearly two tons of SUV with the zeal one might expect from an Alfa, but do not be deceived. Alfa's turbo four is the most potent in its class, capable of hustling the Stelvio to 60 mph in less than six seconds, with a top speed of 144 mph.
We mention two tons. Clearly, the Stelvio is no wraith. But its extensive aluminum content, plus exotic touches like a carbon fiber driveshaft, make it one of the lightest vehicles in its class. And that translates as respectable EPA fuel economy ratings — 22 mpg city, 28 highway — and contributes to transient responses that are at the top of the class.
Named for an Alpine pass that entails a challenging set of switchbacks — a stretch in which you do not want to be a passenger unless you're well dosed with Dramamine — the Stelvio's pricing starts at the lower end of its class, with a base MSRP of $42,990.
Mambo Italiano
Although the scale is expanded, the Stelvio preserves the Italianate styling that also sets the Giulia apart from its sports sedan competitors. The signature Alfa Romeo grille is unmistakable, of course. Meanwhile, rising character lines flowing from the front fenders convey an impression of speed, and the broad rear haunches, enhanced by the low-mounted twin exhaust outlets, suggest power. This is as handsome as handsome gets in the world of compact luxury SUVs.
Like the Giulia, the Stelvio's interior design is straightforward and attractive, with the exception of some marginal looking plastics here and there. Alfa created its own infotainment system, which is a little quirky, particularly the audio controls and navigation system programming. But the instrumentation is clean and readily legible; Apple CarPlay and Android Auto will be standard features by late summer; the steering wheel has the same satisfying grip as the Giulia; and the seats (10-way adjustable) are clad in high-grade leather. The bolsters aren't as aggressive as those of the Giulia Quadrifoglio, but still quite supportive. What the bolsters will be like in the Stelvio Quadrifoglio remains to be seen.
The $2,000 Ti option package expands the center-dash display from 6.5 to 8.8 inches, and adds heated seats and steering wheel (a must-have feature in four-season climates); satellite radio; and front parking assist sensors (rear sensors are standard).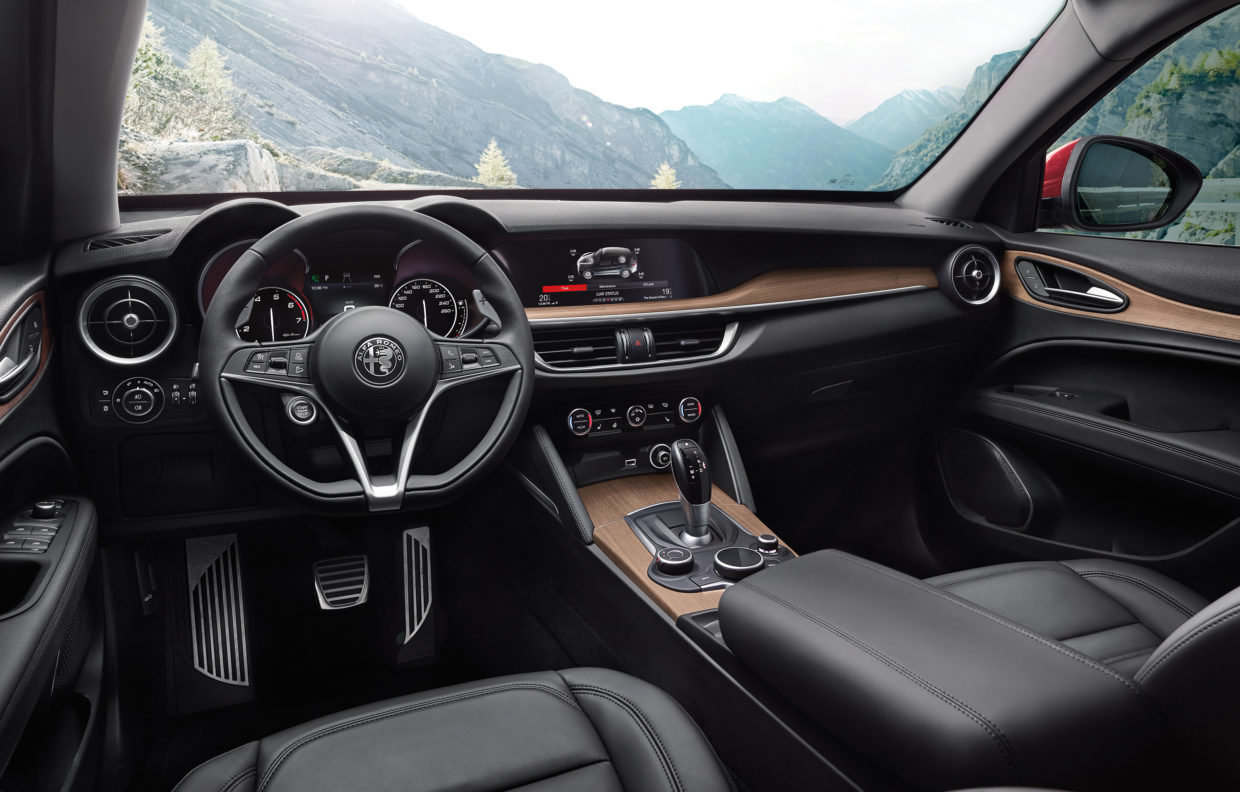 There are also Sport packages that add paddle shifters, a bigger wheel-tire combo (19- and 20-inch), and painted brake calipers in three colors.
A particularly appealing touch: The start button is siamesed onto the left spoke of the steering wheel.
Giulia Virtues
On the road, the Stelvio exhibits Giulia virtues — eager responses, precise steering and ample power with virtually no turbo lag.
This may not be the kind of eyeball-flattening thrust that goes with the Quadrifoglio engine, but it's at the top of the charts among competing turbo fours and should be well beyond adequate for most drivers, and more than satisfying to all but the most hard-core power junkies.
Braking performance is consistent with the Stelvio's athletic character: powerful, with pedal response that's easy to modulate.
It goes almost without saying that with their tallish profile and extra mass, SUVs aren't quite as agile as their sedan counterparts. But in its competitive set, which includes some very prominent European players — such as the Audi Q5, BMW X3, Jaguar F-Pace and Mercedes-Benz GLC — the Stelvio ranks at or at least near the top.
However, is it more of an athlete than the Porsche Macan? Without conducting a head-to-head comparison test, that's a tough call. But the Stelvio has a distinct edge in its Italian style and Italian soul.
---
Photo Credit: © 2017 Alfa-Romeo