Reviews
2018 Honda Civic Type R: Review
"Long distance trips aren't what this vehicle is about. Here's a car for back road blasts, weekend track days, and snaking through autocross cones."
In April, Honda's long-anticipated Civic Type R recorded a lap time of 7:43.8 around the tortuous 12.9 miles (160 turns) of the Nordschleife portion of Germany's famed Nurburgring racetrack.
That's fast, an average of just over 100 mph, as fast as lap times laid down by cars like the Nissan GT-R and Audi R8 only a few years earlier, and reset the lap record for a front-drive car, previously held by Volkswagen's Golf GTI (7:47.2).
Is this important? If you're in the performance car biz, you bet it is. Nordschleife lap times have become a marketing touchstone for factory hot rods, leading to increasing segmentation of records—fastest outright, fastest sedan, fastest SUV, fastest front-drive, etc.
So as the Type R begins trickling into U.S. showrooms, you can count on hearing more about that hot lap, fortifying this car's torrid pedigree: the hottest Civic ever in the U.S. market.
That last—hottest in the U.S. market—is an asterisk. Type R Civics, four generations of them, have been around since 1997, in Europe and Japan.
Why has it taken Honda this long to bring this level of Civic heat to North America? The company hems and haws a little bit on this question, indirectly answering that the latest R is going to be better because it's based on the new Civic platform.
But it's more likely that the real reason is that Honda may have felt the business case for the car wasn't strong enough in the U.S.
Be that as it may, the Type R is finally here, and it is hot stuff.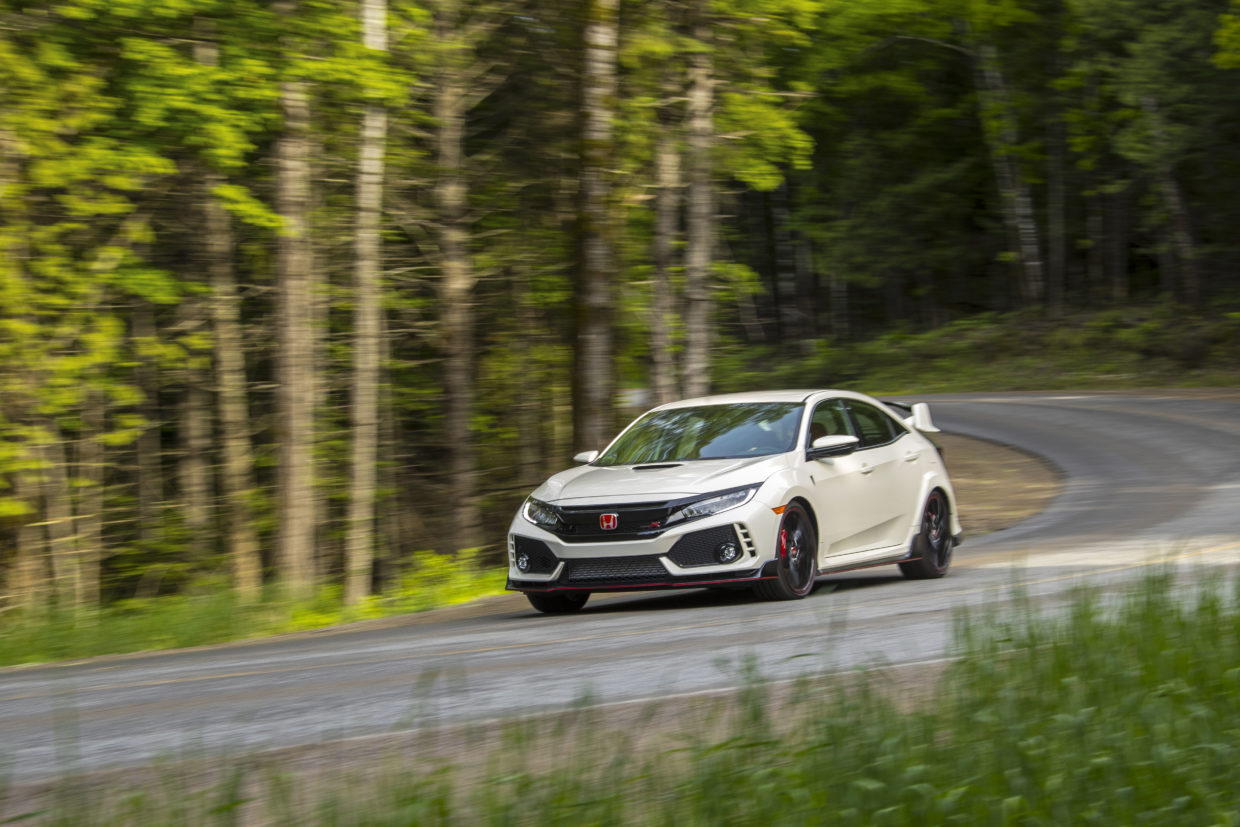 Elements of heat
So, how hot? Here are the stats: turbocharged 2.0-liter engine developing 306 horsepower at 6500 rpm, and 295 pound-feet of torque from 2500 to 4500 rpm. (As an aside, a milder version of this turbo 2.0-liter will be the upgrade engine option for the redesigned Accord sedan that's coming this fall. It replaces the current V6 option.)
The hatchback unibody weighs in at 3117 pounds, according to Honda, giving the Type R a better power-to-weight ratio (10.2 lb/hp) than competing compact hotties like the Subaru WRX STi and Volkswagen Golf R. (The Ford Focus RS has a slight edge at 9.8 lb/hp.)
The lb/hp disparity can be attributed, at least in part, to the fact that the competing trio feature all-wheel drive, whereas the Honda is strictly front-drive. You might expect so much power driving the front wheels would add up to torque steer, but that's not the case.
The transmission is a six-speed manual—like the more modestly powered Civic Si, the Type R does not offer an automatic option—and power finds its way to the ground via a limited slip differential and 20-inch forged aluminum alloy wheels wearing Continental Sport Contact performance rubber: 245/30. Very aggressive, very little sidewall to flex, very sticky.
Chassis specs are pretty much the same as the standard Civic hatchback, albeit some 300 pounds heavier, but the unibody has undergone selective stiffening, particularly around the suspension pickup points. As you'd expect, the suspension components are much firmer, as well as more sophisticated, with adaptive damping.
The suspension and throttle mapping respond to three operating pre-sets: Comfort, Sport, and R+ when you want max performance.
And finally, the R's formidable power is balanced by equally formidable braking: four-piston Brembo calipers up front, with bigger rotors at both ends.
Remember Ettore Bugatti's famous response to criticism of the feeble braking of his cars? "I build my cars to go, not to stop." That assertion has long-since been recognized as nonsense, and it's well known that robust braking contributes almost as much to record lap times as horsepower. The R has it, double in spades.
Visual heat
A single glance tells even the casual viewer that this is not your ordinary Civic hatchback. The aggressive front splitter, rocker panel extensions, functional front fender and hood vents, big rear wing, a trio of exhaust pipes, low-profile tires, red brake calipers, and the grille's red "R" logo make it clear that this is one of those hot hatch bad boys.
That impression carries over to inside, where the black interior décor is mitigated by red trim and generously bolstered front bucket seats with lurid red cloth upholstery. Like any good performance car buckets, these perches are well conceived to keep the driver and front passenger centered when the g-loads are coming from all sorts of angles, albeit a little confining for trips of any distance.
Another clue: the driver can dial up performance data on the instrument panel.
Sports car synapses
Long distance trips aren't what this vehicle is about. Here's a car for back road blasts, weekend track days, and snaking through autocross cones.
As you'd expect, the R is quick—we anticipate 0-to-60 in five seconds or less—top speed is 170 mph, and throttle response is exceptionally prompt for a turbocharged engine. Torque hits its plateau early and stays there. It's possible to make the engine lug, by tramping on the gas in too high a gear, but that's easily remedied simply by downshifting.
Action of the six-speed manual transaxle is a tad stiff, but the shift throws are short, the engagements are crisp, and the engine management system is programmed for automatic rev-matching on downshifts—no heel-and-toe required. And the system prefers that the driver refrains from messing with the throttle on downshifts.
The brakes are powerful, easy to modulate, and the R doesn't mind trail-braking into corners, i.e., using the brakes when the car is already turning. In some cars, this is a prescription for a spin, but in the R the nose tucks into the desired line—call it a virtue of front-wheel drive and a limited slip differential.
Body motions are minimal, regardless of driving mode. There's almost no rock 'n roll, even in the Comfort setting, and responses to commands from the helm are instantaneous. This is sports car steering—quick and tactile; the driver knows precisely what the front wheels are doing.
But the cherry on this performance sundae is the level of grip delivered by those low profile Continental tires. Tire adhesion is as critical to fast road circuit lap times as engine power, and these Contis stick like limpets.
It all adds up to an eager terrier of a car that thrives on attacking decreasing radius turns, pins its ears back and hauls on fast sweepers, and will give its compact hot rod rivals serious competition on an autocross layout.
Cosmetic overkill?
What's not to like? As noted, the R's suspension is stiff, regardless of pre-set. The Comfort mode in this car is another car's Max Sport, and the suspension simply ignores nasty little bumps like freeway expansion joints or pavement patches, sending them straight on to the driver.
On the aesthetic front, the Type R could be perceived, by some, as a little overdone. All the red highlights, the busy exterior, the rather lurid interior décor, and the repetition of the red "R" logo—there are six of them on the inside alone; were the designers afraid we'd forget?—add up to a look that says "boy toy" a little too vehemently.
On the other hand, the Type R delivers on that look, and at a price that's anywhere from $1240 to $2220 less than the base price of the other compact rockets, two of which (Golf R and Subie STI) offer optional features.
The R is $34,775, all in, no extras. And yes, it doesn't have all-wheel drive. Bulletin: you won't miss it.
---
Photo Credit: © 2017 Honda