First drives
2018 Lexus LC 500 and LC 500h: Review
"The V8 snorts and romps, capable of quicker acceleration and higher speeds in the straights. You can brake deeper into the turns, and rocket out faster with confidence."
Toyota wants to change the way you think about their luxury brand, so get ready for the 2018 Lexus LC 500 and LC 500h.
Why would America's top-selling luxury brand want a new image? Close your eyes, and think "Lexus." You're getting a floaty, cushy feeling, aren't you? You're picturing a safe, plush, comfortable ride. You're seeing your father or your grandfather behind the wheel of a big LS sedan, or your mom cruising through the mall parking lot in an attractive RX crossover. Shake it like an Etch A Sketch. Clear those images from your head.
Now place yourself in the driver's seat of a performance coupe, one that draws eyeballs in traffic and draws a grin on your face when the road opens up.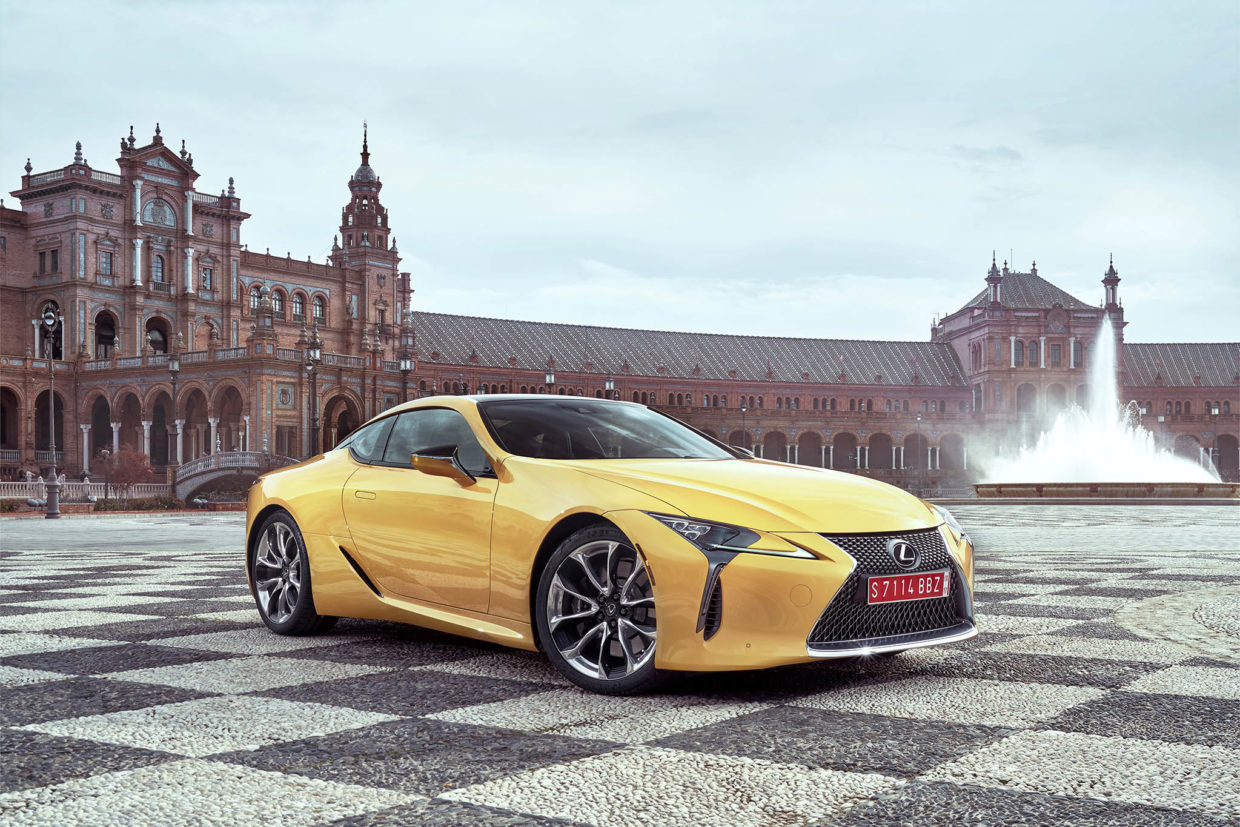 That's what Lexus wants – you behind the wheel believing that you're in a cutting-edge luxury Grand Touring sports car. Because that's what they've created in the V8-powered LC 500 and the hybrid gasoline-electric LC 500h.
"F" is for "Flagship"
This transformation has been engineered over the course of a decade, at least. It started with the creation of the "F" (for "Flagship") designation in 2006, and the F-Sport trim line in 2007, and reinforced with the brand's supercar, the LFA, which debuted as a 2010 model with a production run of 500.
The 2018 LC will arrive in late spring/early summer 2017, with pricing to be announced closer to the launch. Lexus says that it is designed to compete with the BMW 6-series, Jaguar F-Type, Mercedes-Benz S550 Coupe, and maybe even the Porsche 911, a pretty wide range of cars with starting prices from the $70Ks to the $120Ks. What they all have in common is sexy exterior and interior design, GT performance and ride quality, and aspirational attainability. Few of us will ever have a reasonable shot at a $375,000 LFA; but many more buyers can daydream about a luxury GT car.
LC will inspire many daydreams, and Lexus projects that they'll be reality for about 400 buyers per month when they start rolling out. The halo effect will be even greater, as potential buyers will start thinking about Lexus differently once the LC establishes its presence. That's the vision, anyway.
The reality of the LC is that it is an excellent car that hits its target dead center, at least in V8 form.
Two Forms of Power
Let's start with the powertrains, because that's the heart of a sports car. LC500 comes with a naturally aspirated (non-turbo) 5.0-liter V8 engine that's tuned to produce 471 hp and 398 lb-ft of torque, sent to the rear wheels via an all-new 10-speed automatic transmission. Bucking industry trends, the transmission is not a dual clutch number; it's a conventional unit that has been engineered to deliver lightning-fast gear changes. Particular attention has been paid to the rhythm of shifts, equally distributed through gears 2 – 5. The effect is smooth yet purposeful acceleration that's very pleasing. Paddle shifters are provided for drivers who want to take control, but they're best left alone – the computers know best how to keep the LC in the power band. Six drive modes are available at the push of button to shape the performance from Comfort to Sport Plus, and an Active Rear Exhaust makes things sing.
The LC 500h comes with a new version of the venerable 3.5-liter V6 engine with two electric motors (one for generator/starter function and one sending power to the rear wheels and collecting regenerated energy) and a Lithium-ion battery array. The gas engine produces 295 hp and 256.7 lb-ft of torque. Lexus doesn't state total system power. The hybrid system is a "Multi Stage Hybrid," designed more for performance characteristics than for fuel efficiency. Using an electronic continuously variable automatic transmission (ECVT) that is tuned give the feel of a 10-speed automatic, the LC 500h transmission includes an automatic Drive Mode switching control that responds to real world demands. V6 sound is ported into the cabin with some electronic voodoo that Lexus insists is "actual engine sound," though they admit that some harsher frequencies are filtered before they reach the ear with noise cancelling technology.
A Body to Die For
Outside, there's no distinction between V8 and hybrid models beyond subtle badging.
The LC has great proportions, with a big low hood and a new interpretation of the Lexus "spindle" grille. The body swoops to the rear in fastback style, concluding in a modest 5.4-cubic foot trunk (V8)/4.7-cubic foot (hybrid). Big haunches hint at performance, and 20-inch (21-inch available) wheels fill the arches. A cool carbon fiber roof is available, as is a speed-activated rear spoiler. Look at the pictures, and be sure you have a drool rag handy. The LC is one gorgeous coupe, further enhanced by Lexus's exemplary level of fit and finish.
Sport, Meet Luxury
Open the door and slide in to the sporty cabin. Even though LC has just 5.2 inches of ground clearance, no Yoga classes are required to get in through the big doors. The dash layout leaves no doubt that this is a serious driver's car, with instruments and controls canted to the operator's side. The front passenger gets a fine perch, too, with a pair of integrated grab handles for a sense of security and stability. The dash is elegant in its lines, complex yet attractive and assembled from hand stitched leather and real metals with a choice of trim packages. Sport seats are an option. They include firm side bolstering that may not be a good choice for wider drivers and passengers – try them on for size, as the bolsters are non-adjustable.
There is a second row of seats in this 2+2 coupe, but in true GT style, they're mostly for show, as a comfortable seating position for a tall driver leaves absolutely no leg room for a rear seat passenger. Your briefcase will be very comfortable; your adult passenger will be miserable.
Curves and Straights
So, how does it drive? Well, the LC is built on Lexus' all-new global platform architecture, and has highly sophisticated independent multi-link suspension at both ends. The body is extremely stiff and light, thanks to a combination of carbon fiber, aluminum, ultra high strength steel and high strength steel construction. Electric Power Steering (EPS) responds to vehicle speed, and there will be an Active Rear Steering system available on some models for further refinement. Big ventilated disc brakes at both ends give good feel in the V8. The regenerative braking system in the hybrid is somewhat less satisfying, by its very nature. It does a good job of slowing the car down, but feels a little disconnected from the pedal. You push down, and the car slows, but the calipers don't bite down like they do in the V8.
Our test drives were conducted on some great roads that twisted and turned and challenged the LC to remain composed and predictable. We also got a chance to take both the V8 and hybrid onto a closed course racetrack with a pro driver riding shotgun – not native territory for a Grand Tourer, but a good opportunity to challenge the engine, suspension, steering and brakes in a safe environment.
The hybrid impresses with its balance. It is quick and nimble, though a little hampered by its braking system, requiring earlier braking before turn in. The V8 snorts and romps, capable of quicker acceleration and higher speeds in the straights. You can brake deeper into the turns, and rocket out faster with confidence. It's the performance driver's choice between the two packages.
Every Picture Tells a Story, Don't It?
Will the Lexus LC achieve its goal of changing the way people will think about Lexus? It just might, and in a way that the supercar LFA hasn't been able to. Lexus would not confirm that an F-Sport version of the LC will be produced, but they'd be nuts not to. The platform will support all-wheel drive on the upcoming LS, so that is most likely in the LC's future, and there's surely an additional dose of horsepower available with engine tuning and maybe a turbocharger or supercharger setup. Pricing will be critical when it announced. A sweet spot below six figures makes sense, leaving room for a low six figures model with higher performance.
Shake that Etch A Sketch, and get ready for a whole new image of Toyota's luxury brand when the 2018 Lexus LC 500 and LC 500h hit showrooms next year.
---
Photo Credit: © 2017 Lexus