In-car technology
AutoWeb Looks At… Escort Passport MAX 360
"The Escort Passport MAX 360 with GPS and directional alert arrows is as good as radar and laser detection gets."
A radar/laser detector is my single most important companion when I am driving. While those unfamiliar with the small devices assume they are nothing more than instruments to help drivers speed, a good radar/laser detector is actually a precision calibrated electronic tool engineered to keep the vehicle operator aware of their surroundings and velocity — consequently, they can actually improve a driver's awareness and safety.
The industry battle for supremacy has been fought for years between Valentine Research and Escort — both companies have delivered high-end receivers with sophisticated chipsets designed for early alerts and infrequent false alarms. Because of the ongoing competition, the two have raised the bar, though in different directions with unique attributes: Valentine with an arrow display, and Escort with integrated satellite-based GPS.
Driving enthusiasts were forced to choose. Some conjured up perfectly logical arguments as to why arrows are better; others stubbornly professed the many merits of GPS. Even the experts weren't able to choose a winner, as both companies traded wins in various head-to-head radar/laser detector competitions.
But time was not on Valentine's side: The company's coveted patent on the arrow display expired in early 2011. Things were about to change.
In mid 2015, Escort announced its all-new flagship Passport MAX 360. Unlike all of its previous detectors, which the company has been manufacturing for more than three decades, the Max 360 has been configured with an Escort first: a four-way arrow display. Further taking the wind out of Valentine's sails (or should it be "sales"?), Passport has married its new display into its proven GPS-enabled Passport MAX unit.
More than eager to try out the all-new Escort Passport MAX 360, I borrowed an early production unit from the company and put it to work during a 1,500-mile cross-country drive in the all-new Chevrolet Camaro. I returned it, one week later, and was left very impressed.
The new MAX 360 is noticeably larger than the Passport MAX it is based on, and as expected nearly all of that bulk is for the illuminated arrow display to the right of the high-definition OLED multifunction primary display. While the detector looks big in hand, once hung on the windshield — and viewed head-on — it seems far less imposing. Its flat-black shell minimizes reflections to further improve its unobtrusive appearance.
Like the company's standard MAX detector, which has been on the market for more than a year, the MAX 360 offers a multitude of user-configurable settings, allowing the operator to customize numerous elements: the color and information on its display, alerts, volume level, brightness, sensitivity, and experience levels. Toggling through all of this sounds daunting, especially to the uninitiated, but it's actually not very difficult. For those too busy to read the instructions, Escort has included a default setting ("Auto") that will get most drivers on the road, fully protected, within seconds.
Again mirroring the functionality of the original MAX, the new MAX 360 can learn where the unwanted false alarms are located (it uses the GPS to memorize the location), access Escort's Defender Database, and connect via Bluetooth to Escort Live (a smartphone application that uses crowd-source technology to report speed traps and hazards). Like all earlier units, the MAX requires a constant supply of electricity, which it gets through a coiled/straight cord from a standard 12-volt cigarette-lighter socket "Smartcord" (named as such because it has integrated warning lights for darkened driving mode).
Improvements over the standard MAX detector include upgraded technology and a new magnetic mount, so there is no longer a need to press a button to release the unit. Simply grasp it firmly and pull it away from the glass — an elegant solution that works great.
After fiddling with all of the settings, I chose to operate the MAX 360 in "Auto No-X" mode, which allows the unit to ignore nearly all of today's false alarms on X Band. I also like the speedometer reading (most in-dash speedometers are notoriously inaccurate), automatic dimming, and the expert display. Again, this takes mere minutes to configure.
In basic mode, the MAX 360 operates identically to the GPS-enabled MAX — silently. That is, until it picks up adversarial radar. At the first beep of an alert, the unit's 360-degree directional arrow illuminates to pinpoint the direction of the source. To someone new to the arrow display, its effectiveness is surprising. After one alert, I noted law enforcement on the other side of the highway; after another, one behind me. (Neither were threatening.) The arrows are so effective that awkwardly craning your neck to locate police is now a thing of the past.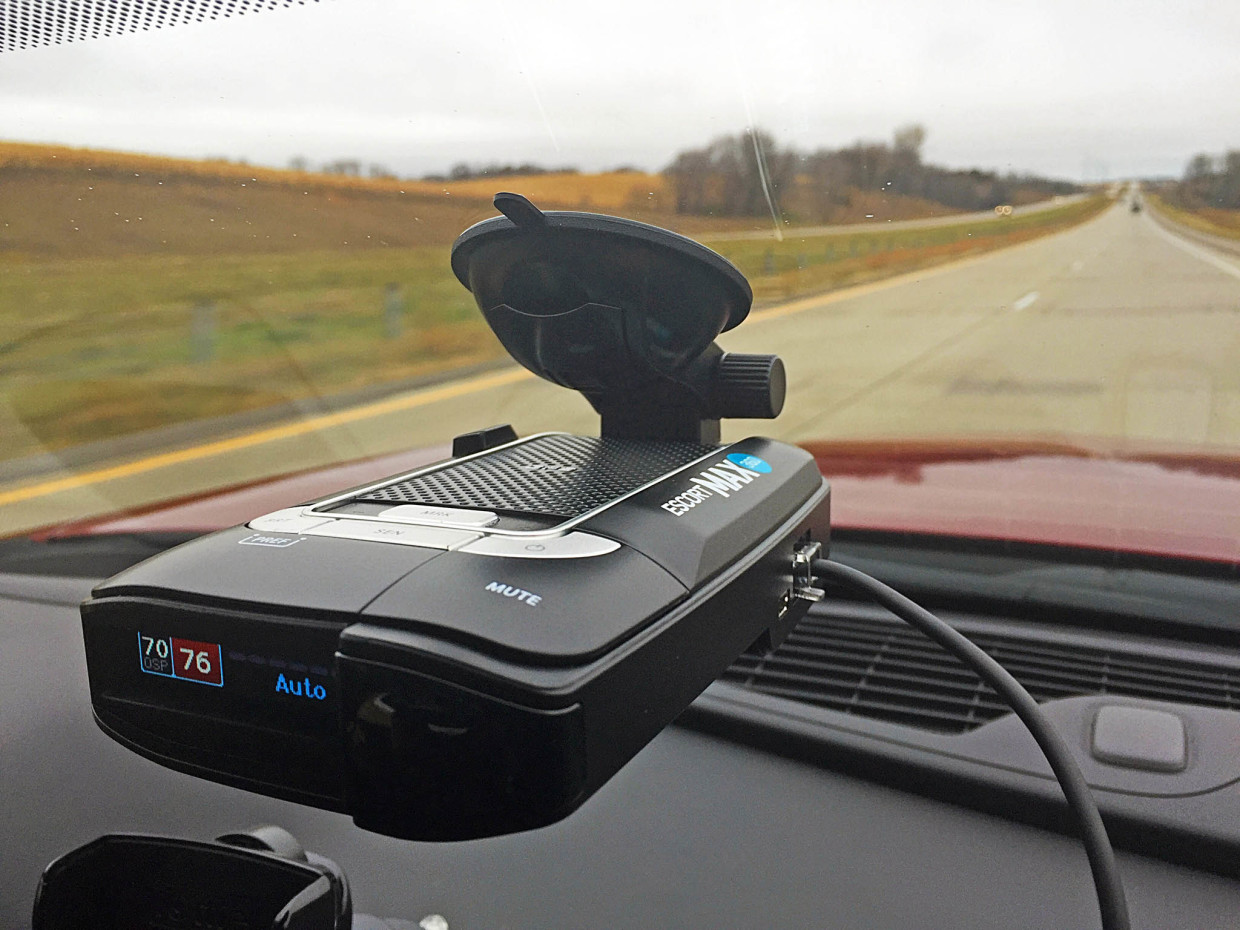 The blue and red arrows work very well and are very informative. And, despite what some believe, the directional alerts are no gimmick — after the first rear arrow, telling you to check your mirrors, you will be hooked. I was smitten. Short of an Air Force E-3 AWACS jet circling overhead, the Escort Passport MAX 360 with GPS and directional alert arrows is as good as radar and laser detection gets.
Current Escort clientele will wonder if they should trade-in older technology, while new customers will undoubtedly wonder whether it's financially smart to bump up to the premium unit, which retails for just under $650. The answer to both is a resounding yes. Owners of the Passport MAX will find the MAX 360 a worthy upgrade, as it's significantly enhanced and comes with zero learning curve. Those new to radar/laser detector technology will be amazed at the ease of its use, accuracy, and newfound awareness and safety.
The radar/laser detector battle has gone on for many years, but now it appears that Escort, by adding arrows to its GPS-enabled detector, has reduced the real players in the segment to just one.
---
©2015 AutoWeb / Michael Harley