Comparison tests
AutoWeb Transmission Showdown: Stick Shift vs. Automatic
" If you want to compare two very different transmissions on a level playing field, using these two Porsches is as good as it gets."
The crank starter was automated 100 years ago. The choke valve was automated 40 years ago. Cruise control was automated 20 years ago. The list of vehicle advancements that utilize electronics to replace a laborious or monotonous human task grows every year, and every one of these innovations has been embraced by drivers who want to reduce their behind-the-wheel workload — with one big exception.
Automotive enthusiasts can't seem to let go of the manual transmission.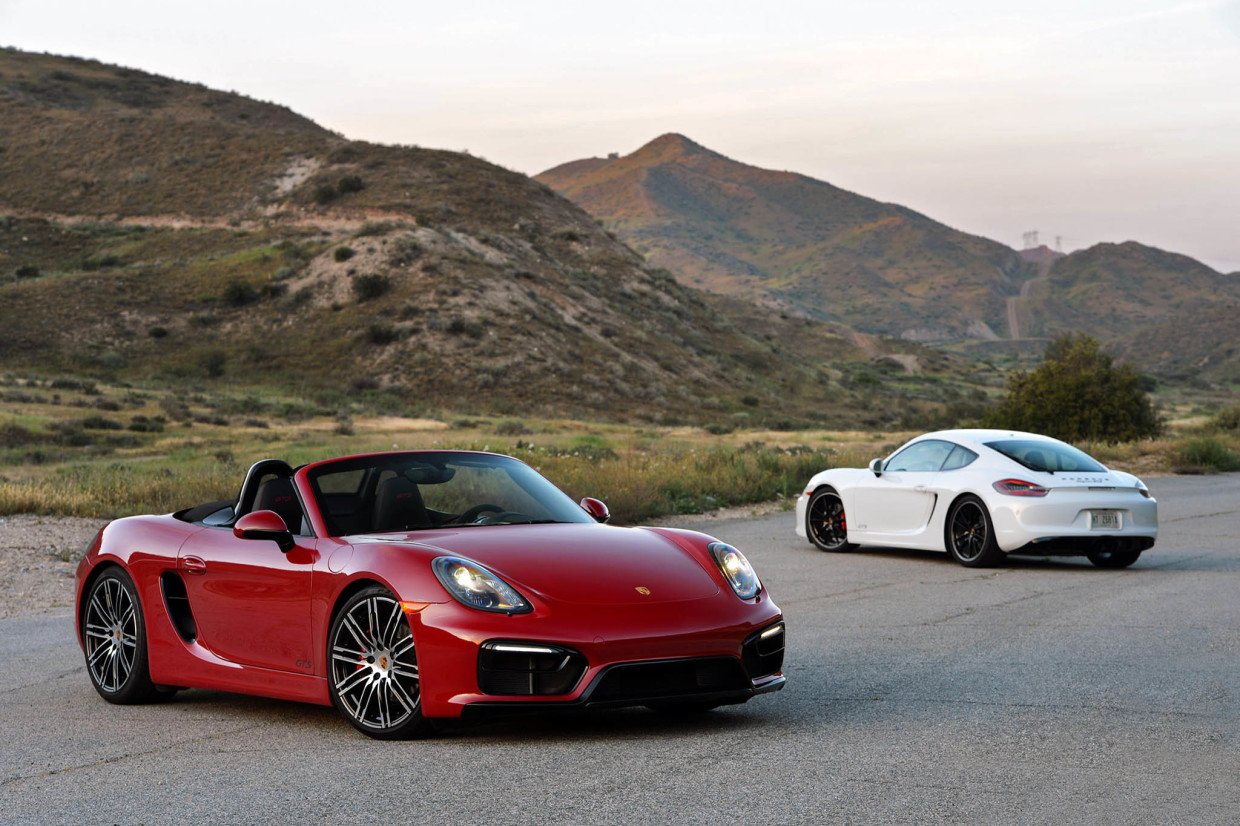 Automatics Begin the Takeover
Automakers began experimenting with automatic and semi-automatic transmissions in the 1930s, but it wasn't until 1937 that the first commercially successful automatic transmission, General Motors' Hydra-Matic, made its debut. Early automatic transmissions greatly reduced the driver's workload, but they were expensive options that sapped acceleration and fuel economy, and they were often not as smooth as their manual counterparts. These issues would continue to plague automatics for decades, hardly ideal for a component that was sold as a luxury feature and cost more money.
Automatic transmissions have undergone a technical revolution over the last couple of decades thanks to microchips, sensors, and computer processing, progressing to the point that the manually shifted passenger car has become almost extinct. Today's automatic transmissions are far more sophisticated than their predecessors, and the industry's best shift gears more quickly, deliver better mileage, and are much smoother than any gearbox operated with that third pedal.
Enthusiasts Retain a Mechanical Fetish
Most consumers are understandably pleased, but many hard-core automotive enthusiasts refuse to be swayed, insisting their cars come with a traditional manual gearbox. So, even if automakers generally agree that an automatic is the way to go, some have continued to offer a manual gearbox as a choice for their popular sports cars.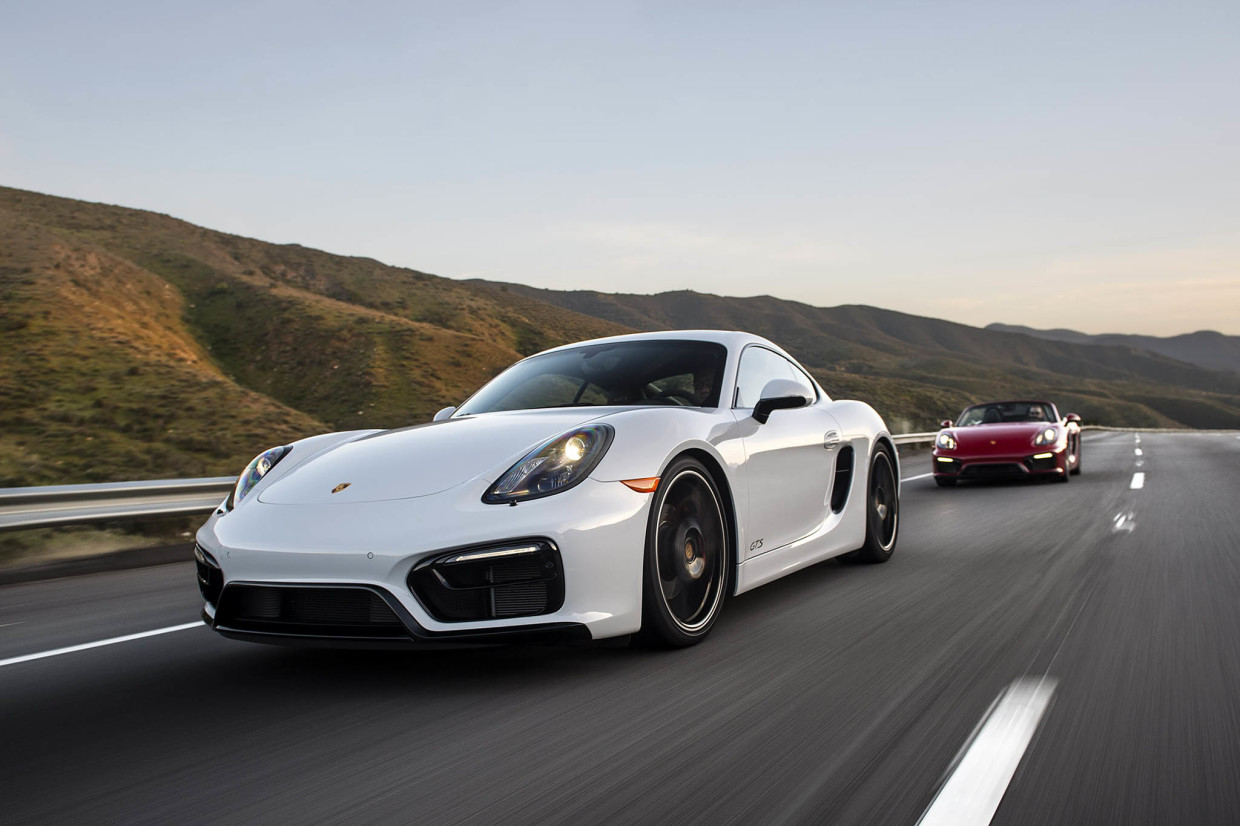 To properly study this curious obsession, which still inflicts most of the staff at AutoWeb, I arranged a head-to-head comparison, starting with a phone call to Porsche.
The iconic German automaker knows sports cars, and it is one of the few remaining premium manufacturers that still offers a manual gearbox. Unbelievable as it might seem, Pagani, Bugatti, McLaren, Lamborghini, and Ferrari — Ferrari! — no longer build cars that allow their owners to dance the three-pedal fandango. Porsche is still recognized, of course, for offering superior examples of both types: Its 6-speed manual and 7-speed dual-clutch automatic gearboxes are among the best on the planet.
Porsche generously offered up a 2015 Cayman GTS with a 6-speed manual, and a 2015 Boxster GTS with a 7-speed PDK. Both are unrivalled sports cars, configured to deliver Porsche's magic combination of thrilling performance and smooth drivability. One is a coupe and the other is a convertible, but their performance envelopes are nearly identical. If you want to compare two very different transmissions on a level playing field, using these two Porsches is as good as it gets.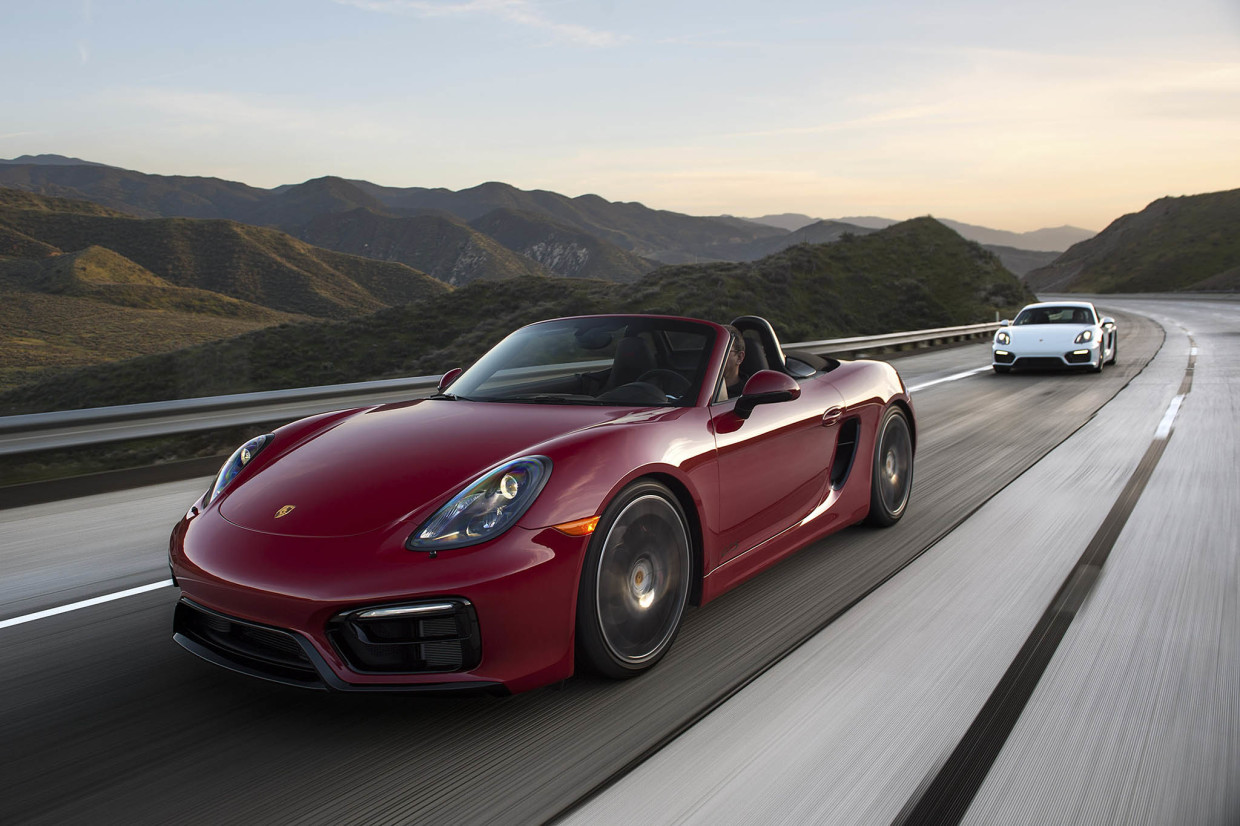 Next I called up a few of AutoWeb's most enthusiastic staffers, asking each to spend a day driving the cars — focusing only on the gearboxes — back to back on a loop over Southern California's famed Mulholland Highway and Pacific Coast Highway. As the sun set over the Pacific, I sat down with each one of them for a debriefing, and they told me what they liked and didn't like about each gearbox — and which was their favorite.
The 6-Speed Manual
No surprise that nearly all of our drivers gravitated first towards the manual gearbox. The Cayman's 6-speed gearbox has short throws and gratifying mechanical feedback as each ratio is engaged, literally clicking into each gear with the satisfying feel of a premium socket latching onto its ratchet.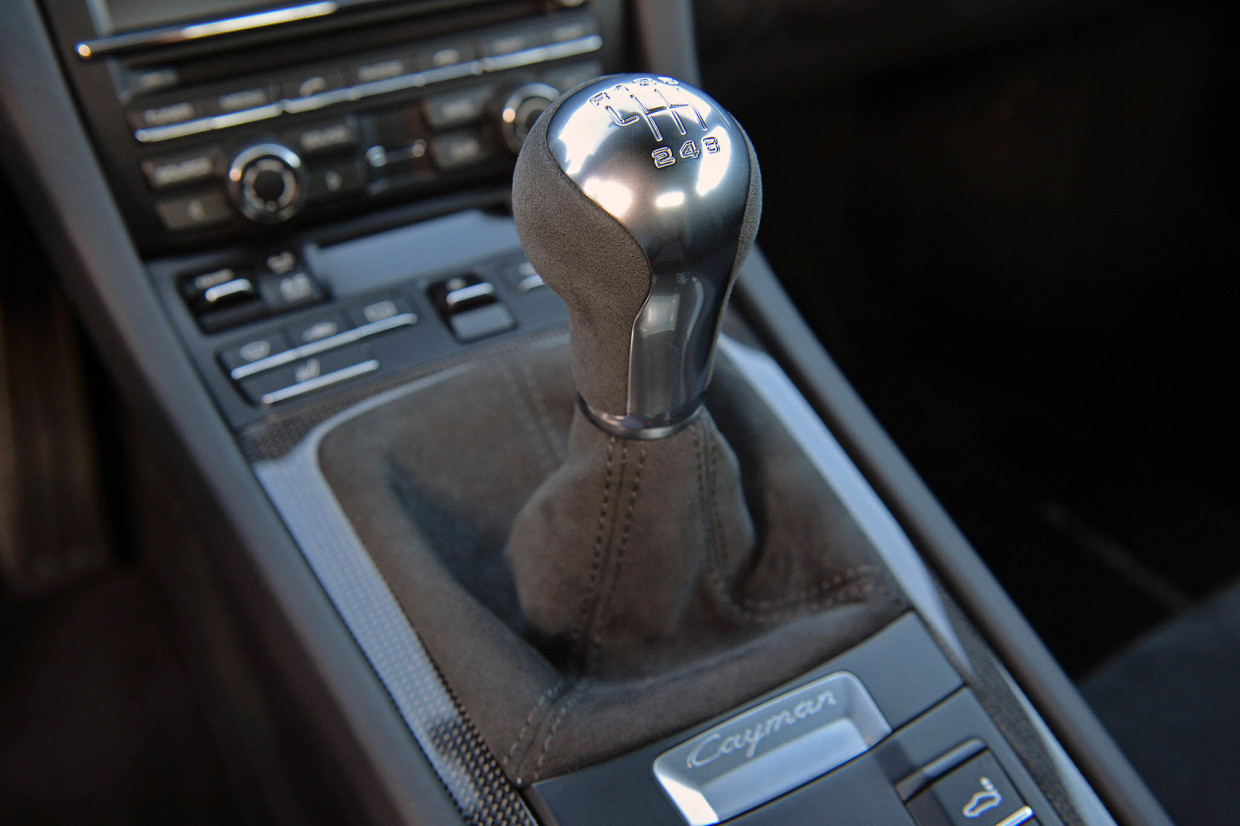 AutoWeb's general manager, Charlie Schiavone, owns a 2013 Chevrolet Corvette Grand Sport with an automatic transmission, and he was impressed. "I had forgotten how much fun a stick shift was until I drove the Cayman GTS. The gearbox felt smooth and easy, and the clutch feel felt tolerable in traffic. I was most impressed with the flexibility of second gear when driving through the tight canyon roads — it had enough torque to accelerate through the turns and enough gear to not require shifting. All and all, smooth, easy, fun and great for carving up canyon roads. Manuals have come a long way over the years, and Porsche highlights just about every improvement made during its evolution," he observed.
"Hands-down, this is one of the best manual transmissions I've ever used," agreed Rex Torres, AutoWeb's digital content administrator. He has a modified 2015 Subaru WRX with a manual gearbox in his garage. "The clutch pressure is firm, which is nice. I don't like light clutches, because the balance between lifting the clutch and engaging the accelerator pedal just isn't there. Shifts are confident and assured — there's a very mechanical and very satisfying 'fits like a glove' feeling when going into each gear." Rex pointed out how natural driving a stick shift becomes, once the operator becomes familiar with the gearbox. "I feel connected with the car — one entity, sensing its emotions and delivering exactly what it wants at just the right time. I never questioned what gear I was in, and I instinctively knew where to go next — upshift or downshift. Synergy in motion. It just put a big smile on my face." Not even traffic could erase Rex's grin as he recalled, "Even in traffic, going through the gears was not a chore. Whether having fun or drudging through gridlock, it was enjoyable."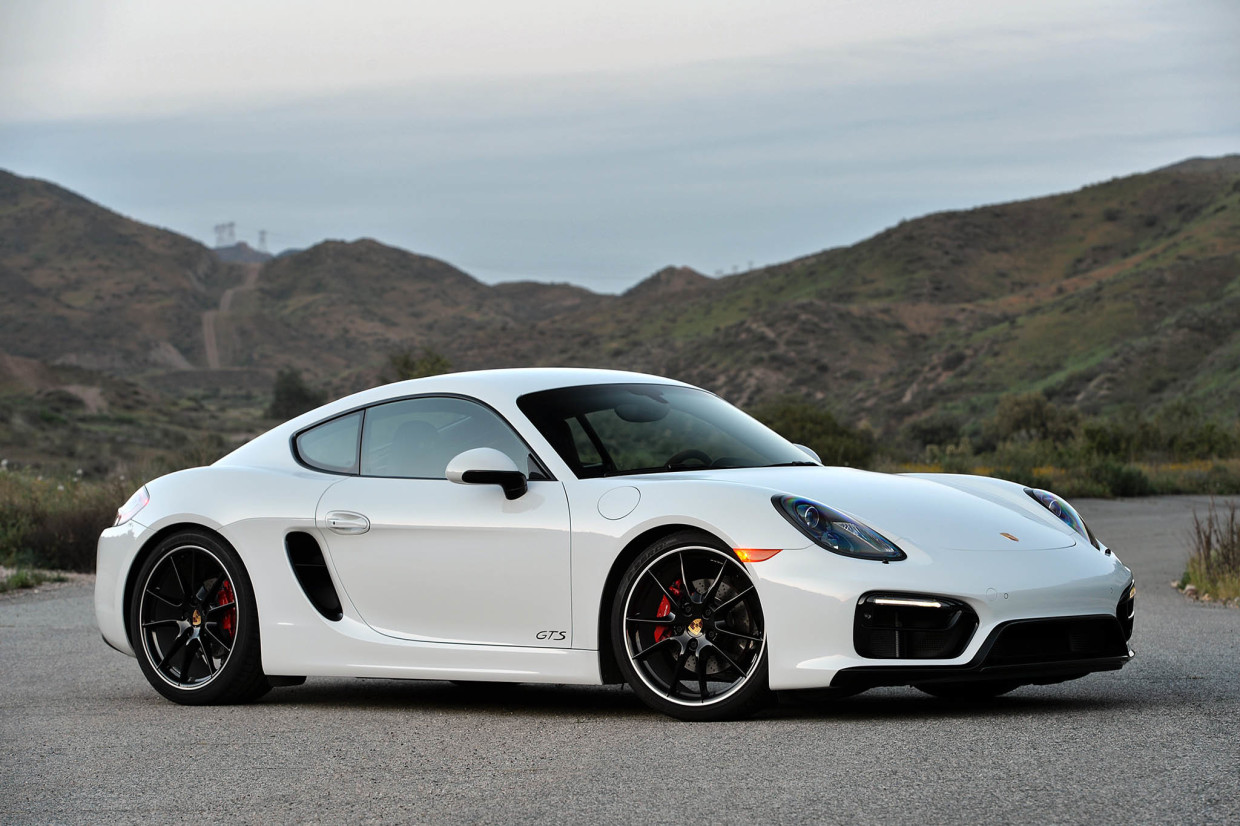 "I was never bored when driving the Cayman GTS, not even when following slower traffic," remarked AutoWeb's contributing editor Chris Wardlaw, who holds the keys to a 2004 Mazdaspeed MX-5 Miata with a manual gearbox. "The stick shift forces the driver to be involved in the proceedings at all times." Porsche offers rev-matching, which eases the driver's workload, noted Chris. "The driver can even shove the stick into first gear in advance of a tight, uphill hairpin corner without worry that the gearbox will transform into a bent and smoking hunk of useless machinery. The clutch is easy to modulate, throws are short, and the manual gearbox makes the car a joy to drive even when you're not trying to have fun." Anyone can drive a vehicle with an automatic transmission, mentioned Chris, but there is something special about being able to properly drive a manual. "Driving a stick represents a bragging point. This is a skill that separates you from everyone else who can afford one of these cars but who cannot operate that clutch pedal. It's like being on the A-list of the A-list."
Aaron Gold, contributing editor at AutoWeb, is the owner of a 1989 Honda CRX Si with, you guessed it, a manual gearbox. He summed up the traditional gearbox very well. "Driving a manual is becoming a lost art. And that's a shame, because there's no substitute for the interaction that a clutch pedal provides. It's a concept that those who can't drive a stick simply don't understand: With an automatic, you drive the car. With a manual, you make the car work. Driving a stick-shift — more specifically, driving a stick-shift well — brings a feeling of satisfaction that no automatic, no matter how good, can provide."
The 7-Speed Automatic
Porsche's Doppelkupplungsgetriebe (a glottal ordeal that means "dual clutch transmission"), or PDK for short, was introduced in 2008. Unlike a traditional hydraulic automatic, which uses a fluid coupling called a torque converter, the PDK is essentially a conventional 7-speed manual gearbox with two electronically controlled clutch packs. Gear selection is lightning fast in either automatic or manual mode. Porsche offers several versions of its PDK gearbox, and each runs software that has been tuned specifically to the vehicle. Thanks to continuous refinements and improvements, today's PDK is much more advanced than its type of just a few years ago.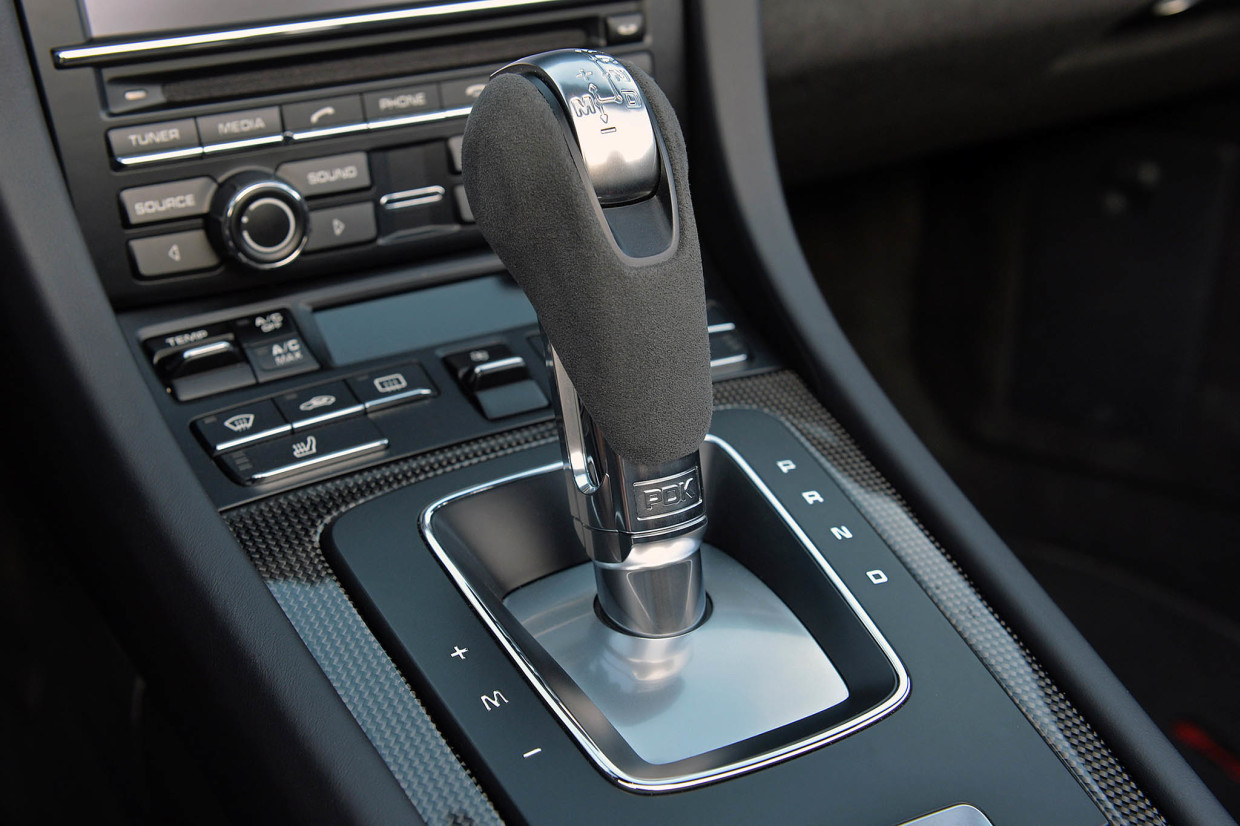 "PDK is the best automated dual-clutch gearbox I've ever experienced," remarked Chris, after a spirited run in the Boxster. "Driven with greater vigor in Sport Plus mode, and experiencing rapid-fire transmission shifts, perfectly rev-matched downshifts, and all the snap, crackle, and pop from the twin exhaust outlets, I can see how PDK would be preferable at weekend track events or in competitive driving on closed courses. It is a brilliant transmission, and it allows the driver to focus on other aspects critical to accelerating, braking, cornering, and trimming lap times." Hitting the nail on the head, he correctly pointed out that offering an automatic gearbox increased the German automakers customer base, and improved its cars' acceleration times during magazine testing. "Not only does PDK make these Porsche models 'easier' to drive for a broader segment of the population, but it also produces quicker acceleration and lap times, because it can shift faster and at more optimal points in the rev range than can even the most talented driver."
WRX-owner Rex was equally as smitten. "Porsche's PDK transmission is simply glorious. It is so slick and seamless when shifting that it encourages you to go faster," he said. PDK is very natural to use and intuitive. Being able to drive the new Boxster GTS hard and fast through the canyons, then immediately transitioning into full automatic mode and letting it do the thinking for me once I hit the dreaded L.A. traffic, answers one important question: Can I have fun and be practical at the same time? (Yes! – Ed.) As a bonus, I also observed better gas mileage with the PDK transmission," he added with a grin. "Automatic transmissions have come a long way from the slow and clunky slushboxes we knew in the past."
"When it comes to performance driving, nothing can touch the twin-clutch," said Aaron. "It provides all the advantages of a manual — direct connection, no slippage — with instant shifting. Better yet, it can execute perfect matched-rev downshifts, dropping from sixth to second with no sudden transfer of weight to the front of the car — a challenge for even the most talented driver to do with a manual. On a tight, curvy road, a manual driver may have to opt for a less-than-optimal gear because there isn't time to shift, or because the road requires full concentration. The twin-clutch takes that out of the equation: Just bang on the paddle and you have the gear on you want," he remarked.
"This is almost hard to say, being a Corvette guy and all, but there is nothing like Porsche's PDK," admitted Charlie. "It gave me complete control in shifting just like a manual, but I didn't need to take my hand off the steering wheel to shift, which is very much appreciated when in sharp turning maneuvers. There was nothing I could throw at this transmission that it could not handle, and I have heard the same from colleagues and friends," he added.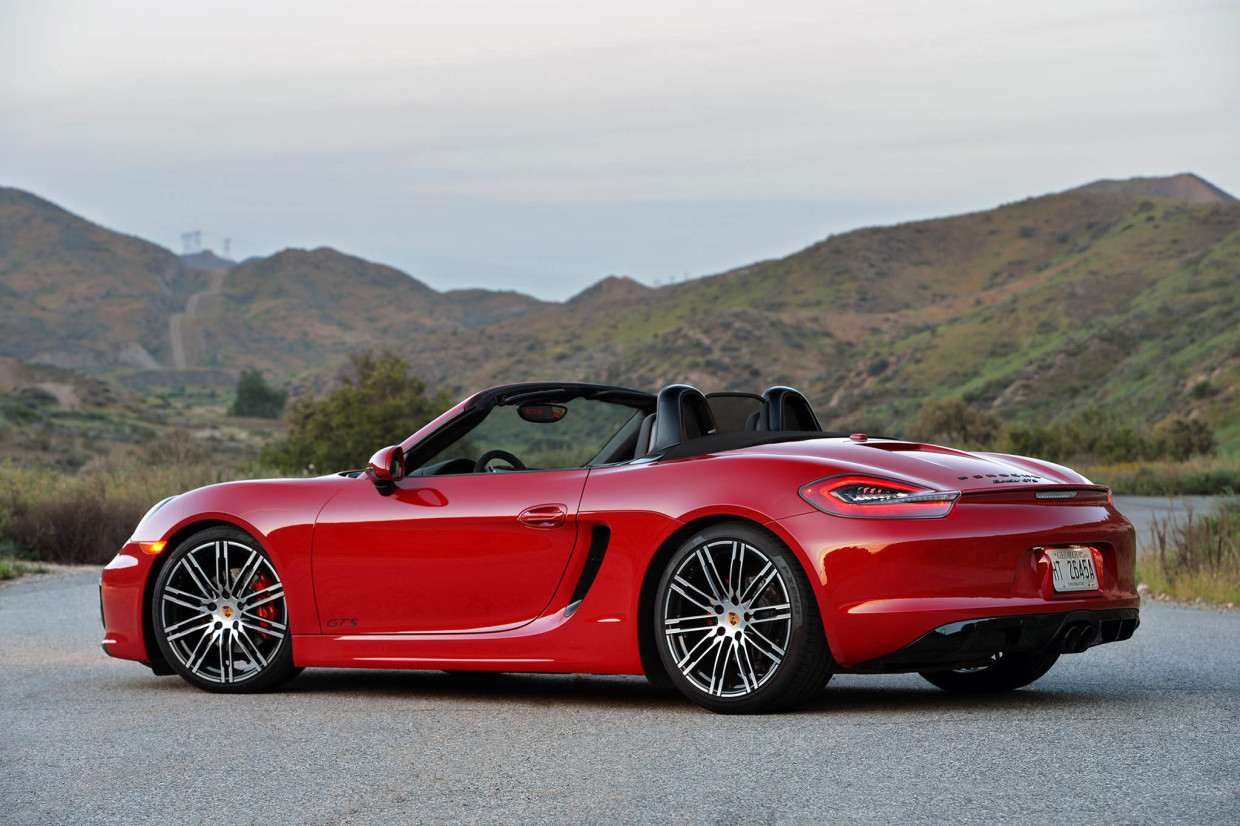 Chris mentioned something that also came up often in discussion — the ability for the driver to remove themselves from the task of driving. "With the Boxster's PDK, it was easier to daydream, to disconnect, especially when I wasn't running the car hard. It also felt and even sounded less like a sports car. Driving this car, with the top up, at relatively sedate speeds, I was just about as bored as you can get behind the wheel of a red Porsche sports car. My left leg motionless, my right hand required for nothing aside from steering, the car's various driving modes serving as the brains behind the operation, I felt a bit like a passenger in a car I was piloting," he said, with a bit of sadness.
The Final Verdict
The back-to-back comparison of two of the world's best manual and automatic transmissions, in two of the finest sports cars, opened everyone's eyes. First, all were amazed at how well Porsche's PDK was able to predict the proper gear for every type of driving, under all conditions. Second, there wasn't a person among us who didn't mention that the manual gearbox has also improved over the years, even if technology such as rev-matching does remove part of the skill in the equation.
"Twenty years ago," said Aaron, "the manual versus automatic question was easy — manual. No need to even think about it. Today, automatic buyers have more and better choices. There's the CVT, a brilliant — albeit largely misunderstood — transmission that provides great economy and smooth, shift-free driving. There's the twin-clutch, which we drove in the Porsche Boxster GTS, which is the ultimate performance transmission. Even the old-fashioned torque converter/planetary automatic is leagues better thanks to computerized control." But if forced to choose between the two, the answer was simple. "If I'm on the track or trying to make the best time possible on a challenging road, I'll take an automatic. But, if I want to enjoy my drive, I'd choose a manual."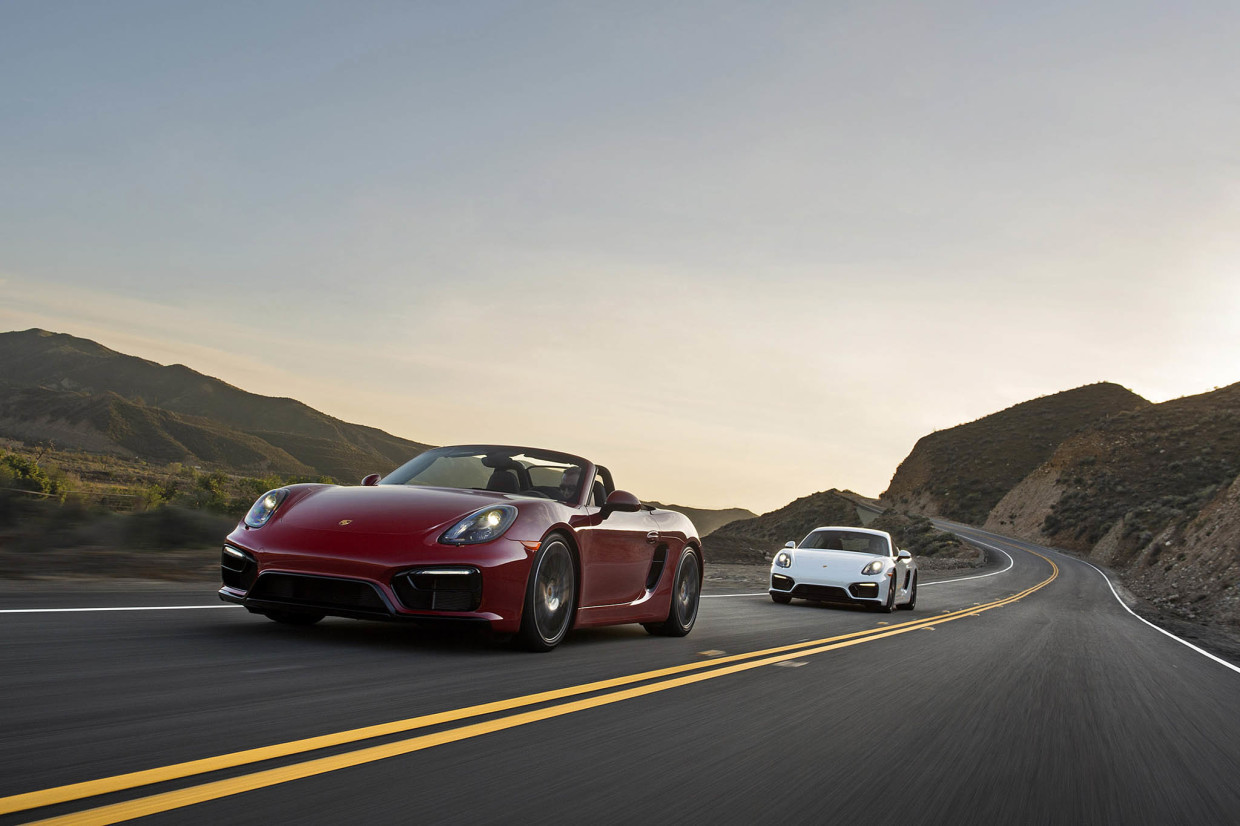 Corvette owner Charlie, who spends hours in choking L.A. traffic each week, made his mind up early. "Hands down, my preference is the 7-speed PDK," he proclaimed. "It is easy to use, it results in better and faster shifting than I could ever do myself with a stick shift, and 'manual mode' allows for the same fun as a traditional manual — but with no stress when driving spiritedly. Most important, you never have to be embarrassed from missing a gear," he added with a smirk of memory.
The choice wasn't so easy for Rex. "If I had to choose only one transmission for a car that was my daily driver and 'fun' car, my sensible side would scream for the PDK. But the emotional connection with the manual transmission would get the better of me, and I would buy the manual transmission. Ask me again in a couple of years and that may change, but for now 'the force is strong' with the manual — that's my choice."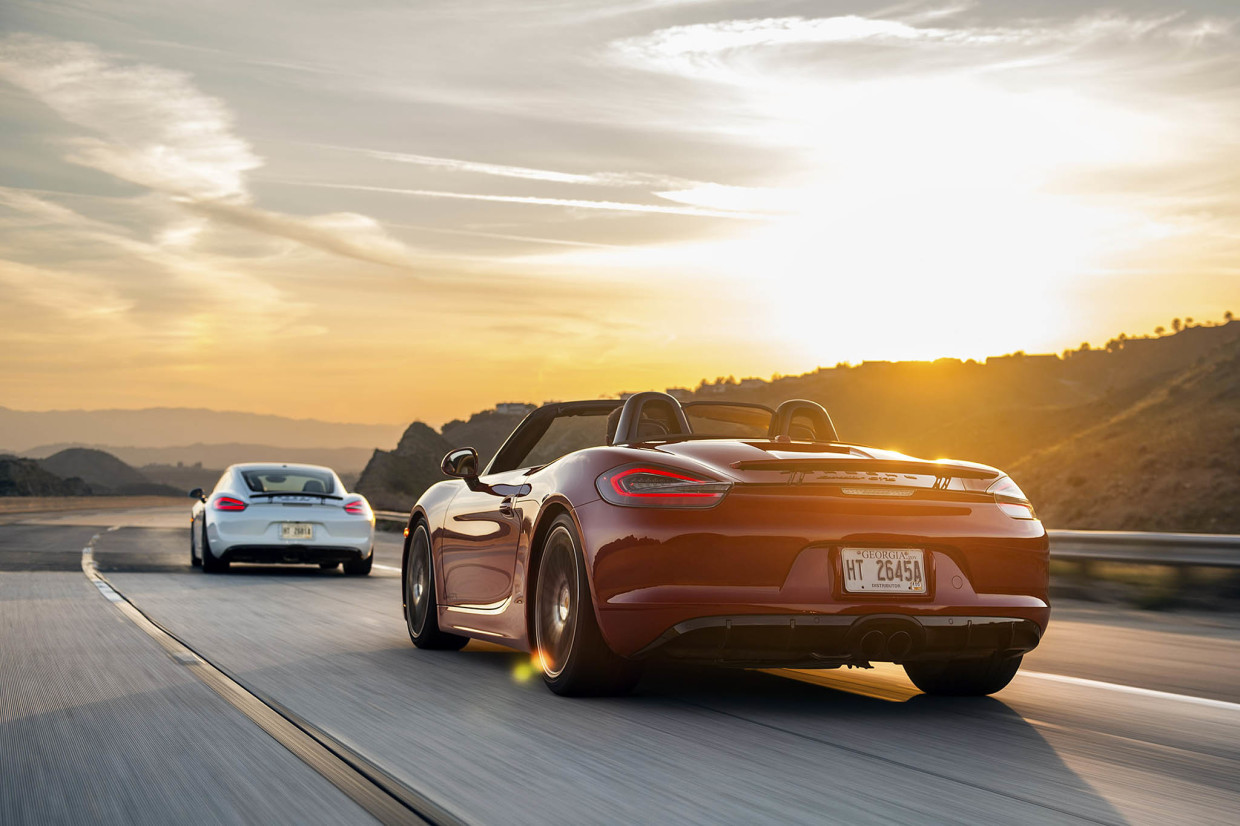 It was Chris who approached the decision with both logic and emotion. "Porsche charges nearly $4,000 for the optional PDK — it's great, but I'd rather save the cash and upgrade to a waterfront room during my next Hawaiian vacation. But speaking as a sports car owner myself, using PDK instead of Porsche's terrific 6-speed manual transmission is like going to Disneyland only to find out that the Indiana Jones ride is closed. You'll still have lots of fun, just not as much as you could be having.
I couldn't agree more.
---
Photography ©2015 AutoWeb. Images by Drew Phillips Photography