Buying
How to Test Drive a New Car
"Ask the salesman to drive first. This sounds counterproductive, but there is a method to the madness."
"I'm buying a new car. What do you think I should get?" It's a question that every professional automotive journalist is asked regularly. While it's easy enough to rattle off a handful of models that are current favorites, the truth of the matter is that driving a car is such a personal experience that picking the right car for you is virtually impossible for anyone else — even those of us who have spent decades writing about cars. Sure, we can recommend cars that suit your budget and possibly your style, but until you get behind the wheel and experience some significant seat time for yourself, you'll never know if those models are right for you.
That's where the test drive comes in. That often rushed 15 minutes is the single most important step to ensure that you are buying a vehicle that will keep you happy for years.
Once you've done your obligatory online research and determined a handful of new cars that you may want to own, you're ready to start taking test drives. The most effective method is to drive everything back-to-back, and the best way to do that is with an appointment at each dealership — I suggest making them at least 90 minutes apart, to ensure you have plenty of time.
After meeting the salesman you scheduled the appointment with, he'll probably want to do what's called a "walk around" to familiarize you with the car and its features. If he doesn't offer this, ask for one, since it's a great opportunity to learn about the car's features instead of trying to absorb this information while you are driving.
While you may be anxious to drive the car, keep in mind that there is much more to the driving experience than the car's performance. In fact, the features that many car owners end up being most unhappy with — the navigation system, audio or climate controls — have nothing to do with driving itself. Take some time before you drive the car to understand how these features work so you can test them out more effectively while you are driving.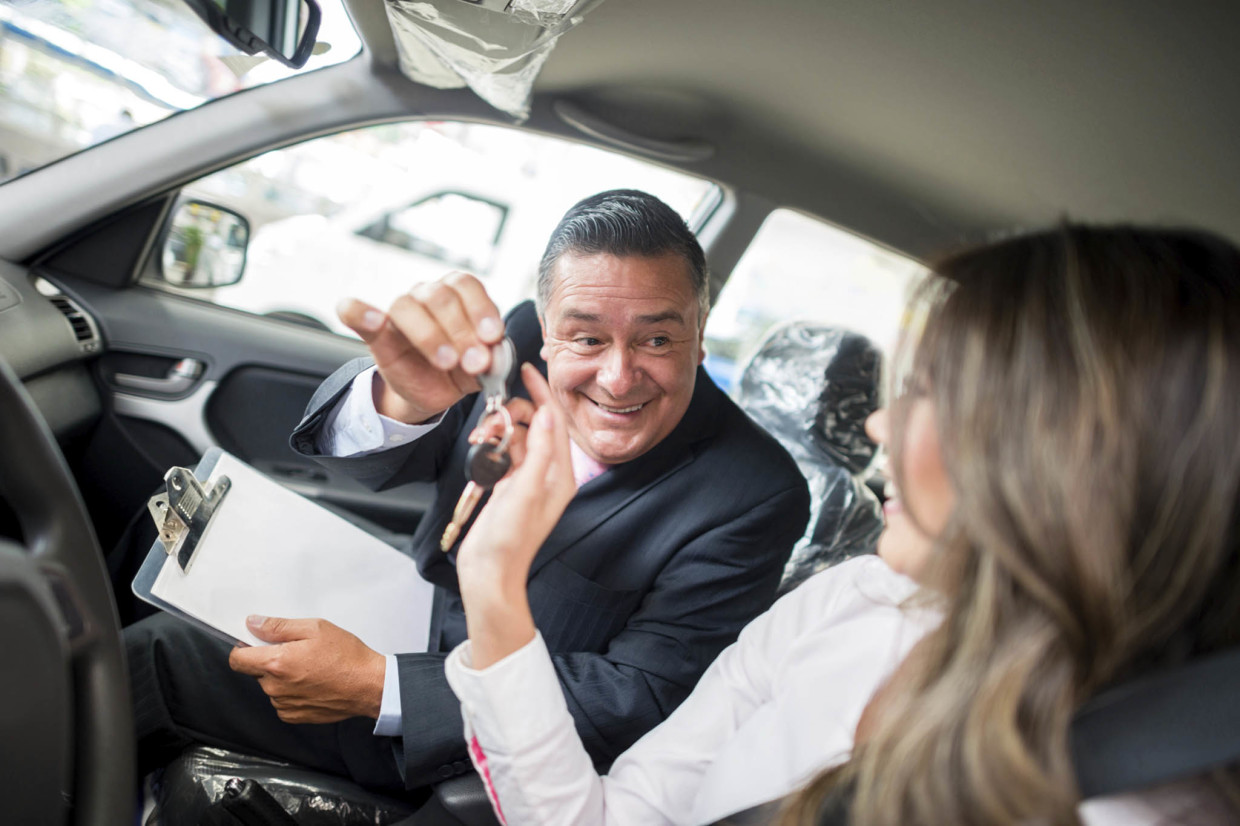 Ask the salesman to drive first. This sounds counterproductive, but there is a method to the madness — he probably has a set route for test drives, and this will help familiarize you with it so you can concentrate more easily on the driving experience instead of following directions. It also gives him the opportunity to talk about the car's performance features and experience them at the same time. Most salesmen receive very detailed information about every new model a manufacturer produces, so they are usually a wealth of great information that you can use to your advantage when making your decision about which car will suit you best. Take this time to ask as many questions as you can think of.
While the salesman is driving, adjust the passenger seat so you are comfortable. If you will be carrying other passengers regularly, think about any of their needs, such as extra leg room or the ability to reach into the back seat to hand an item to a child. Also make sure to take some more time to scope out the features in the center of the dashboard, especially the climate controls, the audio system and any other functions you will use regularly.
Notice the route you are taking and make sure it is on the types of roads that you normally drive on, including a portion on city streets as well as on a highway at highway speeds. Ideally you'll want to spend 30 to 40 minutes in the car, with at least 20 minutes behind the wheel yourself. Don't hesitate to ask for more time if the standard test drive route is shorter — remember, you are going to be paying a lot of money for the vehicle. Be sure the route you take includes all of your driving situations, including parking in a lot between two cars and parallel parking if you do that regularly.
After climbing behind the wheel, take your time to fully adjust the driver's seat and mirrors, as well as the steering wheel, seat belt and foot pedals if these features are adjustable. Ensure that you are comfortable from the start, as you won't be happy in the car long term if you are always uncomfortable.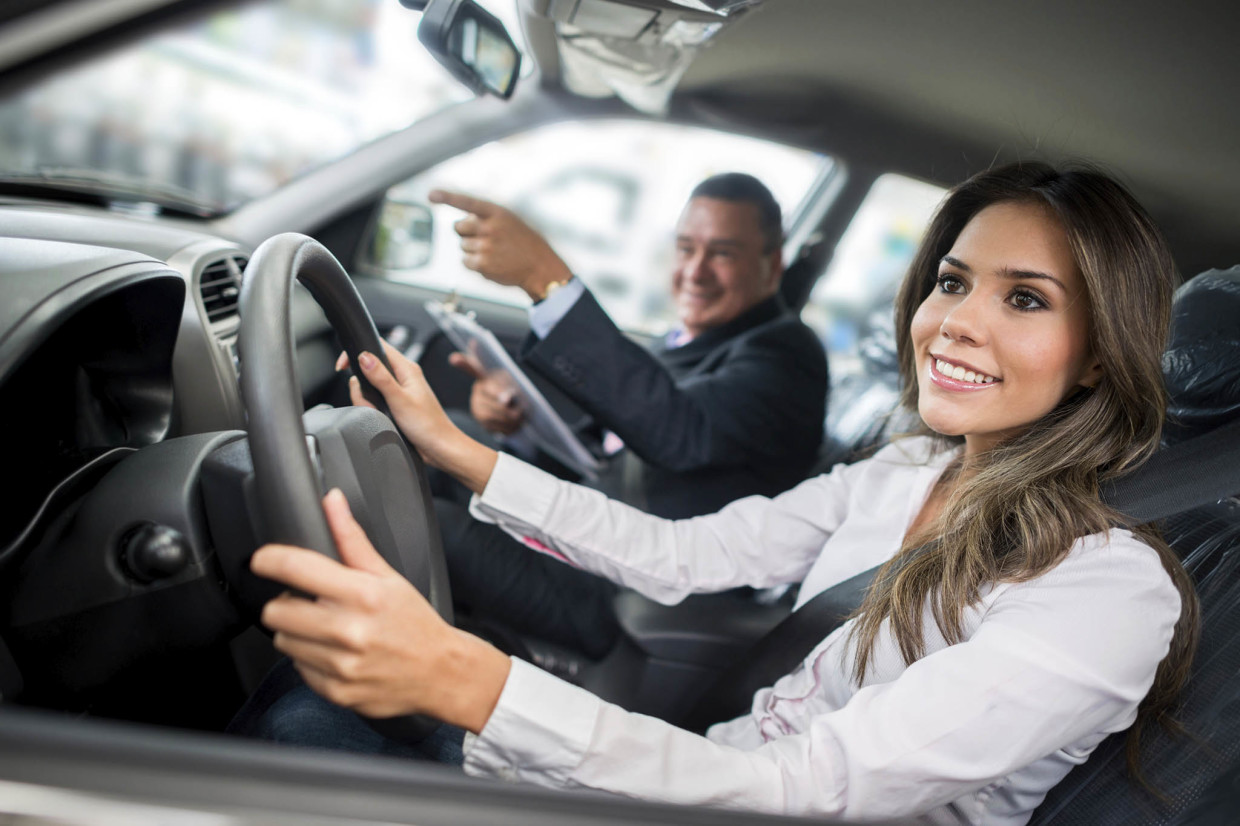 Drive normally and notice how the car responds during acceleration, braking and cornering. If it's safe to do so, you may also want to try accelerating hard and stopping quickly to get a feel for how the car performs in these situations. Pay attention to the visibility during regular driving, as well as changing lanes, passing and parking. Note any blind spots and don't dismiss them just because the car has a blind spot warning system or a camera. These systems aren't foolproof and, while they certainly help, you'll need to understand their limitations.
Don't just hand over the keys when you return to the dealership. Instead, really take some time to thoroughly assess the car's interior. Sit in all the seats and try to determine if your frequent passengers will be comfortable. If you have little ones, test-fit their car seats and determine if you can easily reach to buckle them up. Not all car seats fit all cars, so you may find your new car will require the purchase of a new car seat as well.
Next, assess the trunk or cargo space, noting if there's enough room for your typical cargo and for any helpful features you can use, such as storage compartments or grocery bag hooks. If the car is an SUV, wagon or minivan, make sure you can reach the liftgate easily when it is up and that it isn't too heavy for you to close.
Take another look at the controls for the audio system and climate controls, as well as the basics, such as the headlights, wipers and emergency brake. Test out any technology features, such as the navigation system, satellite radio or a hands-free Bluetooth connection, to make sure you understand their operation. Make sure you have a current list of the fees associated with these services.
While following this process may sound time consuming, spending an hour or so really assessing a car is the best way for you to discover what you really like, and dislike, about the car. What may be something some drivers love, may be something that doesn't suit you at all. Better to discover that now rather than later — after all, a new vehicle is one of the largest purchases most of us will ever make.