Exclusive
Why isn't Scion building a convertible or supercharged FR-S?
"Scion did engineering studies on what would be required to make this coupe into a convertible, and the retrofit was fairly minimal"
The Scion FR-S debuted to rave reviews in 2012. Developed in conjunction with Subaru, the FR-S and its Subaru BRZ sibling proved to be light, tossable, driftable, and endlessly entertaining. It was the next best thing to a Mazda MX-5 Miata, and that got people asking, "Why no convertible?"
With just 200 horsepower and a fairly anemic 151 pound-feet of torque on tap, many enthusiasts also wanted more power. Subaru supplied the engine, after all, so a turbocharger seemed like a natural next step. None of those upgrades have come to fruition, however, and we wanted to know why.

AutoWeb recently had the opportunity to sit down with group vice president of the Scion division Doug Murtha, and we asked him why Scion hadn't made its delightful little sports car even better.
The possibility of a convertible was a particular passion for Murtha, but he couldn't get Subaru or other markets on board. "Our partners at Subaru were not interested in building that. We need them to play on one level, but that was something we would have been able to do on our own. So I called my friends in Australia, and my friends in China and my friends in Europe because you need scale to be able to pull this thing off," said Murtha. "Even though we went out on a limb volumewise in terms of what we were prepared to commit to for North America, we could not muster enough global interest to make a business case for it," he continued.
One problem was the fact that Subaru and Scion hadn't planned the FR-S/BRZ as a convertible from the beginning, leaving too few model years to amortize the tooling. Scion did engineering studies on what would be required to make this coupe into a convertible, and the retrofit was fairly minimal because the platform had enough structural rigidity to support a droptop. However, with nobody else on board, it couldn't happen. "I think the parent company would have accepted some kind of a loss on this, but it was going to be such a big loss that we couldn't advance the discussion. So, I went down swinging, but we couldn't get the convertible done," said Murtha.
What about more power? How about a turbo? According to Murtha, a turbo wouldn't work: "From what we heard from the engineers, based on the low placement of the engine, where they would need to put the turbo to meet cooling requirements simply wasn't possible." Subaru's plans seem to back that up. Subaru showed a BRZ STI concept with a 345-horsepower turbocharged 2.0-liter boxer four-cylinder engine at this year's New York Auto Show in April. The company has since confirmed plans to bring a BRZ "tuned by STI" to market "in a couple years" but without the turbocharged engine.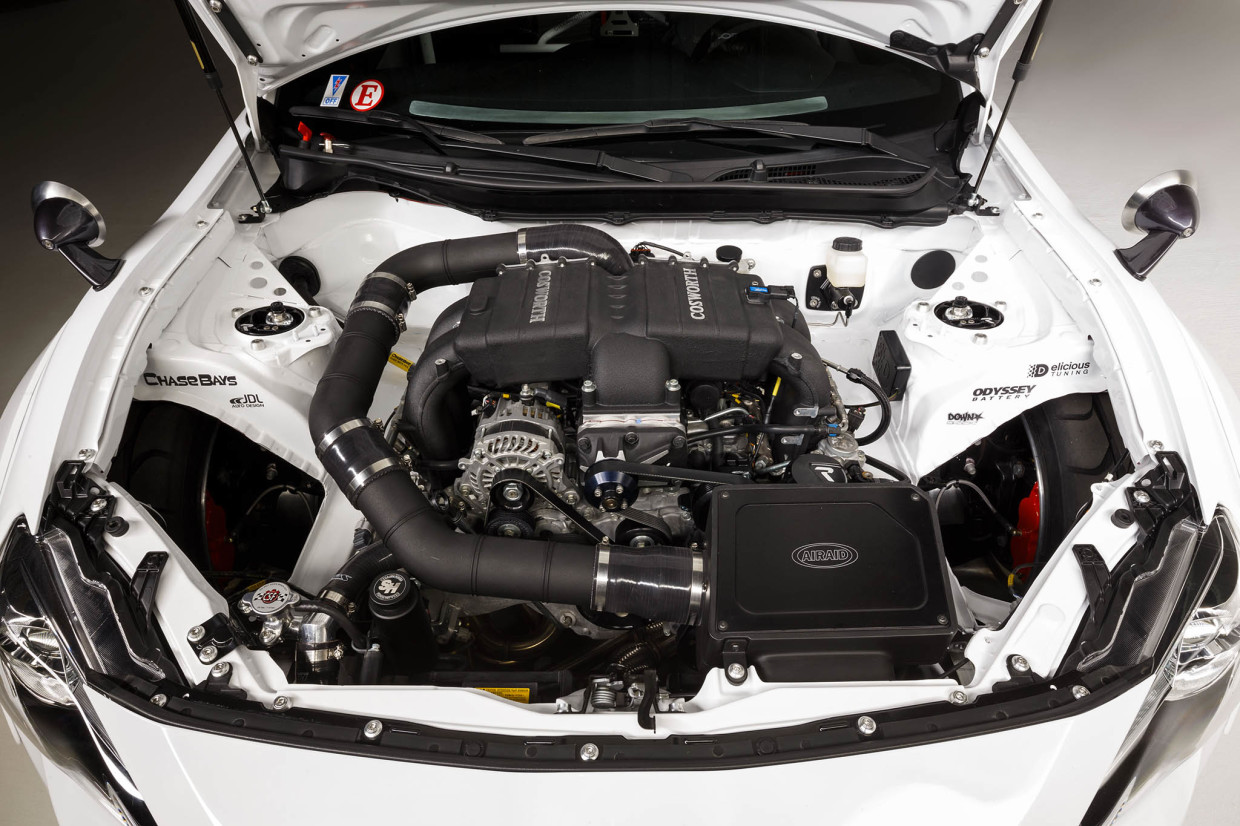 But there's more than one way to skin a horse, and a supercharger could add power as well. Murtha says Scion looked into that, too. "TRD engineered a supercharger for one of our race vehicles, the World Challenge vehicle, and they said we can develop a street-legal version," said Murtha. "So we shopped around. If these were going to be sold through our dealer network, what's the level of interest, and what's the level of confidence we have in how many can we sell? When push came to shove on how many units the dealers might have to move to make this whole thing work, we really couldn't make the business case." Murtha also points out that companies such as HKS, GReddy, and Vortech offer aftermaket supercharger kits for the FR-S.
So, for this generation at least, don't expect the FR-S to offer a convertible or a turbocharger/supercharger. However, there is hope for the future. Neither Subaru or Scion have committed to a second-generation of their sports car, but it's looking promising. "There are very encouraging signs that both companies are interested and willing to discuss a second generation," said Murtha. "I've made very clear that if they engineer it without the provisions for a convertible, we're going to have a chat," he added.
---
[Photography ©2015 Scion]